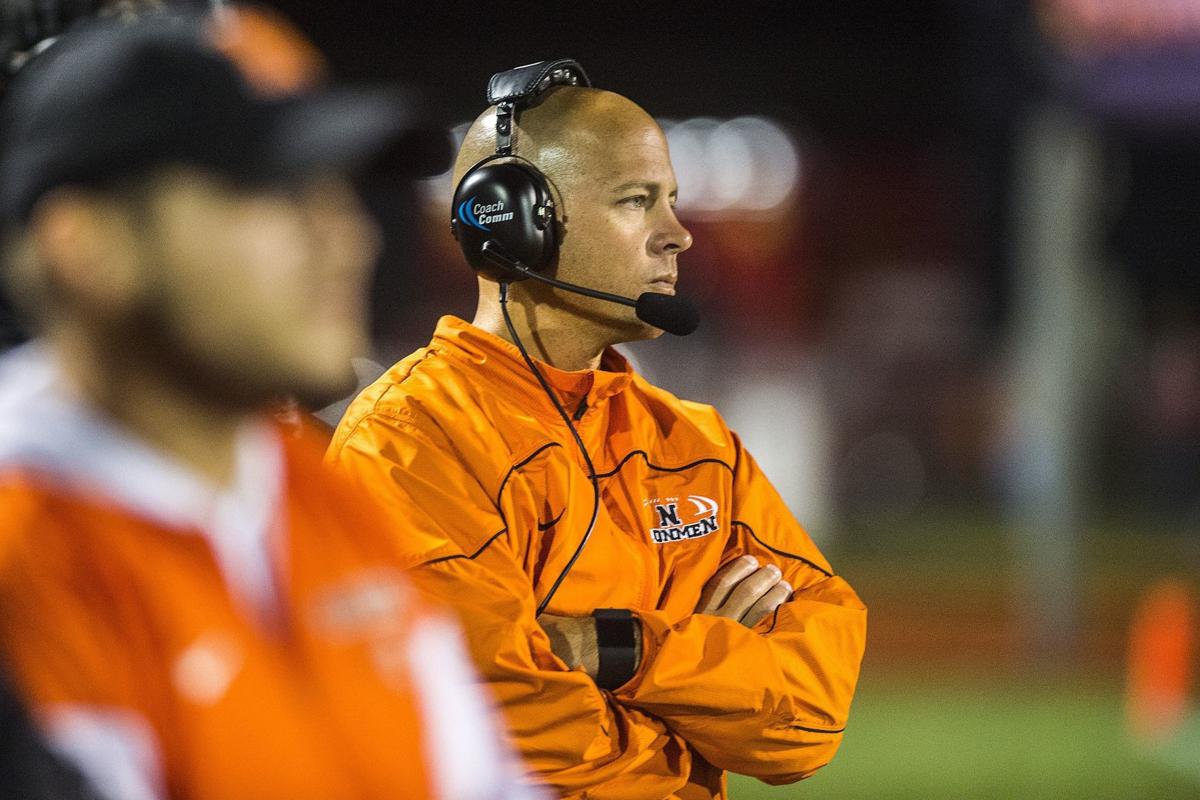 NORMAL — Normal West High School has filled its athletic director position with a familiar name around the Unit 5 district.
Former Normal Community football coach Wes Temples has been named West athletic director and will take over for the retiring Stan Lewis on July 1.
"I'm extremely excited and honored," Temples said Wednesday. "I really appreciate the opportunity to be in this role."
"I absolutely loved every minute of getting to coach," said Temples. "But I didn't want to coach the rest of my career."
Temples stepped down as Ironmen coach after the 2017 season with the stated intent of earning an administrative degree.
"It gave me the opportunity to grow in the field. If the right opportunity came up, I would be prepared for it," Temples said. "I can't tell you how excited I am to go to West and work with their athletes, coaches and administration."
The 41-year-old Temples worked at NCHS for 18 years.
"So many people mean so much to me at Normal Community. It's a special place. I felt like I was unbelievably lucky to get to work with people like Andy Turner," Temples said of the former NCHS athletic director. "The way Andy taught me, treated me and helped me along, it made an impression on me as a young coach. I want to be that type of mentor and role model."
Temples also expressed gratitude to Lewis and NCHS athletic director Nic Kearfott.
You have free articles remaining.
"The two years I've been out of coaching I had the opportunity to work with Nic. He allowed me to get a lot of experience I wouldn't be able to as a coach," Temples said. "I'm glad I had the opportunity to spend some time with Stan and their administrative team."
After six years as an assistant football coach, Temples took over the NCHS head coaching reins from Hud Venerable, who is now Central Catholic athletic director. Temples and Venerable will have the opportunity to work together again on Intercity athletic matters.
"I'm looking forward to it. That's definitely a plus for me," Venerable said. "I think he's had some really good people to follow, starting with his Dad. Working with Nic this year has been good training for him, too."
Temples is following in the footsteps of his father, Gerald, and uncle, Randy Rothrock, both of whom were high school athletic directors.
"I was born and raised into those families and fortunate to be around coaches and administrators my whole life," he said.
West principal Dave Johnson said Temples "has worked hard to prepare himself for this position. His years as a successful head coach at NCHS along with his experience as an assistant athletic director were both key factors in his hiring.
"Normal West is sad to be losing Stan Lewis, who has done so much for athletics at Normal West. As a principal, I have been spoiled to have such an amazing person as my athletic director. But I am confident Wes Temples will be able to help lead the outstanding coaches and athletes we have at West."
Temples said he will assume his position at West "with open eyes. You have to learn the situation and build relationships with coaches and athletes and support them in the right way. We're all in it together. That's how you have to approach it."
A move from NCHS to West could present some interesting situations when the schools square off in athletic competition.
"That's the biggest question I get," Temples said. "It's one night a year each season. Every other night, I wish the best for both schools."
Temples and his wife, Shae, have four children.
Randy Reinhardt's favorite stories of 2019
Here are a few of the stories I really enjoyed bringing to our readers in 2019.
Contact Randy Reinhardt at (309) 820-3403. Follow him on Twitter: pg_reinhardt
Get in the game with our Prep Sports Newsletter
Sent weekly directly to your inbox!