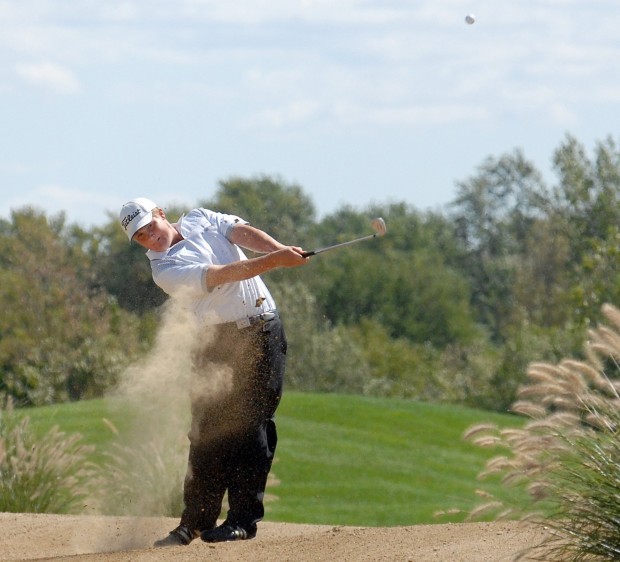 BLOOMINGTON — Normal Community West High School's Steven Mullins and U High's Adam Baracani both switched putters in the last couple days.
The moves paid off Tuesday — and, more importantly each hopes, down the road in October.
On a day where every putt made a difference in the Intercity Golf Tournament, Mullins parred the third playoff hole to edge Baracani for medalist honors after both shot 1-under-par 70s at Prairie Vista Golf Course. There wasn't much separating their teams, either.
U High and West both fired 311 totals. The Pioneers earned the team title over defending champion West by virtue of a better non-counting fifth player's score, as sophomore Clayton Baracani and junior Dylan Koth each shot 86s for U High.
"We preach it every day that every shot by every kid on the team matters," said first-year U High coach Darrin York. "About the time you think you don't matter, you do."
Normal Community also was in the expected three-team fight for the title, shooting 314. Central Catholic and Cornerstone Christian tied for fourth at 332, followed by Bloomington (364).
Mullins' best putt came on the first playoff hole. After Baracani stuffed his approach 4 feet away on No. 1, Mullins faced a do-or-die 20-footer for birdie that he sank before Baracani calmly made his birdie.
Both parred No. 2 before returning to the first hole. This time Mullins hit his second shot close, within 6 feet, before Baracani caught a flyer lie out of the rough that settled 40 feet away. Mullins missed his birdie putt, but Baracani lipped out a 5-footer for par.
"My putting was very good today. I switched putters yesterday," said Mullins, a junior. "I had five birdies so that really helped out. I also was hitting my irons well, putting them within 15 feet to give myself chances for birdies."
The cooler, windy conditions didn't bother Mullins.
"I love playing in the wind," he said. "Playing at Ironwood (Golf Course) you get used to it."
Baracani, a senior, also had five birdies thanks to a putter that has been in his bag less than a week.
"I got a new putter Friday and started using that, and I was actually making some putts out there," he said. "I couldn't make a putt (before). I had a lot of birdie putts within 10 feet and was not making them, so thought I needed to switch."
Helping U High win its first team title since 2009 was a nice consolation to Baracani.
"We really wanted to win it, so we're pretty happy about it especially to win on the fifth score," he said. "That means that everyone was pretty much able to contribute."
Senior Cole Sondgeroth (78) and juniors Nolan Harris (80) and Tanner Peasley (83) also counted toward U High's score. Harris recovered after a 44 on the front to fire 80, sinking a 6-foot birdie putt on No. 18.
"Little did he know a 6-foot birdie that just rolls over the edge ends up being the difference maker," said York. "I was really proud of him for the way he battled on the back nine."
Senior Turner Reid added 74 for West to place fourth, while junior Sam Cash (81) and freshman Brock Hirn (86) also counted.
"I knew it would be tightly contested, and it was," said West coach Tim Franz. "The kids will hopefully learn from that and all three teams will get better by a few strokes that will help in regional."
Sophomore Brady Quakenbush paced NCHS by shooting 74 to finish third. Cornerstone Christian's Jordan Hall was fifth with 76.