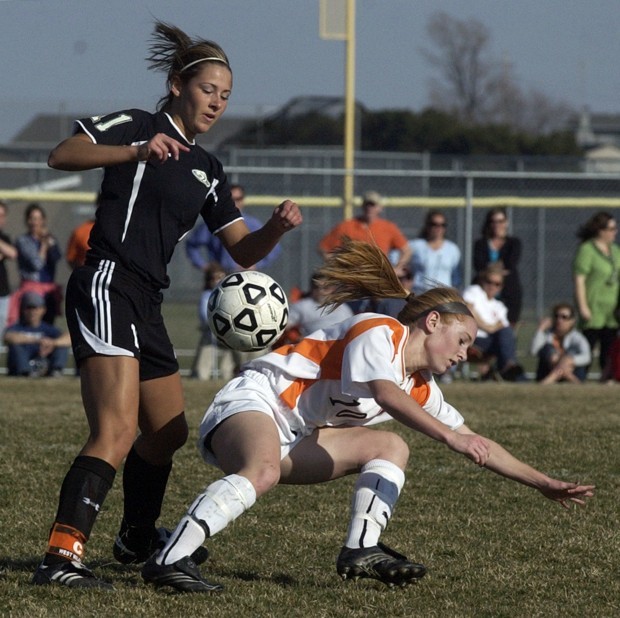 NORMAL — The fun-to-watch, hard-to-defend somersault throw-ins of Lexi Modglin proved a great equalizer on day three of the 13th annual Intercity Girls Soccer Tournament on Wednesday.
The Normal West High School sophomore flipped a ball into the box where a few bounces and a touch by teammate Kimberly Caldwell gave the underdog Wildcats a 1-0 lead over host Normal Community, the 2009 champion.
The high hopper left NCHS star Erin Shulman steaming, but she vented 38 seconds later with a goal and the wind-blown battle ended in a 1-1 tie.
"It's a chance game," said West goalie Erin McGinnis, who made one dazzling, one-on-one save after another. "You never know where it's going to bounce."
Across town, the bounces went University High's way in a 3-0 home win over Bloomington (1-3-1 overall, 0-1-1 in the tourney).
Play continues at 4:30 p.m. today when BHS visits West (0-3-2, 0-0-2) while U High (2-1-1, 1-1-1) faces Central Catholic 1-2-1, 0-1-1) at Community Fields.
"They've got the long throws, which is a great weapon for them," said Ironmen coach Matt Chapman, whose team outshot the Wildcats, 18-6.
NCHS (3-0-1, 2-0-1) had several near misses. Eastern Illinois recruit Meg Rogers headed a ball off the right post with 16:20 left and Shulman clanged the same post with 11:43 remaining.
"They played very well defensively and Erin McGinnis is incredible," Chapman said.
McGinnis and Shulman have been opponents, club teammates and friends for years.
"It's always fun because I know I'm going to have one-on-ones with her all the time," McGinnis said.
Shulman had to set the friendship aside on her bull rush to score with 12:52 left.
"I couldn't let them win," she said. "I just couldn't do it."
West coach Val Walker can't always enjoy a tie.
"It's almost good to celebrate with a tie against these guys," he said. "They've got a lot of weapons."
"We played pretty well," said U High coach Hayley Sefton, whose team outshot the Purple Raiders, 13-6. "We're starting to come together a little bit more. Our defense is stepping up."
Offensively, Sadie Somers, Olivia Crockett and Brooke Haile-Mariam stepped up to score off assists from Lydia Wilson, Sarah Telling and  Jenna Wampler.
Pioneer goalie Tiffany Masters made six saves.