NORMAL — University High School pulled out all stops, which caused their opponents' hopes to go down the drain during the Intercity Girls Swim Meet on Thursday. 
The result was a winning 399 points, 33 more than host Normal West, which was attempting to win its first Intercity crown. Defending champion Normal Community was third (356) followed by Bloomington (211).
U High's 15-girl squad won five of the 12 events compared to three for NCHS and two each for West and BHS.
"It took all 15 of us to do it," said Pioneer coach Michelle Meyer. "They did a great job tonight. I'm very proud of them. There were some things we saw tonight that we know we need to work on. I'm excited we've got more time to make them better."
The meet had a pair of double winners in Lilly Culp of U High and Macy Rink of BHS.
Fatigued by heavy training, Culp still motored 2 minutes, 14.50 seconds in the 200-yard individual medley and 59.41 in the 100 butterfly. Her 2016 career best of 2:05.76 in the IM ranks fifth in Pantagraph area history. 
"I'm a little exhausted so (my times) could have been a little better," said Culp, who joined Hadley Fudge, Poleena Kovalaske and Olivia Haerr on the winning 200 medley relay, which sped an area-pacing 1:52.86. 
"Overall, I was pretty happy. I've been working on my turns so I think that really helped. My main goal is to get as many girls to state as possible because our team this year is pretty young. I love what we're doing so far."
Culp, who has narrowed her college choices to Illinois and Illinois-Chicago, also aided the winning 200 freestyle relay to a season best of 1:41.28. Joining her were Haerr, Caroline Bazan and Kovalaske.
The 50 freestyle went to Kovalaske in a season best of 24.67. Only three area girls have ever gone faster than Kovalaske's 23.95 from 2017.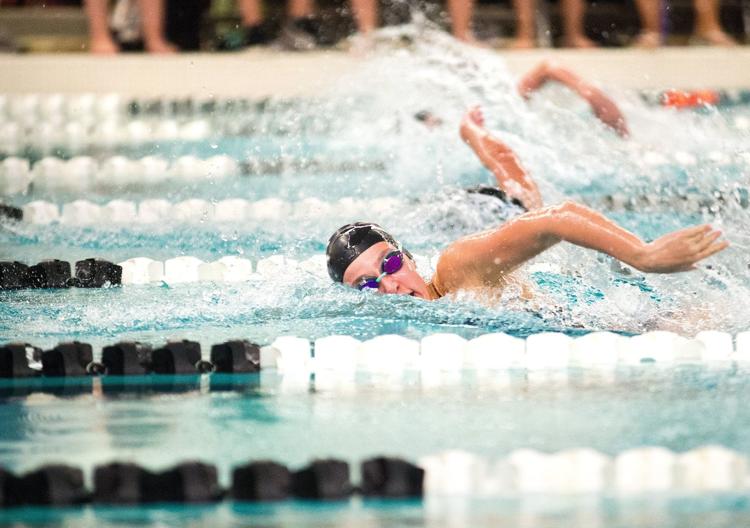 An Iowa recruit, Bloomington's Rink sped 1:57.44 in the 200 freestyle and 54.05 in the 100 freestyle. Her 2017 bests of 1:49.40 and 50.94 rank fourth and third, respectively, in area history. 
"We're really hitting it hard right now (in training)," said Rink after her final Intercity Meet. "I'm going to miss everyone so much, but I'm excited for college, too."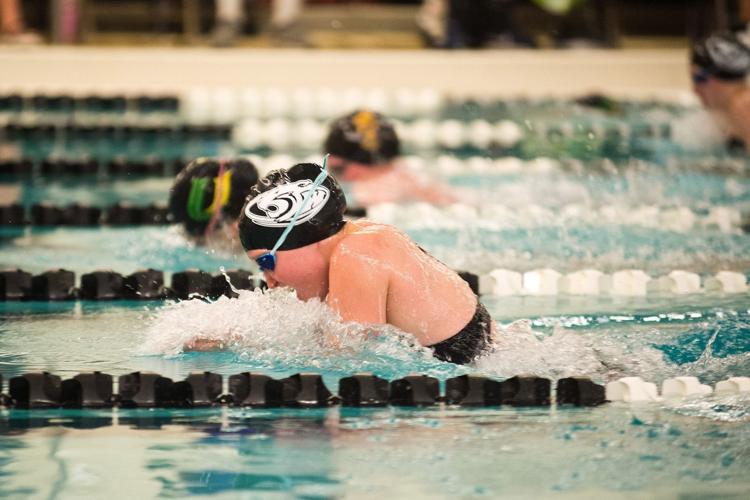 West sophomore Ali Pearson needed a school record 1:09.14 to win the 100 breaststroke by one hundredth of a second over Kovalaske. The old record was Cecilia Holmes' 1:09.24 from 2010. 
Pearson joined Emily Hartman, Nellie Sherrick and Erin Eicher to win the 400 freestyle relay in a season best of 3:49.06.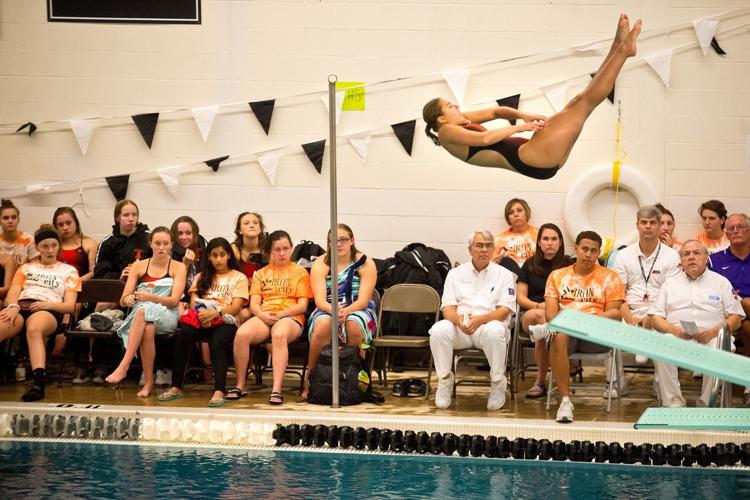 Diver Anya Weber of NCHS prevailed with a score of 214.40 points to edge West's Alyssa Martin, whose 212.85 broke Jamie Thiel's 1996 school record of 205.85. 
"I think my goal is definitely to make it to state, especially since I was so close last year," said Weber, who missed making it to the 2017 state meet by 10 points. 
The Iron also received victories from Sophie Benson in the 100 backstroke (1:02.39) and freshman Paris Wills in the 500 freestyle (5:20.75). Benson's time was a season best. Her 59.52 from 2017 has only been surpassed by five girls in area history.