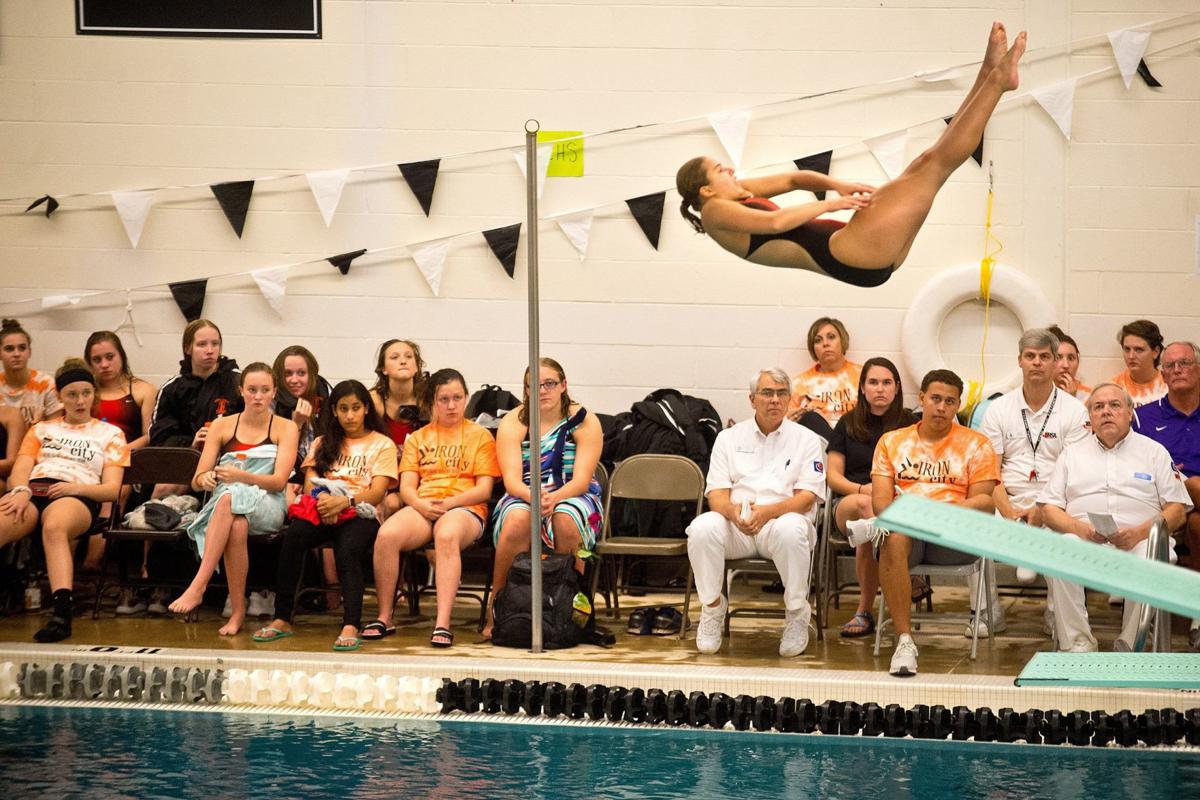 NORMAL — When it comes to degree of difficulty in diving, bouncing is not nearly as important as bouncing back.
On that day, Nataya Boulware of host Bloomington set school and pool records with a score of 256.10 points, edging the second-place Weber by 1.8.
"It was a lot of motivation to keep pushing and get better," said Weber, who bounced back to defend her sectional title before finishing 17th in the state meet. 
"Anya came back to the pool the next day (after Intercity) and she worked harder than ever," he said. "We were able to come back and win sectionals and place top 20 at state. I think it's pretty evident how that hard work and determination panned out for her."
Head coach Heather Budak said Weber's Intercity setback "really taught her to leave behind her last dive and focus on her next one. That was really a turning point for her." 
The bottom line for Budak is that Weber and Heffner made a dynamite team.
"Brandis is fantastic," Budak says. "He has a lot of tools to help these kids with. He's so patient and kind. He's able to adjust to the needs of all of his divers as far as their personality and what they need. He really did that with Anya."
"Brandis is one of the best coaches I've ever worked with," she said. "He's really positive. He's hard working.
"Even on the days where he knows you're sore and don't really want to do anything, he'll work you on that. He'll make sure you still try your harder dives."
And if Weber needed to see how a dive should be executed, that wasn't a problem.
"He's not afraid to get back on the board and show you what you are supposed to be doing," said Weber, who upped the NCHS six-dive record to 263.10, a total that ranks second in Pantagraph area history behind the 2017 area record of 277.95 set by U High's Dana Siverly.
Weber ranked second among area divers as a freshman and sophomore with six-dive bests of 182.70 and 206.15, respectively. As a junior, she led the area at 230.25 and finished 36th in the state.
"I don't have issues trying new things," Weber says. "Some people let their mental blocks get the best of them. I've been really good in the past of just pushing through them."
Weber's 11-dive score of 448.60 to win the sectional was also a school record.
"Anya holds herself to a very high standard," Heffner says. "I think she's going to do extremely well in the (Coastal Collegiate Sports Association) conference that Georgia Southern is in."
Weber chose Georgia Southern after also considering Kansas, Texas and Grinnell. The future psychology major, who plans to minor in neuroscience, chose the Eagles because of the people she met during a visit.
"Everyone there was super friendly, super nice," she said. "I felt like they cared about me as a person rather than just another potential student."
Georgia Southern's diving coach is Collin Vest, who won four NCAA Division II national titles for Clarion. 
"Their coach reached out to me super early in my recruiting process and I was in contact with him for awhile," Weber said. "That went smooth from the start so when he offered me a scholarship to dive there, it was perfect."
Weber joins a roster that includes junior Katie Kennedy, a former NCHS swimmer.
Besides diving off of one-meter boards in college, Weber will also compete on three-meter boards.
"I have a full three-meter list (of dives)," Weber said. "I was practicing to get some harder dives before the coronavirus hit."
With pools closed, Weber has tried to stay in shape by running and biking.
"Outside of that, I do yoga every day for core strength," she said. "Sometimes I do trampoline drills." 
Weber has been on the move for a long time. 
"I did competitive cheerleading for about seven years and then I got into track and I did hurdles," she said. "I had a lot of experience with jumping and flipping. My mom (Jennifer) thought (diving) sounded like a fun thing to try out so she put me in one practice. After that, I knew that was something I wanted to pursue further."
Weber developed her skills through the Redbird Diving Club, whose head coach is Illinois State diving coach Phil Hoffmann.  
"I can't say enough about Phil Hoffmann at Redbird Diving and what he's done with the diving scene in Bloomington-Normal," Budak said.
Weber says the diving club gave her experience. 
"It was really nice to also see the college divers practicing because I could see where I wanted to get to," she added. "Also, diving with beginners, I could see where I'd come from."
Budak credits Weber for mentoring NCHS rookies.
"It's been really nice to see her develop into a leader and to see those qualities come out in her," Budak said. "She's very quiet and reserved in her personality. She saw the need to reach out to the other divers."
It's like seeing a need to bounce back. One has to try no matter the degree of difficulty.
---
Contact Randy Sharer at (309) 820-3405. Follow him on Twitter: @Pg_sharer
Get in the game with our Prep Sports Newsletter
Sent weekly directly to your inbox!