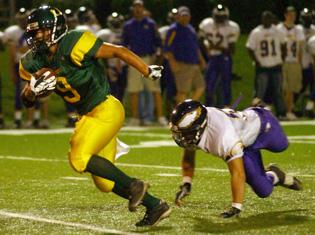 NORMAL - Will Brucker and his University High School football teammates focused this week on "starting out with a bang." After a quiet first quarter Friday night, the Pioneers forgot about the bang and went for an explosion. | Photo gallery | Box scores, schedules, stats
U High scored 29 second quarter points on a variety of big plays, and Brucker ran for 163 yards and two long touchdowns to send U High to a 51-0 Corn Belt Conference victory over Rantoul at Hancock Stadium.
"The finish of the (first) half, I can't ask for more than what we did," said U High coach Dusty Burk. "We had big plays on offense, defense and special teams. It was all phases, and as a coach that's what you preach."
U High, improving to 3-1 overall and in the Corn Belt, set the tone on its second play from scrimmage when quarterback Jake Todino scored on a 50-yard run.
Todino lofted a perfectly placed 24-yard TD pass to Eric Robb on the second play of the second quarter to make it 14-0. Then the Pioneers erupted for 22 points in the final 1:56 of the half, beginning with a safety.
Brucker broke loose for a 50-yard TD on the first play following the free kick. A Max Hayden interception set up a 4-yard run by Brucker that made it 30-0. Mike Dopson's 20-yard run capped the outburst after Craig Rich blocked a Rantoul punt.
Dopson returned the second half kickoff 82 yards to push U High's lead to 44-0, and Brucker completed the scoring with an 81-yard scoring burst.
"The line did a great job up front," Brucker said. "We saw some holes on the outside so when I got to the second level I wanted to break it outside and run for daylight."
U High had 332 yards of total offense while limiting Rantoul (0-4, 0-3) to 77 yards.
"I've got a lot of athletes I can get the ball to, and the guys up front are getting better every week and understanding the blocking schemes we're asking of them," Burk said.
"Brucker, Caleb (Katz) and Michael are all guys we feel comfortable giving the football to. Any one of them can make something happen, which is a luxury for me as a coach and a play caller."
Rantoul's Travis Myers was taken by ambulance to Bro-Menn Regional Medical Center just before halftime after suffering a possible neck injury. His condition was unavailable at press time.