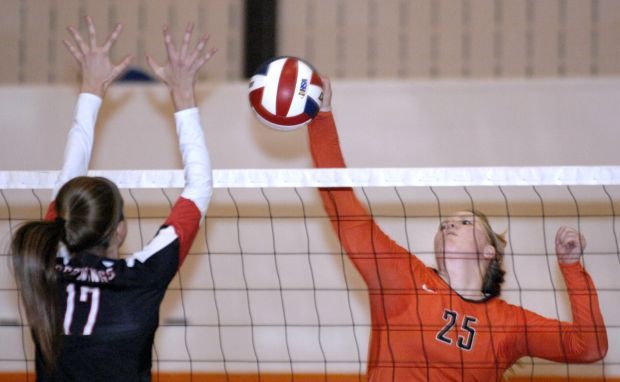 NORMAL – Even when at your best, keeping pace with Benet Academy of Lisle — a two-time defending state champion — can present its challenges as Normal Community High School's volleyball team learned in Saturday night's Class 4A super-sectional at NCHS.
"Our serve receive was fantastic, but at the same time we couldn't find ways to score," said Iron coach Christine Konopasek. "(Benet's) blocking would be there or they'd play great defense and they scrambled and were all over the place. They flew all over the court."
Benet's 25-18, 25-20 victory over NCHS will have the Redwings flying back to Redbird Arena for the state finals Friday and Saturday.
NCHS (24-15) put up a valiant effort, but a blend of power, finesse and just plain scrappiness propelled Benet to the super-sectional crown and into this year's Final Four.
A diving, digging Benet defense thwarted NCHS returns throughout the evening. Solid blocking up front with four different players scoring solos also went a long way in keeping the Iron at bay.
You have free articles remaining.
"Their blocking was phenomenal," Konopasek said. "It made it really hard for us to score."
"We've been working the last few weeks on blocking because we know that come postseason, those can be big momentum changers," said Benet coach Brad Baker. "A block here and there can really springboard you and score extra points and the kids did a nice job with that."
The Iron never led in the first set, but rallied from a 15-6 deficit to pull to within 15-13. A pair of kills by Machayla Leonard and a beautifully placed tap by Erika Peoples spurred the comeback. The 7-0 NCHS run ended on a service error.
"We made too many mistakes," Konopasek said. "There were stretches where we just erred ourselves to the point where we were making it really difficult to recover."
NCHS roared back in the second and took a 7-2 lead. A Benet timeout was followed by a pair of NCHS errors as the Redwings began to whittle away at the deficit. Benet caught up at 8-all. The teams battled point-for-point until Benet's Whitney Battoe dropped in a kill to break a 14-14 tie.
Peoples paced NCHS with 18 assists and 10 digs. Micki Quakenbush had nine kills for the Iron.