BLOOMINGTON — This is a sight that Bloomington High School athletic director Tony Bauman and others have been waiting for three-plus months.
It doesn't even matter if no balls are being used or score kept.
"That's a nice thing to drive into work and to see coaches and athletes using our facilities again," said Bauman.
Schools were allowed to bring back student-athletes for voluntary strength and conditioning workouts in Stage 1 of Return to Play Guidelines with several safety rules in place.
Even though no sport-specific equipment can be used right now, everyone has been happy to return to anything resembling normalcy.
"Kids seem to be excited just to be back and doing something and being around people and interacting with their coaches and teammates," said Normal Community athletic director Nic Kearfott.
Intercity schools are taking different approaches to getting back to sports.
BHS started last week with football conditioning workouts for three days, while girls basketball met once. Cross country and boys soccer began workouts Tuesday.
The Unit 5 schools, NCHS and Normal West, began Monday with football while girls basketball and boys soccer started Tuesday for NCHS.
Central Catholic also returned last week for football and boys and girls basketball. University High decided not to do anything for Stage 1 in which groups of 10 or less, including a coach and medical personnel, can train while maintaining social distance of 6 feet apart.
"Our coaches have been awesome. They've been patiently waiting and have understood," said new U High athletic director Steve Evans. "At the same time, they're ready to go. They're sitting at the red light and waiting for it to turn green."
Athletic directors let their respective coaches decide if and when they wanted to get together with their student-athletes. The IHSA said local school district approval also was needed for Stage 1 workouts to begin.
Depending on what guidelines the IDPH approves for the IHSA to enter Stage 2 could factor into when schools are ready to enter that category. Local school district approval will be needed again.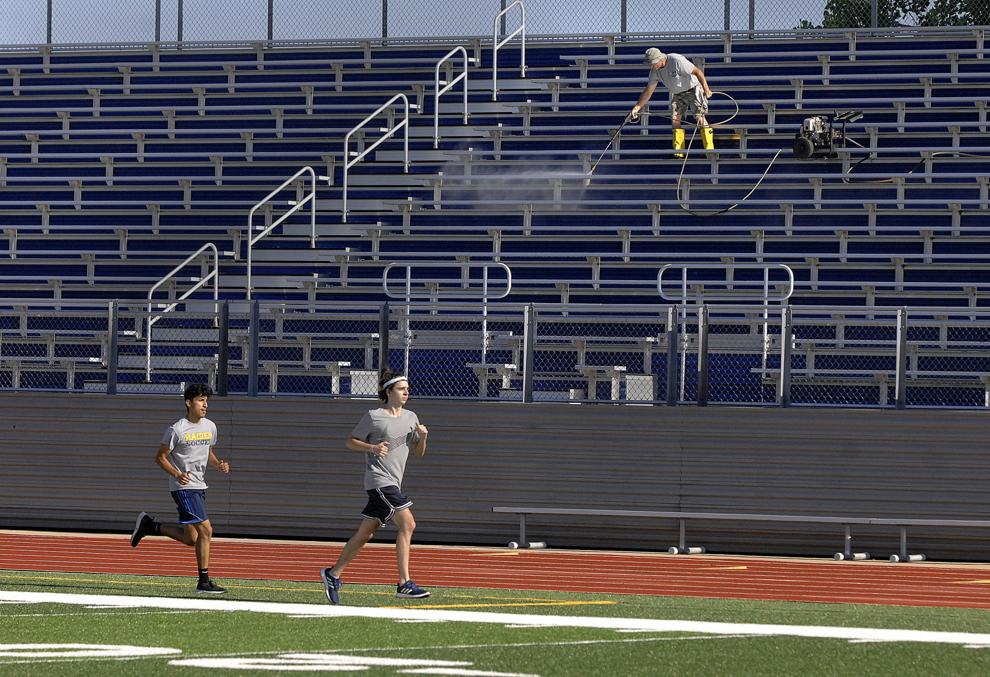 "We're trying to be proactive with conversations now so as those approvals come we're prepared to move pretty quickly," said Bauman.
Bauman said 90-plus football players have been working with head coach Scott Godrey and his staff. Seniors and juniors are in five different groups with nine athletes each, while freshmen and sophomores are in four groups of nine for the three-day per week workouts.
Cross country and soccer will work out two days this week.
BHS decided not to open the weight room in Stage 1, preferring to keep all activities outside in larger spaces to space everyone out.
"I've never had coaches and athletes more eager to work out without a ball," said Bauman. "I met with coaches and have gone out the first day with our groups and there is an excitement about being able to get together again, see some friends, see some colleagues as coaches and just work together. Our coaches are doing a great job of spreading them out and doing what we can within the guidelines."
NCHS had 139 football players signed up for workouts, according to Kearfott. The Ironmen have three sessions for 45 minutes with six groups of nine per session. Girls basketball also goes for 45 minutes, while soccer lasts an hour.
All workouts activities at NCHS are outdoors in Stage 1 with the weight room being closed.
"Once we get into the next phase the plan is to get kids in the gym and weight room and so forth," said Kearfott.
Kearfott isn't sure if NCHS will allow its basketball and football teams to participate in any out-of-town shootouts or 7-on-7 tournaments, respectively.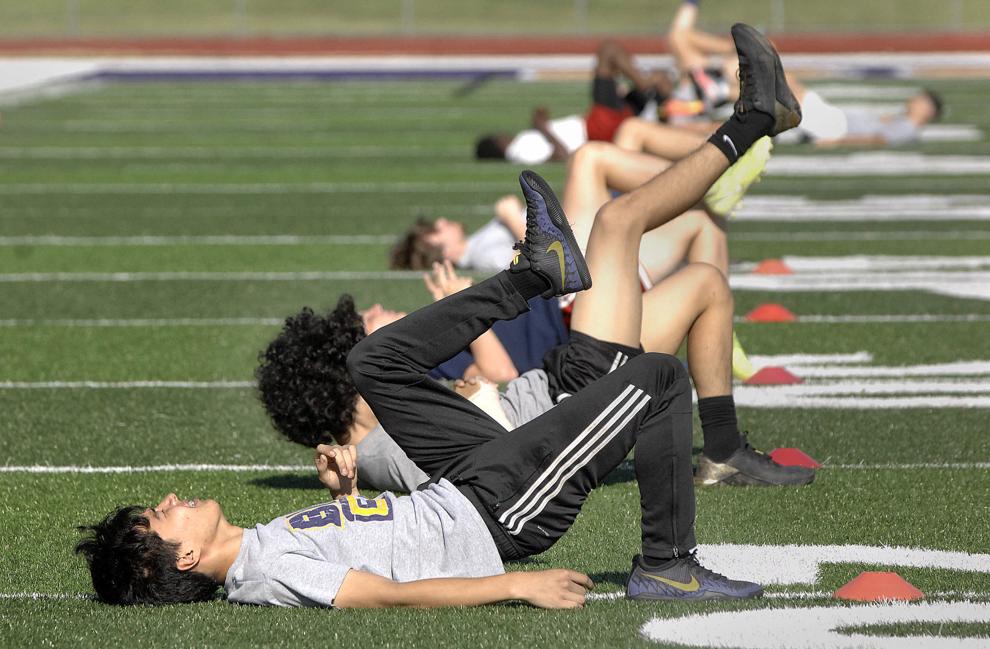 "We're still going to be cautious and probably slower maybe than some places because of the safety and the unknown," he said. "I stressed to our coaches our end goal, and everyone's goal, is to play in the fall and winter. We're going to take steps toward that."
Central Catholic athletic director Hud Venerable believes more of the Saints' squads will participate once Stage 2 arrives.
"Other programs are continuing to do their own thing they've been doing — visual training, stuff like that," he said.
Central Catholic has about 50 football players for three sessions of an hour-and-a-half per week, while its basketball teams are going twice a week for 90 minutes as well in Stage 1. Venerable said the weight room also is available along with the gym, football field and track.
"It's good to watch the interaction and see smiles on faces and kids excited to be back on our property and facilities, and coaches as well," said Venerable.
As far as participating in basketball shootouts or football 7 on 7s, Venerable said "we may have some limited opportunities for competition." Coaches have been talking to other schools about that, but Venerable said it will depend of whether that is approved by the Diocese of Peoria and the IDPH.
"We can plan, but those plans might change at the spur of the moment," he said.
Evans said U High's Stage 2 plan has been approved by Illinois State University. Now, U High is waiting to see if the IHSA Stage 2 plan is a go before going full steam ahead possibly as early as Monday.
"We're going to meet with our coaches (this week) and go over our plan and temperature training and documentation for our coaches," he said. "Our coaches still have to have all their contact day plans and the space and time approved by me before anyone can start."
Evans said the "timeline" of when Stage 1 was approved and getting approval from ISU and the Emergency Operations, the IHSA had already formulated Stage 2. So the school decided to wait.
"We kind of wanted to be proactive with Stage 2, which is sport specific and can start using equipment," he said.
Evans said U High will not host any competitions or do youth camps this summer, preferring "to focus on our athletes" before the school year begins.
Football won't be traveling to any 7 on 7s, said Evans. He needs to talk with basketball coaches Andrew McDowell (boys) and Laura Sellers (girls) to see if they want to travel to any shootouts. 
"Coach Sellers and Coach McDowell might just want to focus on their athletes," said Evans. "They haven't seen them or been around them for a while."
Schools may still choose to honor seniors within Phase 3 or Phase 4 state guidelines, but no games may be held with or against other schools.
---
PHOTOS: Fall sports conditioning begins at Bloomington High School
Contact Jim Benson at (309) 820-3404. Follow him on Twitter: @pg_benson