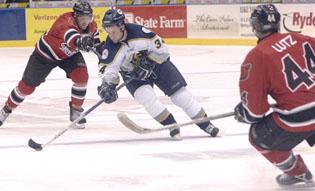 BLOOMINGTON — By the time the fisticuffs started in the third period Friday night at U.S. Cellular Coliseum, the fight already was out of the Bloomington PrairieThunder.
Two power-play goals early in the second period sparked the Rockford IceHogs to a 5-1 victory over the Thunder in a United Hockey League game before a crowd of 3,110.
"The second and third periods they came out like they were the home team and took it to us. That's always disappointing. It doesn't matter where it is," said Thunder captain Tyler Rennette. "You have to play 60 minutes. It's a good, fast league. That showed tonight. We didn't play the last 40 minutes, and they took it to us."
The Thunder (2-6) had plenty of power-play chances after Rockford took a 3-1 lead. However, Rockford (4-3) was able to kill off five Thunder power plays in the second period, including one five-on-three advantage.
Three separate fights broke out in the third period after Rockford went ahead 4-1. That might have entertained the crowd, but Thunder coach Derek Booth didn't find much to cheer about.
"Total collapse," said Booth of the second period. "I thought the first period we played pretty good, simple, exactly the game plan we wanted staying out of the penalty box. Then we got into penalty trouble.
"The way the first period was (called) I thought it was going to be a good, clean game. Then all the penalties started getting called. It changed the whole tone of the game."
The Thunder took a 1-0 lead early in the first period. Garett Cameron scored his team-high fourth goal of the season, poking a rebound past Rockford goalie Frederic Cloutier on a power play. Jon Jankus and Mathieu Brunelle assisted.
"I swung my stick at it and it went in," said Cameron. "That's what you're supposed to do, go to the net and good things will happen."
Rockford tied the game when Chaz Johnson tipped in a pass from Preston Mizzi with 6:27 left. Thunder goalie Steffan Braunlich kept the score tied when he made a nice save on a breakaway by Nicolas Corbeil with 15 seconds left.
The IceHogs quickly jumped to a 3-1 lead on a pair of power-play goals early in the second period. Kaleb Betts took a pass from Corbeil in front of the net to beat Braunlich at the 3:32 mark. A little more than two minutes later, Mizzi blasted a slapshot from the slot into the net for a 3-1 Rockford lead.
Braunlich kept the score close when he stopped a penalty shot by Betts with 13:33 left. The Thunder, who beat Chicago 4-3 Thursday night, had only nine shots on goal in the second period despite the five power-play chances.
"We were very tentative and hesitant. Our confidence level from the night before to tonight was just completely opposite on the power play," said Booth.
Kevin Ulanski scored early in the third period and Mizzi added his second goal at the 15:06 mark.
"Our specialty teams won the game for us tonight. They've been inconsistent," said Rockford coach Steve Martinson. "We have good players, but we haven't been as good as I think we could be. We moved our feet and the puck around better."
Cloutier, who was on the New York Islanders' roster for three weeks last season, stopped 32 shots. Braunlich made 36 saves in his third start.
"We have to work on getting that puck to the net and crash the net and go for those rebounds and those power play goals will go in," said Cameron.
Bloomington's Jason Lawmaster and Rockford's Johnson got the Friday night fights started early in the third period.
Before the next face-off, the Thunder's Jason Payne and Rockford's Bruce Watson discarded their gloves and helmets and squared off.
Two minutes later, Bloomington's Jeff Mushaluk and Rockford's Robin Big Snake exchanged punches in Round 3.
"Usually we find not a lot guys want to fight (the IceHogs). That was a great fight with Watson and Payne," said Martinson. "I've never seen Bruce lose a fight. Payne stood in there and Watson is 235 (pounds). I've seen him beat up heavyweights and just kill them. The fans from that standpoint got to see some entertainment in the third (period)."
The Thunder plays its third game in as many nights today when it travels to Hoffman Estates to face the Chicago Hounds at 7:30 at the new Sears Centre.
"It's always tough three in three. This is the first of many this year," said Rennette. "It's a big game and this is where mental toughness will kick in. We'll see what we're made of."
---
More photos
To view additional photographs from this game and others, click here
Be the first to know
Get local news delivered to your inbox!