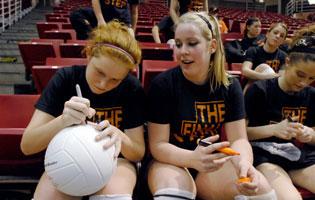 NORMAL — We gather together today at Redbird Arena to celebrate the 30th and final year of the Class A and AA high school state volleyball tournaments.
A four-class system will take over next year and instead of an Elite Eight advancing in two classes to Redbird Arena, four Final Fours will come to town.
The final two-class tourney today and Saturday appears capable of giving fans a concentrated jolt of high-caliber teams and players to relish.
Wheaton St. Francis, ranked eighth nationally by PrepVolleyball.com , is the Class AA favorite and could become the first school to win in both classes while most small-school observers are picking Breese Central to repeat in Class A.
"Polls and rankings are so much fun," said St. Francis coach Peg Kopec, who has noticed rankings don't automatically give a team points on the court.
"I hate that part," she quipped. "I hate when you have to play the people."
Kopec's Spartans (38-2) won a record seven Class A titles, but lost in the Class AA sectional final last year to eventual state champion Naperville Central after the IHSA's new enrollment multiplier for non-boundaried schools bumped them up a class.
"We had a real good team last year, but Naperville Central was just that much better," said Kopec, whose 32-year record of 917-215-2 ranks second for victories in state history behind the 921-255-2 mark of Springfield Sacred Heart-Griffin's Helen Dulle.
St. Francis takes the court at 10:30 a.m. today to face first-time quarterfinalist Morton (35-4-1). Both teams are projected to be in 3A next year with schools of 714 to 1,628 students.
Class 1A will have schools under 289, 2A 289 to 714 and 4A over 1,628.
"Everything has flaws," said Kopec, whose 752-student school has a multiplied total of 1,240. "You are going to have complainers no matter what. I think it gives more people a wonderful opportunity. For the schools that are very small, it's hard to go up against those schools of 4,000, let me tell you, speaking from personal experience."
With powerhouse private school programs such as St. Francis, five-time champion Breese Mater Dei and three-time champion Quincy Notre Dame now in Class AA, the Class A tournament is seeing more first-time qualifiers.
Four of today's Elite Eight are making their state tourney debuts including Flanagan, Sciota West Prairie, Danville Schlarman and Rochester.
"Getting some of the private schools that were always pretty dominating out of this single-A class up into the AA class has helped some programs," said Breese Central coach Jim Cook. "We have been helped by it."
Kopec wishes each class next year could bring eight teams to Bloomington-Normal. She suggested Shirk Center as an additional site.
"It would be a lot of work to run two tournaments simultaneously," conceded Kopec. "These (tournament organizers) try to put on an exceptional experience for these young women and they do. My only wish is that they could do it for more.
"Every year they do something nicer for the girls. I think people need to stop and appreciate that a little bit."
St. Francis survived the LaGrange Lyons Sectional, which included No. 41 nationally ranked Naperville Central, No. 53 Naperville North and No. 74 Wheaton Warrenville South.
"It (being Class AA) hasn't changed much for us except for the playoffs," Kopec said. "Our sectional, it was Halloween and it was scary. It was a mini state series."
Joliet Catholic coach Christine Scheibe, whose 35-5 team faces Winnetka New Trier (30-9) at 9:30 a.m. today, expects to join St. Francis in 3A next year.
"For us, it really doesn't make any difference because we've been playing up with the big schools as it is," she said. "No matter where we get put, it's not going to affect us that much. I wouldn't mind playing up in 4A because with our schedule, that's the majority of the teams we play all year long anyway."
Flanagan coach Kari Harms, whose team will be in 1A next year with current Class A powerhouses such as Hartsburg-Emden and Mount Pulaski, views four classes as beneficial.
"It was a tough road here," said Harms, whose 176-student school had to knock off Mendota (637), Princeton (682) and Peoria Christian (506) the past three matches. "In the past five years, we've played U High and Central Catholic. Schools that don't get here all the time deserve a shot."
Morton coach Jami Greve doesn't expect her squad to see big changes as a 3A school next year.
"We'll probably be playing the same teams and level of competition we have been," she said. "It's just a great opportunity to play this last year where it's only two classes. You spread it over four classes and I think you are watering it down."
Breese Central's Cook, whose 34-6 squad faces Danville Schlarman (27-1) at 12:30 p.m. today, wants to see the four-class system in action before judging it.
"I didn't know if I would like rally scoring, but it's fine," he said. "We think we'll be in 2A."
Schlarman coach Jamison Kuemmerle also expects to be in 2A playing many of the same schools he does now.
"We're private so we get bumped up (to 2A)," he said. "It would be nice if we were 1A playing the schools we should be playing, but everyone in our conference has four or five hundred kids so we are used to playing the same caliber of teams.
"I think more championships is great. They talk about it being watered down, but why not give kids more championships? To win a championship, you're still going to have to beat somebody who is pretty good."
---
Where they'll be next year
Here are next year's projected classifications for this year's Class A and AA state volleyball tournament qualifiers. * - Denotes non-boundaried schools whose actual enrollment was multiplied by 1.65.
Class 1A - under 289 students
Albion Edwards County 321
Belleville Althoff 1,014*
Wheaton St. Francis 1,240*
Darien Hinsdale South 1,920