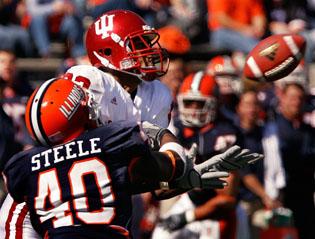 CHAMPAIGN — Last week, the University of Illinois football team struggled to get its hands on the leading kick returner in the nation. The challenge this week is to corral the country's No. 1 punt returner.
Illini special teams will be on the spot again when Ohio University and electric freshman return artist Chris Garrett come to Memorial Stadium for a nonconference game at 6 p.m. today.
Garrett, a cat-quick, 5-foot-8, 177-pounder, is averaging 25.9 yards on nine punt returns, including an 88-yard touchdown last week against Western Michigan, the longest punt return in the nation this season.
The same day Garrett was running wild against Western Michigan, Illinois was futilely trying to catch Indiana kickoff returner Marcus Thigpen. He had one 60-yard return, then took the opening kickoff of the second half and sped 98 yards to a touchdown to help Indiana post a 34-32 victory.
It goes without saying Illinois has spent quality time this week trying to tighten its special teams tackling.
Illinois coach Ron Zook said he has considered making personnel changes on special teams units, but better discipline is the ultimate answer. "As I look at Ohio, you can see the talent changing. They are getting more athletic guys and the returner is as good as the guy we just saw," he said.
Ohio University poses problems beyond its special teams play.
Offensively, tailback Kalvin McRae is coming off his eighth career 100-yard game. Quarterback Austen Everson is completing 59 percent of his throws and is the team's No. 2 rusher, running an attack that utilizes some of Coach Frank Solich's option plays from his days at Nebraska.
Zook said Ohio has showed enough offensive looks that it's difficult to categorize the Bobcats as consistently Nebraska-like in their approach.
"It depends on which game you look at," Zook said. "Last week they ran a certain personnel (package). Every week it's been different. But everything you do defensively has to be option-sound."
Solich said the offensive goal has been to gain greater balance between the pass and run.
"We're not a typical drop-back passing team; that's not our style now," he said. "We need to establish the run and build off that with play-action passes. Kalvin has to play a very big role for us now.
"We've made a strong effort to improve the passing game. We wanted to be a balanced team last year, but we just didn't have enough talent to put it together. But we've upgraded our wide receivers, and that's been a big plus for us in the passing game.
"Austen has worked hard in the off-season to become a better thrower. He's a bright young man, and if you give him enough opportunities, he'll make the right decisions most of the time."
Everson, a senior, was nearly beaten out for the starting job by former Illini quarterback Brad Bower, who transferred to Ohio when he couldn't envision playing time at Illinois.
"Brad is doing really well," Solich said of his backup junior quarterback. "He had a good spring for us and came out of spring virtually tied for the No. 1 spot. In the fall, he probably didn't play as well as he's capable of in a couple scrimmages and that gave the nod back to Austen.
"But Brad has gotten playing time in almost every game and he's done well. He has the ability to develop into a very good quarterback for us."
Today marks the fourth start for Illinois' freshman quarterback Juice Williams. His completion percentage is just 41.4 percent (41 of 99), but his big-play capability is undeniable. His six touchdown passes have covered 76, 69, 69, 53, 35 and 31 yards.
Be the first to know
Get local news delivered to your inbox!