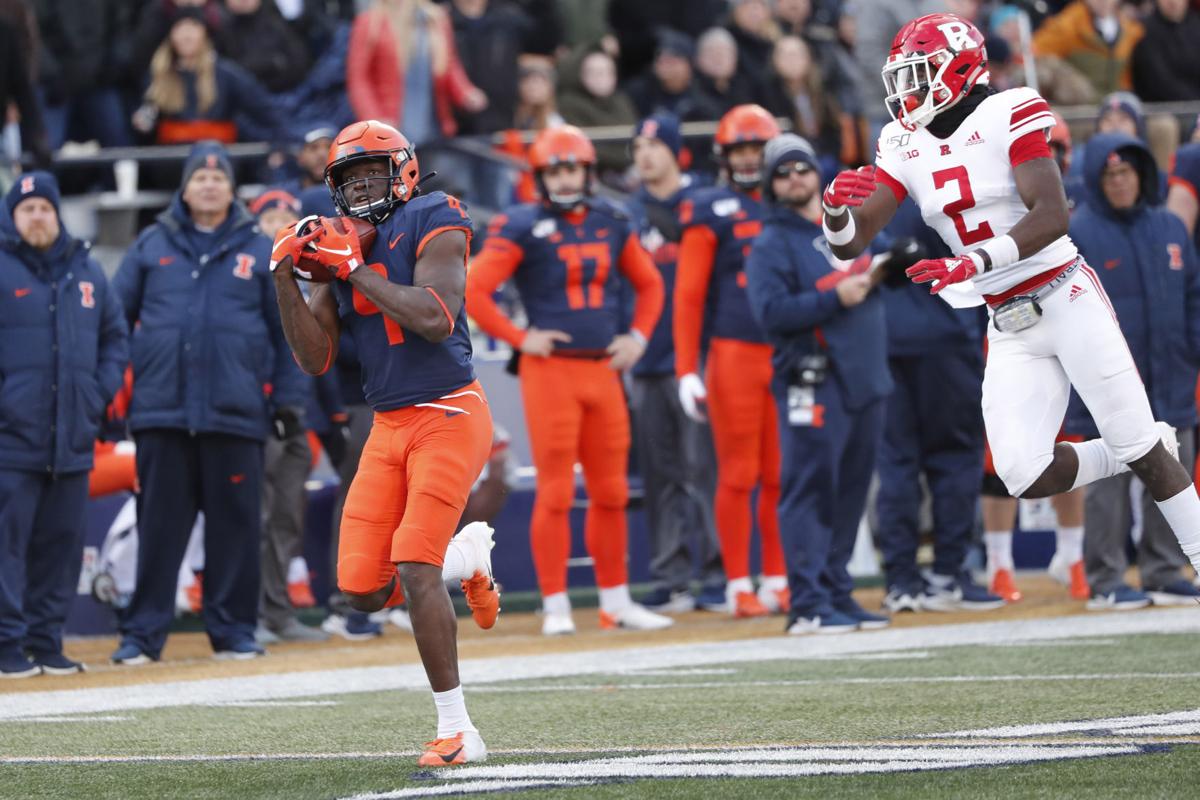 CHAMPAIGN — True chemistry between a quarterback and a wide receiver can't be built overnight. There's no magical switch to flip to build a deep connection of trust and understanding on one another's game. The process takes time, but when the light comes on, it shines bright.
Illinois wide receiver Josh Imatorbhebhe can feel that connection growing with quarterback Brandon Peters. Both are in their first years in Champaign by way of graduate transfers; Imatorbhebhe from Southern Cal and Peters from Michigan. They met at a camp in high school, but hadn't played together until arriving in Champaign.
In Saturday's win over Rutgers, Imatorbhebhe lined up at the receiver spot closest to the Illinois sideline. The play call was designed to go to the inside receiver over the middle, but Imatorbhebhe knew the pass was coming his way before the ball was snapped.
He saw his defender in press coverage with little help over the top. Imatorbhebhe knew Peters saw it, too. The result was a deep pass down the sideline for a 52-yard touchdown.
"I felt that," he said. "That's how I know the connection between me and him is starting to get better and better. He's looking out for me and I'm looking out for him knowing that he's about to get me the ball, I want to make sure I get my best release."
Imatorbhebhe has 25 catches for 420 yards and seven touchdowns, and 15 of his receptions have been for 15 yards or more with six going for 25 or more. He's been a key part of Illinois' ability to hit big plays when necessary.
"There's definitely a level of trust there," said Peters, who has thrown for 1,117 yards and 13 touchdowns. "If I see him one-on-one with one-high safety or press coverage, that's a great matchup and I trust him 100 percent to make the play each time."
Most defenses play heavy in the box against Illinois to try to thwart a running game that ranks eighth in the Big Ten with 163 yards per game. Opportunities exist for offensive coordinator Rod Smith to stretch the field on a big play, and Peters and Imatorbhebhe have been connecting.
You have free articles remaining.
"It's the feel of the game," Smith said. "It's the feel of whenever you have the matchup you like. Sometimes it's down and distance. Sometimes it's what style the defense decides to play.
"There are several times throughout the course of the game where I give Brandon to go-ahead and take shots if the opportunity presents itself. At times, there was and at times there wasn't. It's more of a feel thing than there is anything, to be honest."
Peters said there are options built within the offense to throw a fade pass if he sees a coverage he can exploit. When he sees his receivers one-on-one on the outside, he's like a kid on Christmas morning, particularly in the red zone. He saw that on a big 48-yard pass play to Donny Navarro on the second drive of the game and later on Imatorbhebhe's big play.
"I wouldn't say that it's unique just because it's kind of built in our offense for opportunities like that," Peters said. "We'll have a run play called with an option to throw a fade if the corners press. I wouldn't say it's unique, but he definitely trusts me to take and make those throws when they're present."
Of course, big plays through the air benefit running back Reggie Corbin, too. They keep the defense honest and can quickly result in points, which means shorter drives, less room for errors and a conservation of energy.
There's even value in deep incompletions.
"Even when they bring everybody in the box and they have one safety back there, or sometimes zero safeties back there, and we just throw it 60 yards down field and it's incomplete, it's still a great play," Corbin said. "Now they're like, 'Woah, OK. We do need to back up.' That's always good.
"It's even better when we complete it. It's like, 'Thank you, we don't have to run all the way down there now.' It's always good."
Those plays become easier to connect on because of a burgeoning connection between Peters and his receivers, particularly the 6-foot-2 Imatorbhebhe, a great leaper.
"They break it open, man," Imatorbhebhe said. "It's good for us. It gives us that momentum I'm talking about and it's good for us in that the other team is like, 'Dang.' If I have a 52-yard touchdown or Donny has a 48-yard gain, it's kind of like, 'Woah,' to the opponents. Like, they're going to have to overcome that much more inertia in order to get back in the game."
Contact Joey Wagner at (217) 421-6970. Follow him on Twitter: @mrwagner25