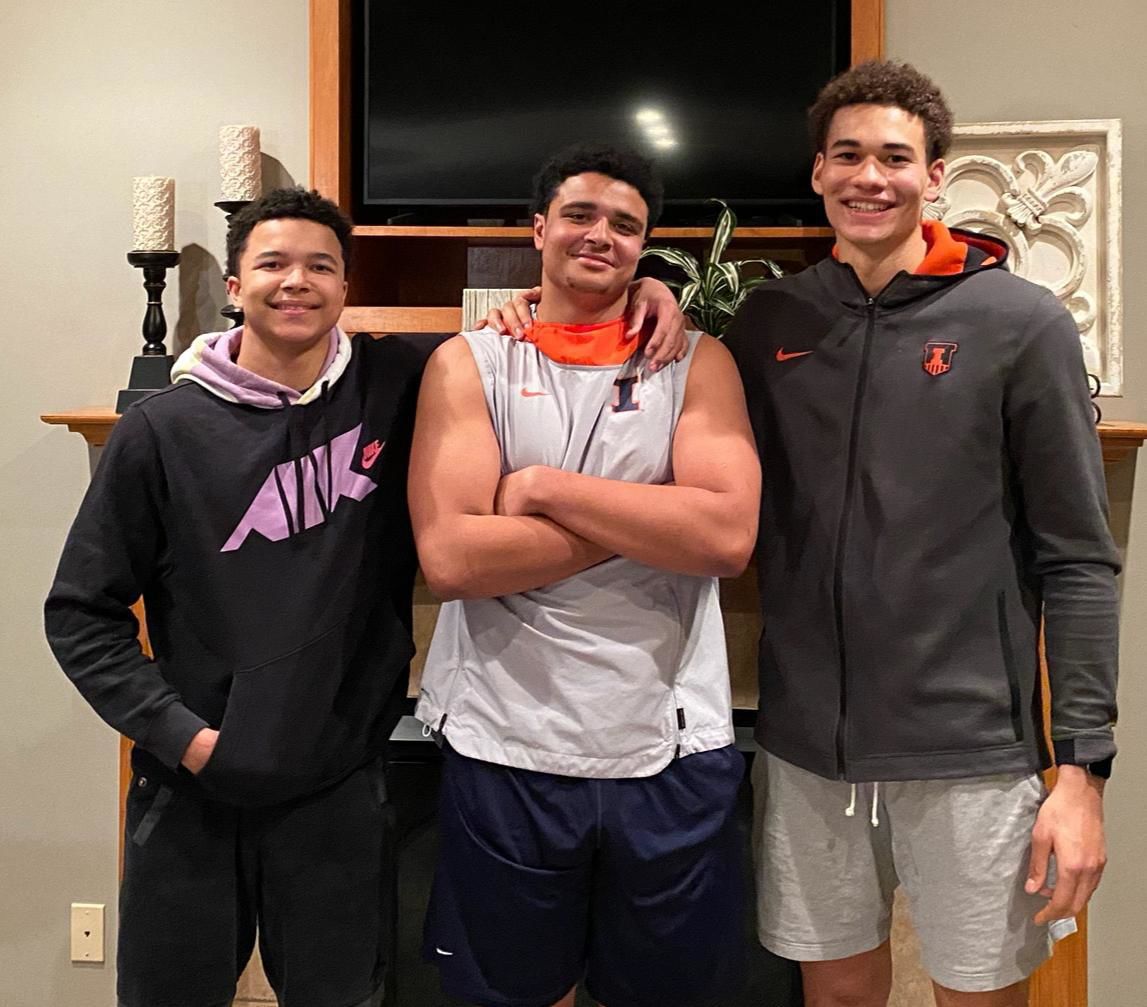 BLOOMINGTON — Griffin Moore was touting his skills in the popular video game NBA 2K20, pointing out that he is better at the game than Benjamin Bosmans-Verdonk during a Thursday morning phone call.
For good measure, Moore said he also won a highly competitive one-on-one basketball game against the Illini forward who battled an ankle injury this season, costing him most of his freshman year. That, too, came with a rebuttal from Bosmans-Verdonk.
"Listen," Bosmans-Verdonk said before pausing. "All the things he said about one-on-one and 2K, I don't want to call him a liar, but those things never happened. He never beat me in either one of those things. I don't know what he was thinking. He just wanted a cool story, I guess."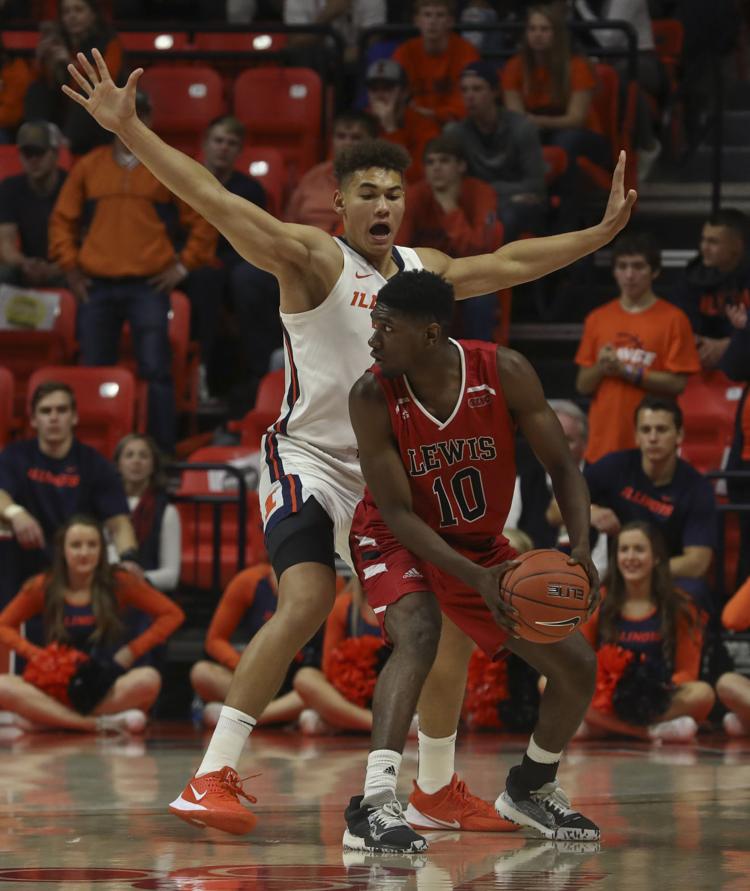 The two are together through a friendship that was forged by being athletes at the University of Illinois. Bosmans-Verdonk has been staying with the Moore family — Griffin, younger brother Landon, father Tim and mother Angie — since March 17 as the world reacts to the COVID-19 global pandemic that has caused schools in Illinois to close for in-person learning, canceled the Big Ten and NCAA Tournaments and spring football, and has put the entire sports world on pause.
Bosmans-Verdonk is from Belgium and briefly entertained the idea of returning home to be with his family, but realized the safer option was staying in the U.S., particularly with imposed travel restrictions to prevent the spread of the virus. He still talks to his family multiple times daily and said they're doing fine back home, but there were too many issues for him to return home to be with them. So, Griffin offered a place to stay, and Bosmans-Verdonk took him up on it.
"It means a lot," Bosmans-Verdonk said. "I owe them so much. I'm forever grateful. They took me in ... as an actual son, really. They take great care of me. That really means a lot. I would have been stuck on campus not being able to do much.
"This whole quarantine thing, it sucks straight up. But at the same time, right now, I'm in a good position. Being here allows me to work out. I'm surrounded by good people. I'm definitely thankful that they allowed me to come here."
Tim and Angie said it wasn't even a conversation when Griffin approached them about Bosmans-Verdonk staying with them in their Bloomington house. Bosmans-Verdonk, who had visited the Moore household during the football team's bye week, was welcomed to stay as long as necessary. No questions asked.
"It was a very easy decision when Griffin first came to us and asked if Ben could come stay with us," Tim said. "We actually, before they even came home, told Griffin to check with Ben to see if he had a place to go because we didn't want him staying over in Champaign. It was a very easy decision."
Said Angie: "It wasn't a question at all. Ben and whoever needs some help, we're fortunate enough to be close by to be able to do that. It was not even a conversation."
From the time Griffin and Bosmans-Verdonk met in the summer, Tim and Angie made it a point to keep their door open if Bosmans-Verdonk — or anyone else — needed a place to go.
"We always told him if you ever need anywhere to go to come here," Griffin said. "I can only imagine being in a different country for the first time and not really knowing anybody. We just wanted to be a second family for him.
"We just wanted to be welcoming. Anything he needs he knows he can come to us for it. My parents would try to put themselves in his parents' shoes and say, 'If my son was on the other side of the world or in a different country, hopefully somebody would be over there to take care of him.' It's the same kind of thing."
To understand why the decision was easy for the Moore family is to understand Tim and Angie Moore. Tim is a principal at Bloomington High School, where Griffin graduated from and Landon is a junior who was first-team all-conference in the Big 12 and first-team all-area for the Bloomington Pantagraph. Angie works in human resources and both spend the better part of their days helping people where they can.
"We typically see people who are struggling or less fortunate," Angie said. "I think over time we realized we are fortunate and definitely open to sharing that when we can."
But opening a home to a college freshman for an undetermined period of time goes beyond employment. Tim can trace the decision back to when he was young. 
"The way I was raised, my mother used to provide for friends and for family all the time," Tim said. "We had times when friends would be at our house and my mother would cook, and if they were there, she fed them. I think seeing that growing up and it's just been something that's always been a natural thing to me to want to help people if I can. I think that's helped shape me and mold me a little bit."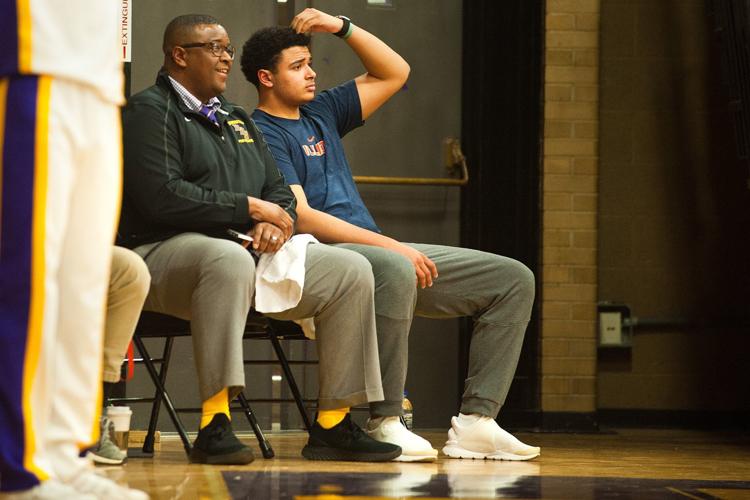 The friendship between Griffin and Bosmans-Verdonk started in the summer before their freshman year at Illinois. Some members of the football team, Griffin included, met Illinois basketball freshman Kofi Cockburn in a class over the summer and they struck a friendship. Griffin, confident with no shortage of smack talk, told Cockburn that he do a little bit of this or a little bit of that against him on the basketball court. Before long, they were all hanging out in dorms as friends.
Bosmans-Verdonk arrived on campus later in the summer and found his way into the circle. He and Griffin hit it off, hanging out between classes and workouts and grabbing food together whenever they could. 
"I think it's really our drive and how much we are dedicated to our sports," Bosmans-Verdonk said. "Even though it's different sports, we both have the same approach to our games. I feel like that's really an important factor of us becoming so close over time. When you're together with people who have the same drive and the same mindset, I feel like that helps bonding really fast.
"Me and Griffin, we just click. We understood each other. We both know what it takes for us to be successful. We both really want to be successful. That's kind of how it started and over time we got closer."
Everyone in the house has their own schedule and own place to exist. If they need time alone, there's a place for that. If the three kids want to gather in the basement to play 2K, it doesn't take Tim and Angie long to hear the shouting during games.
The schedules for Griffin and Bosmans-Verdonk include school work, team meetings via the Zoom app and working out, but Griffin said through longtime family friends they have places available to them for workouts — a valuable gift during a time that players across the nation and relegated to finding unique ways to stay in shape.
"It keeps me accountable, too, making sure I have somebody else who is going to work out as well," Griffin said. "I can't not wake up in the morning and say, 'I'm going to sleep in' and he's up and ready to go. It's more accountability so it definitely helps."
Then there's the matter of Landon, the junior who scored 18 points per game for Bloomington and knocked down 61 3-pointers. Suddenly he has a Division I basketball player around to bounce ideas off of or talk to about the game. The value of that isn't lost on either him or Bosmans-Verdonk. They get along well, both like to play 2K and have a similar interest in music — and, of course, basketball.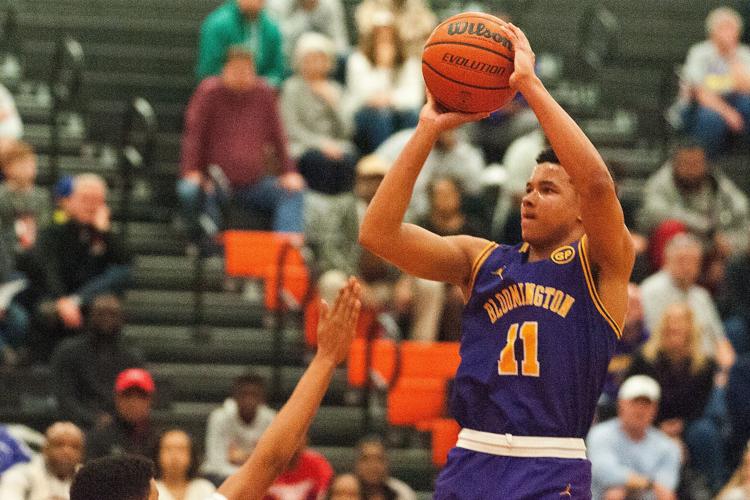 "The other day, we were watching some old March Madness games," Landon said. "It was kind of cool. Me and him were just kind of talking about it. We watched the Illinois-Arizona game from 2005. We watched some Duke games from last year. It was cool hearing his thought process on the games and I was sharing stuff with him, too, I think he liked that."
Of course, Landon is actively involved in the great 2K debate in the Moore house. He offered some, but not much, clarity on the pecking order in the game.
"I'm by far the best player in the house," Landon said. "Ben is a close second — I'll give him that — and Griffin is by far the worst. He talks the most; I'll say that."
Bosmans-Verdonk has a place to play 2K, a place to work out and be around friends. There's value in that, and he recognizes it. He's put some thought into what life would be like alone in Champaign. This situation is preferable.
"Honestly, it would get kind of lonely if I would have been by myself right now, which is not bad for a while," Bosmans-Verdon said. "It gives you time to reconsider everything you do in life, like how fast basketball can be gone and how much you love it to reinvent yourself, but after a while, that gets old, too. It means so much being surrounded by great people, by friends really who took me in as one of their own. I'm forever grateful for it."
---
PHOTOS: 31 amazing Illinois basketball history photos
1987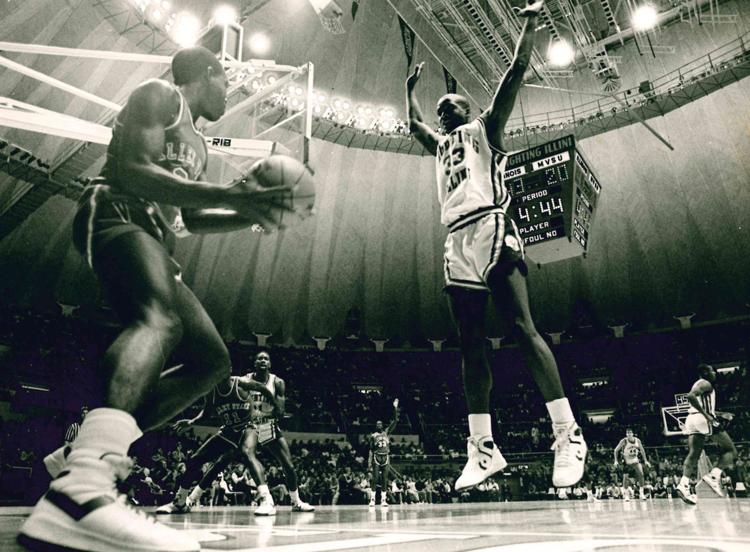 Ask Kendall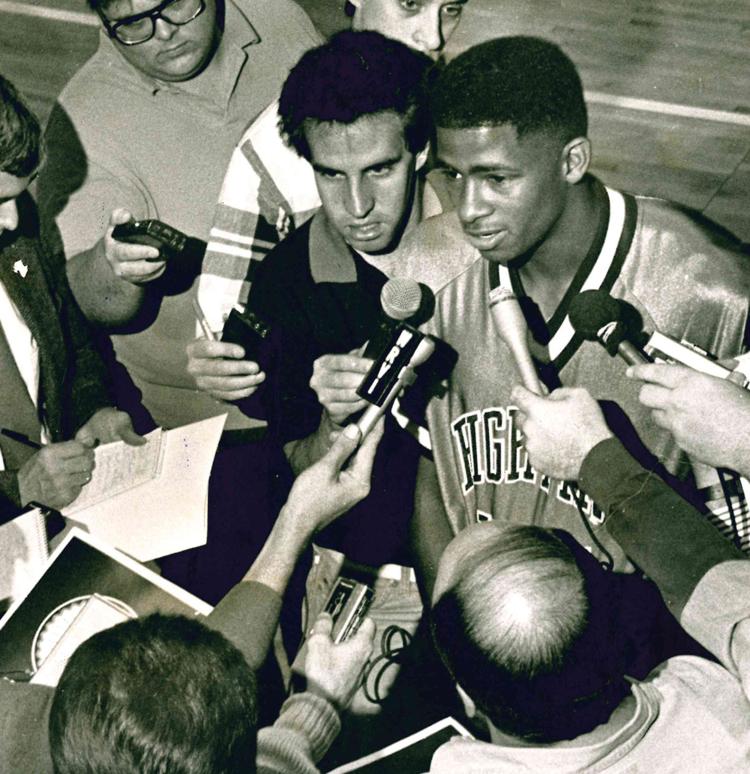 Big Reach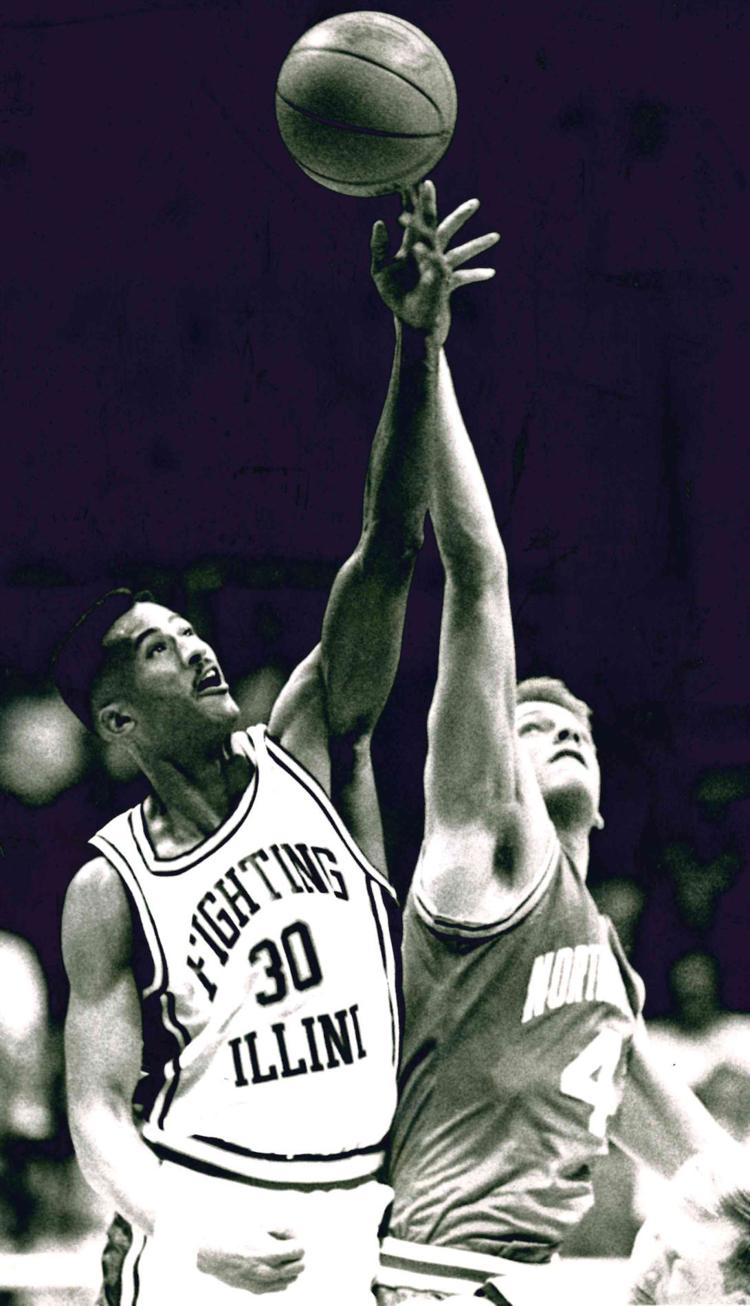 Celebrate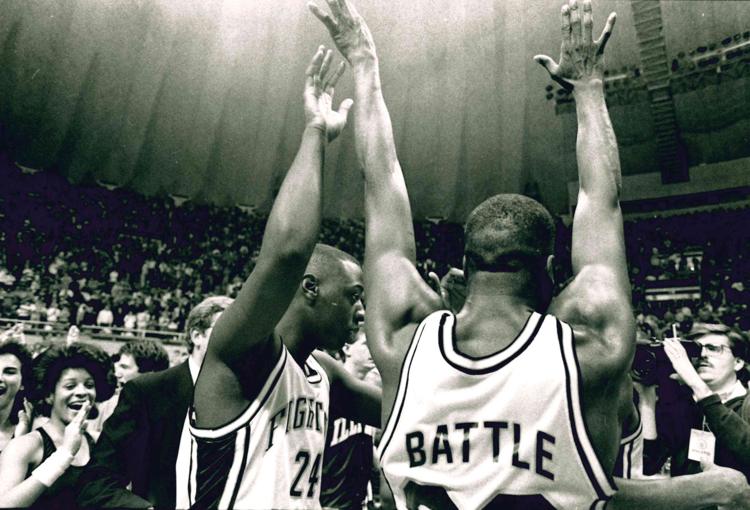 Center Court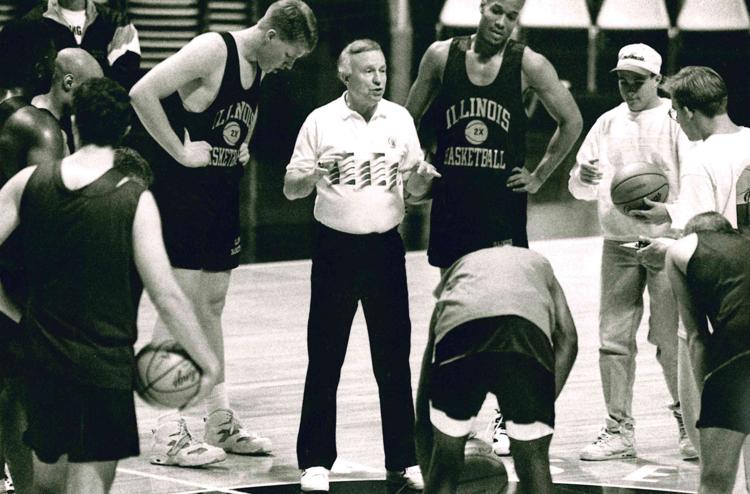 Cheerleading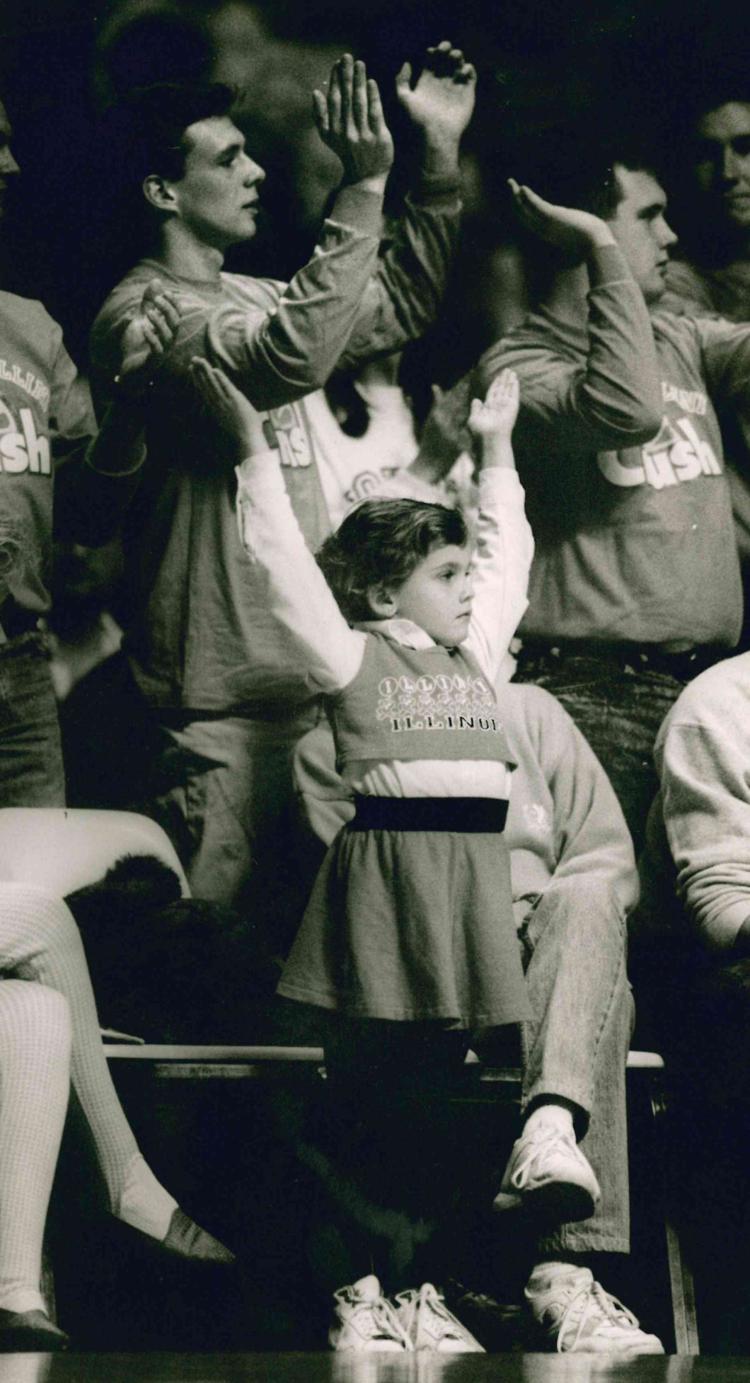 Chief Illiniwek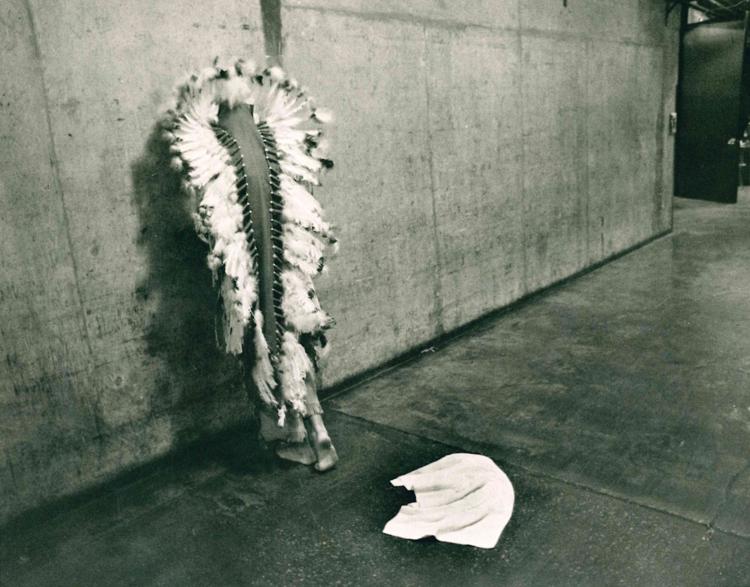 Coming through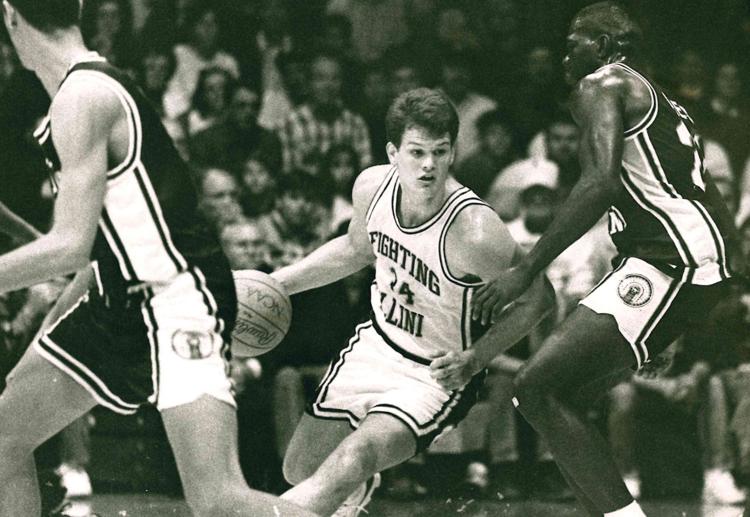 Distraction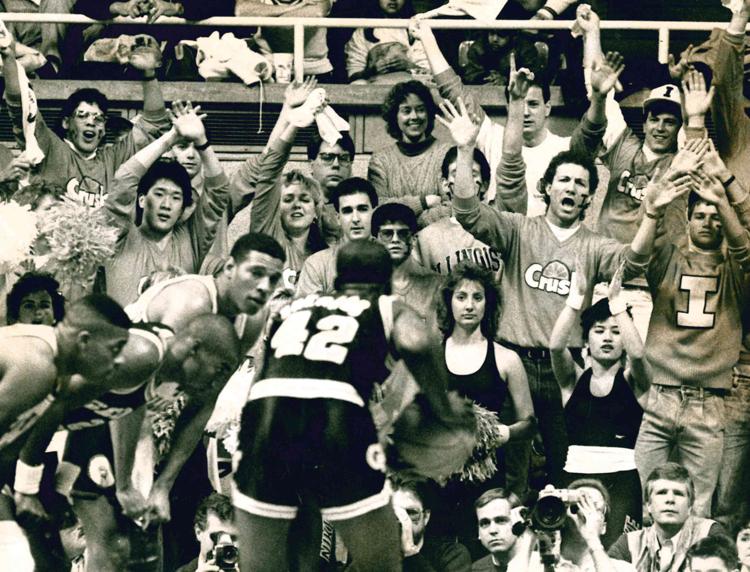 Easy does it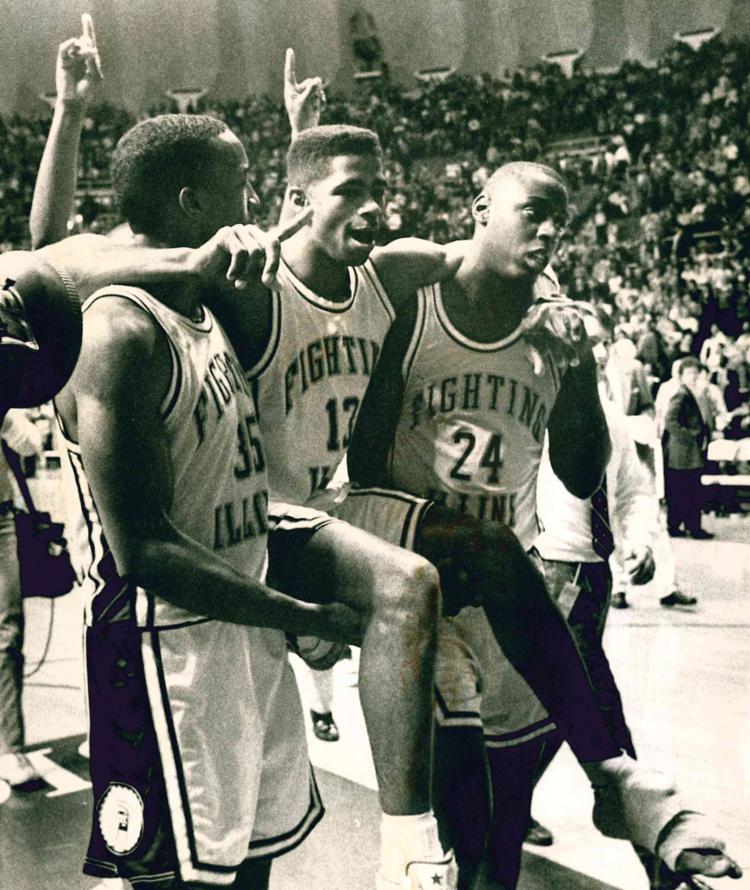 Efrem Winters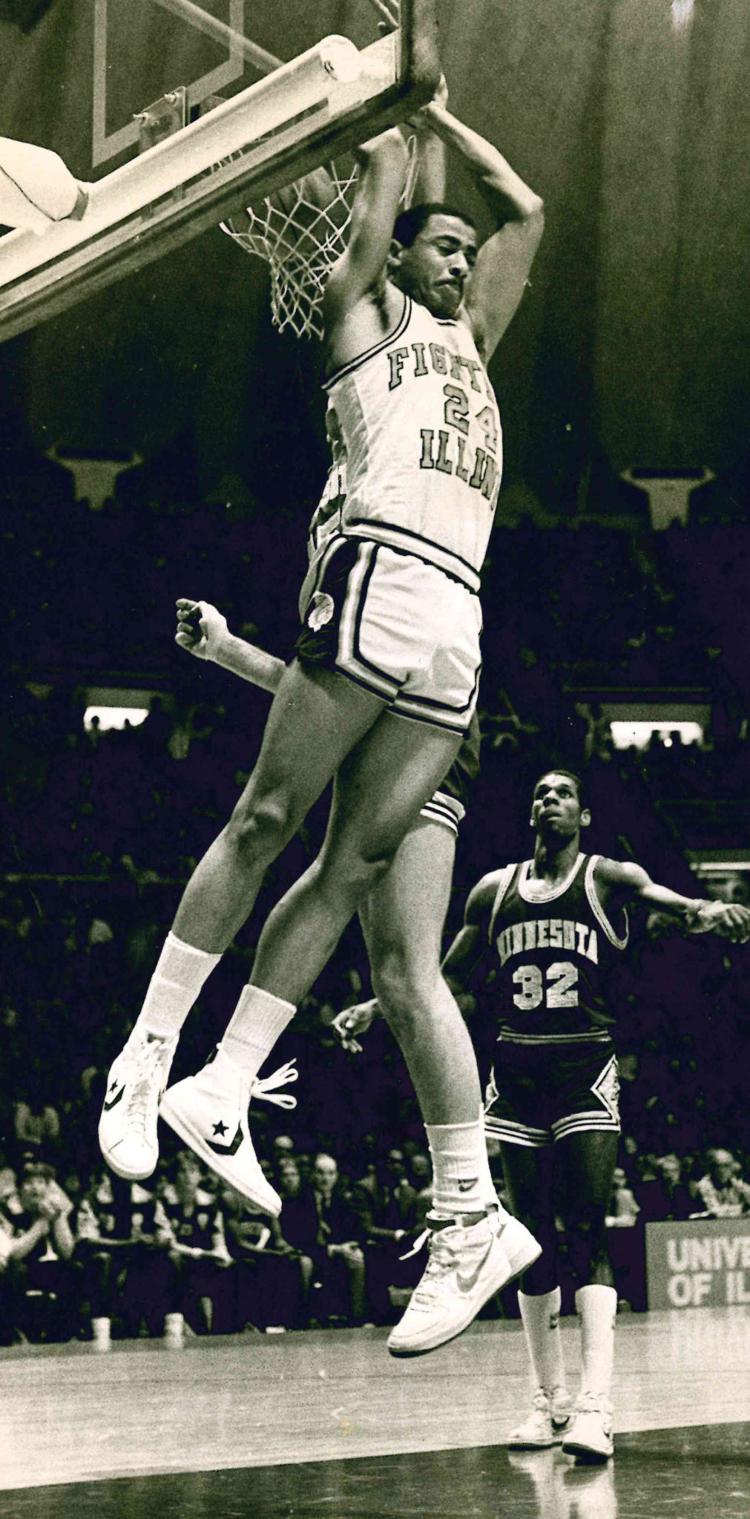 Efrem Winters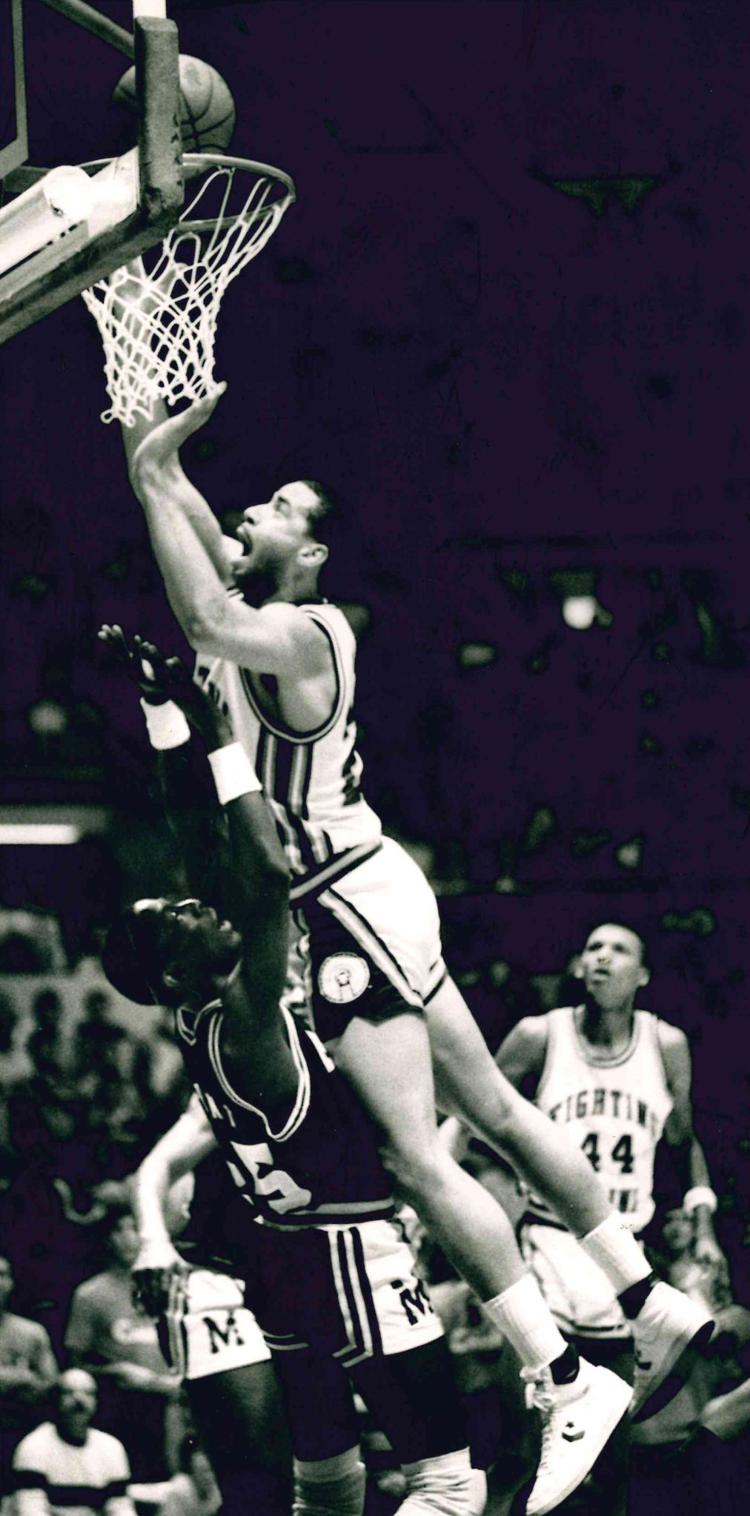 Fierce Rebound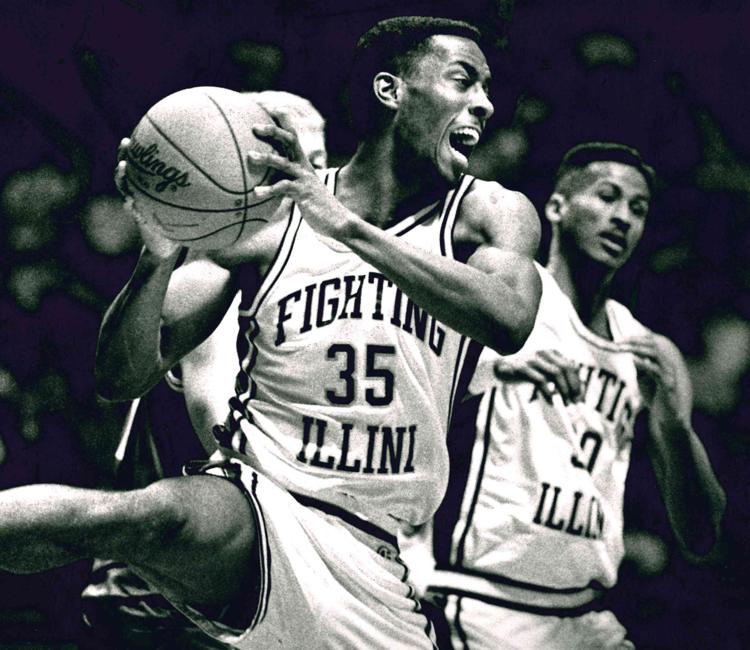 Free for all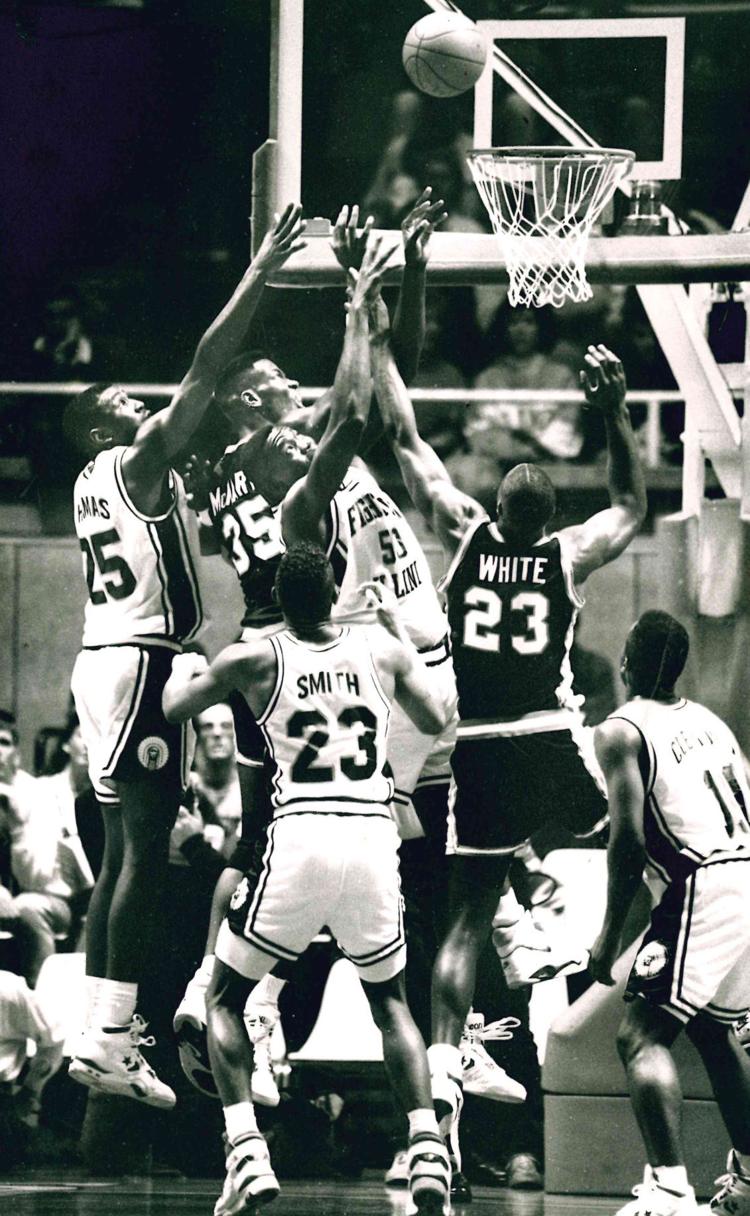 Getting physical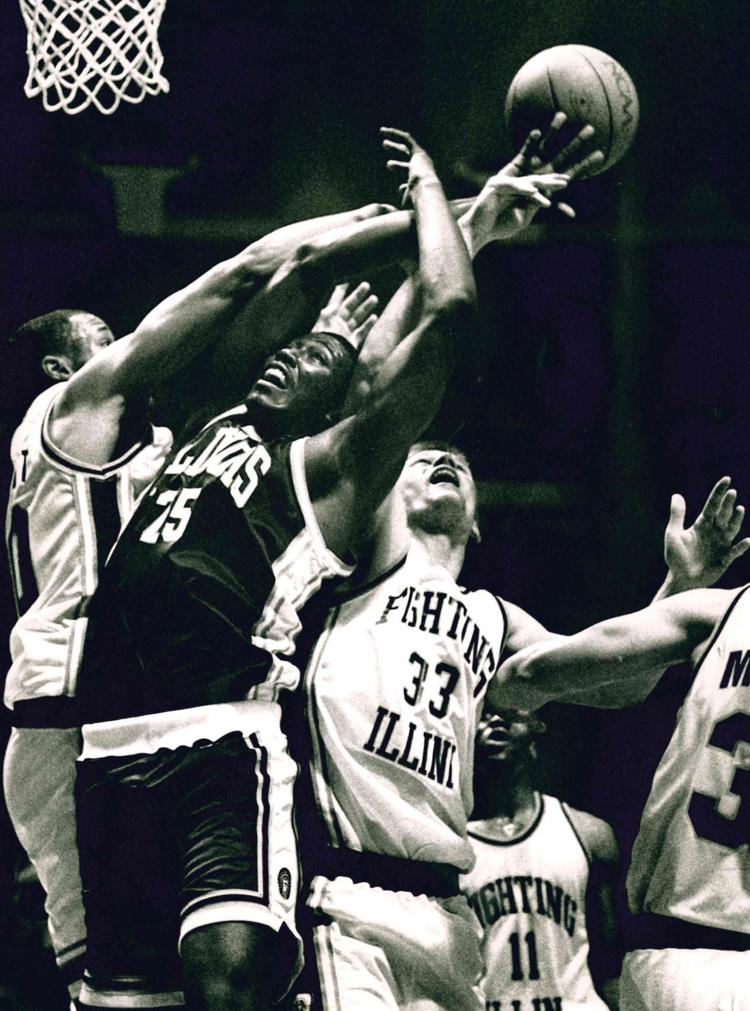 Hero of the hour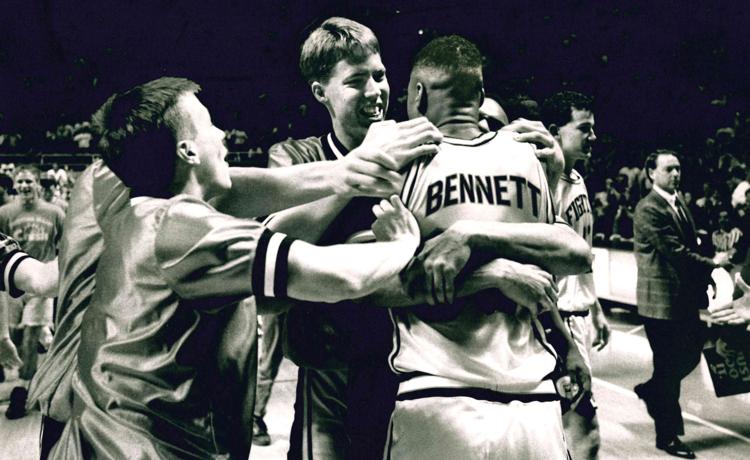 Illinettes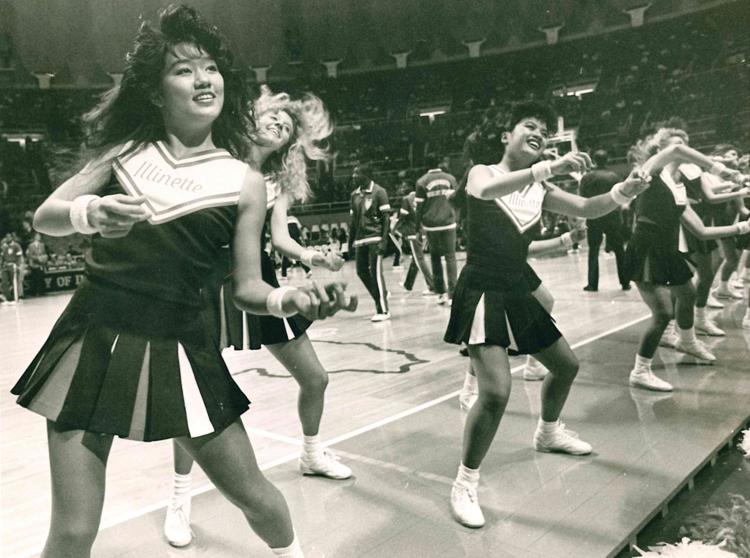 Illinois v. Iowa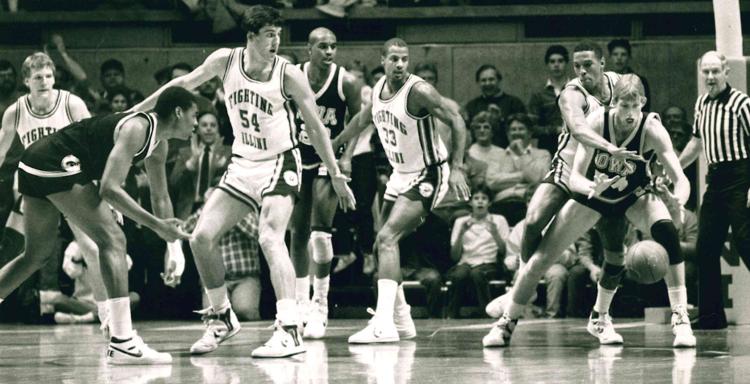 In traffic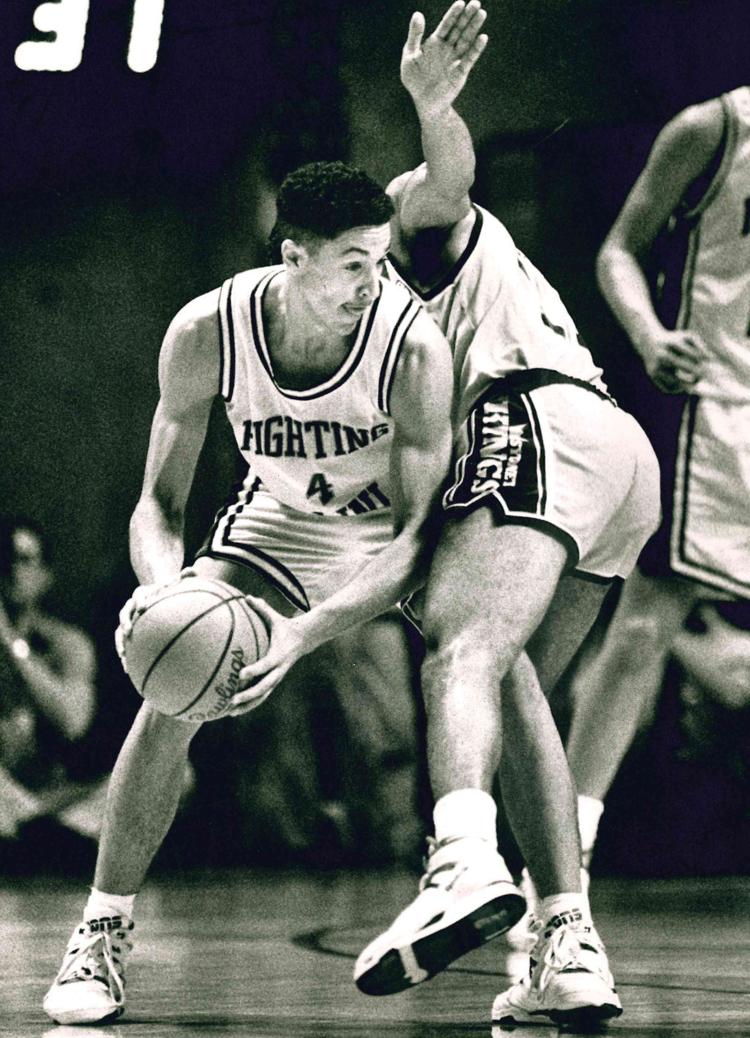 Kicking back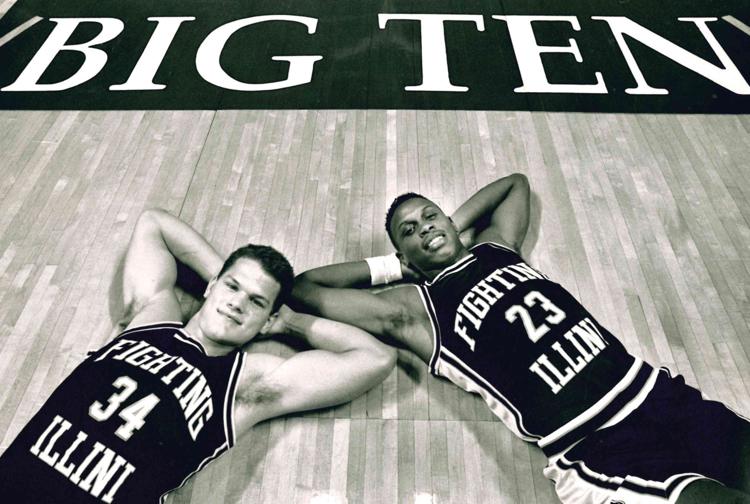 Long bombs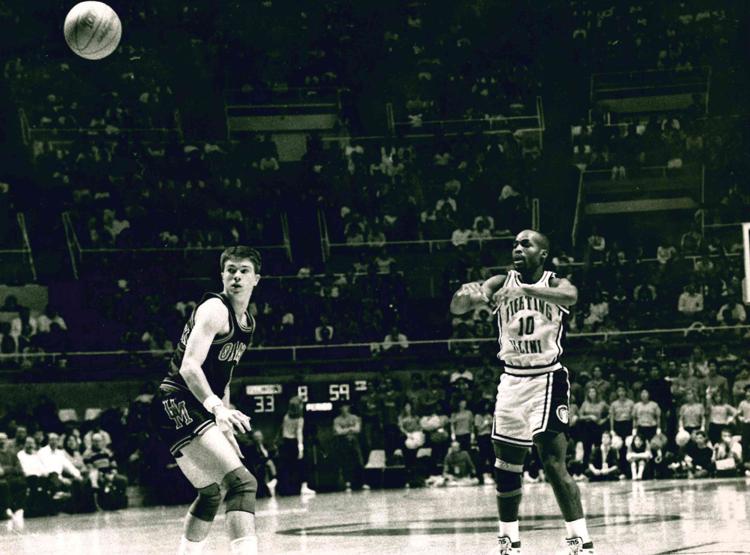 Nick Anderson
Pep band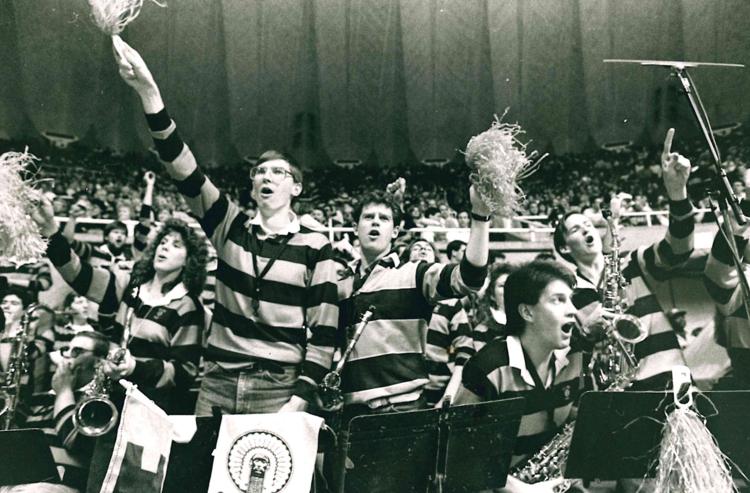 Rebound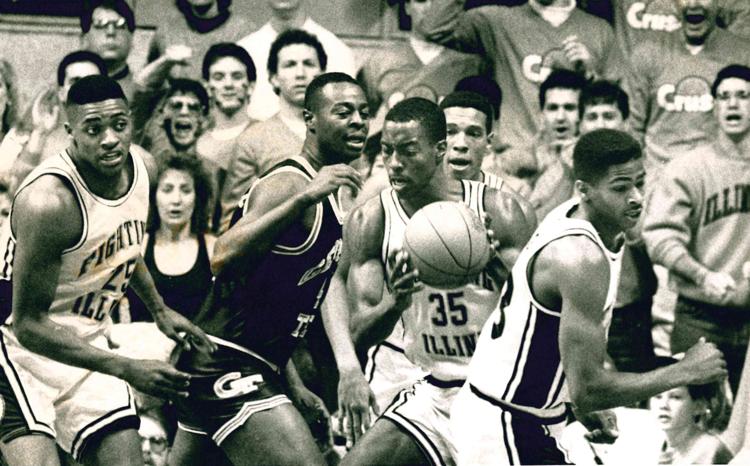 Relatives?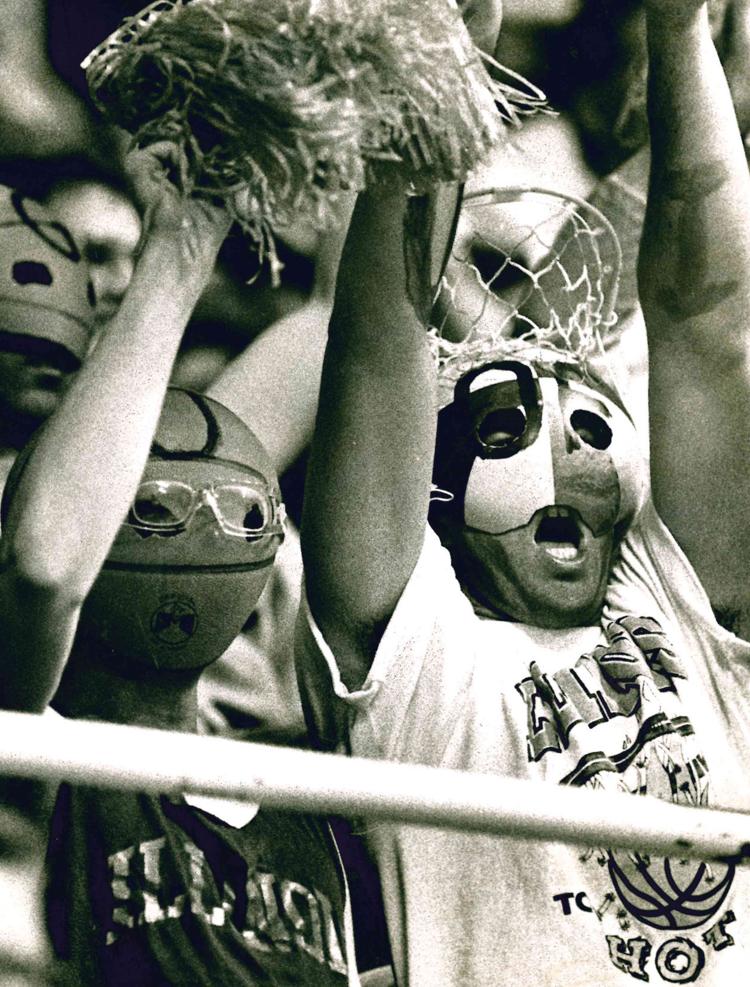 Talk of the Big Ten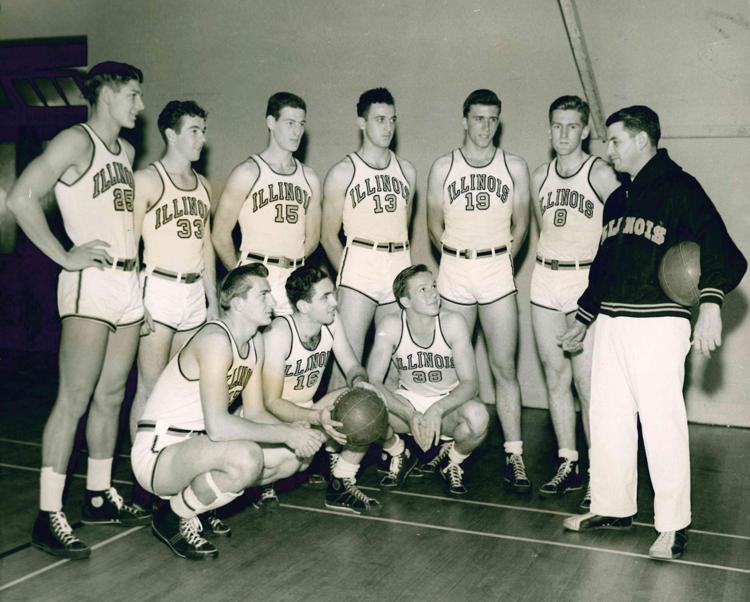 To the wire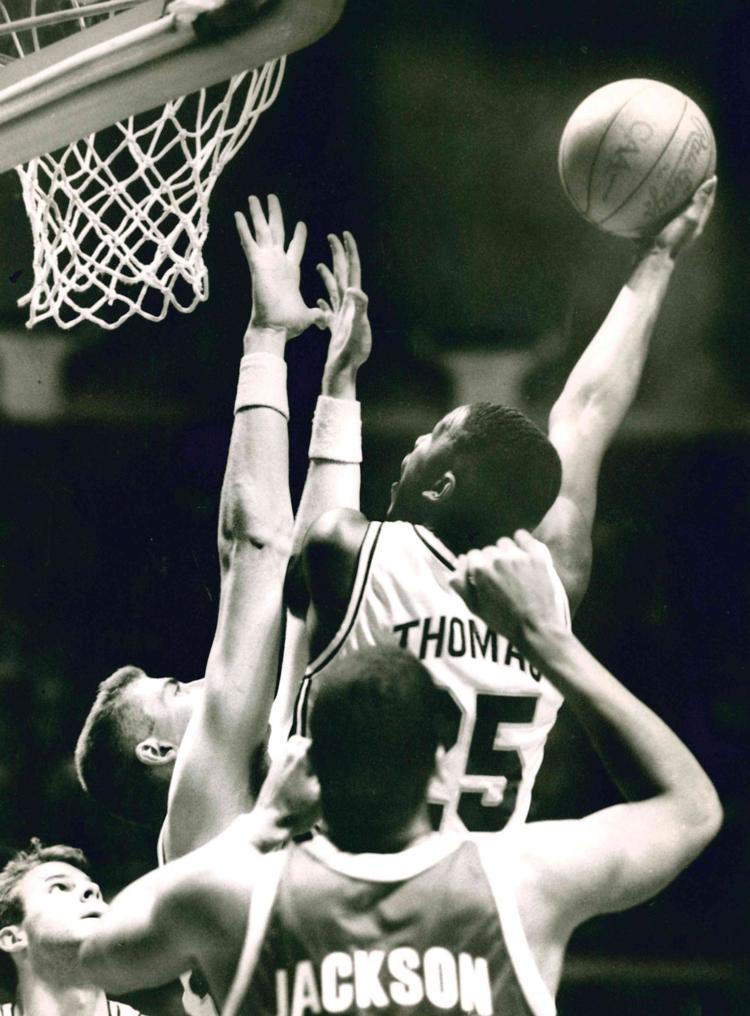 Tony Wysinger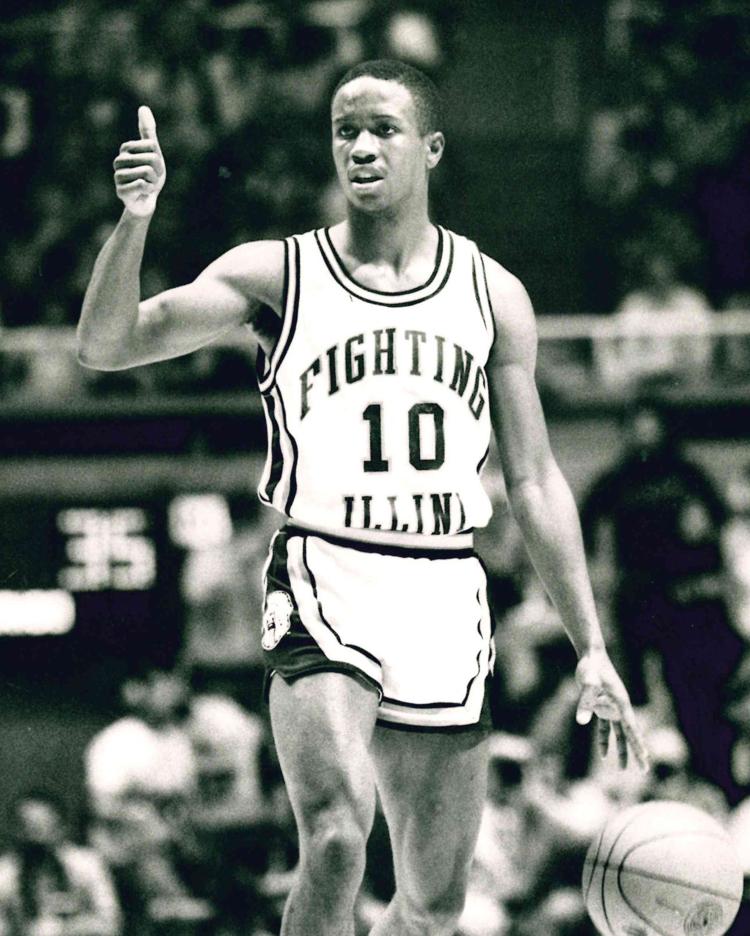 Warming up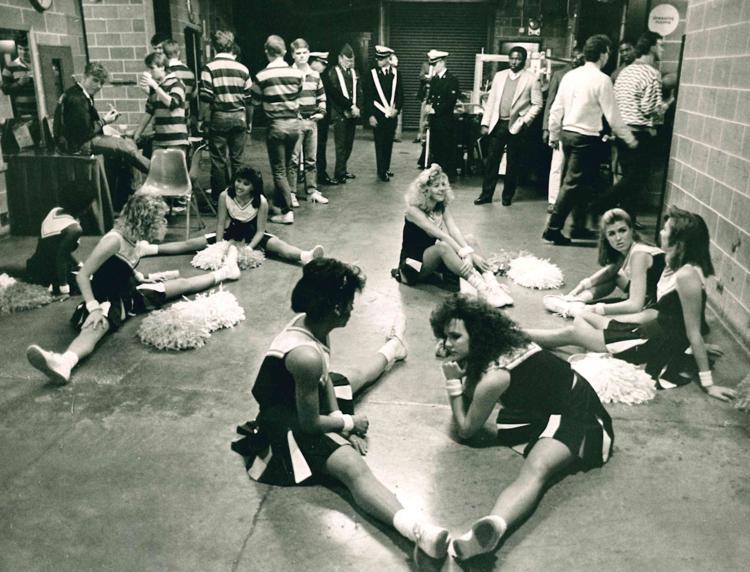 Whiz Kids Big Ten champs in '42, '43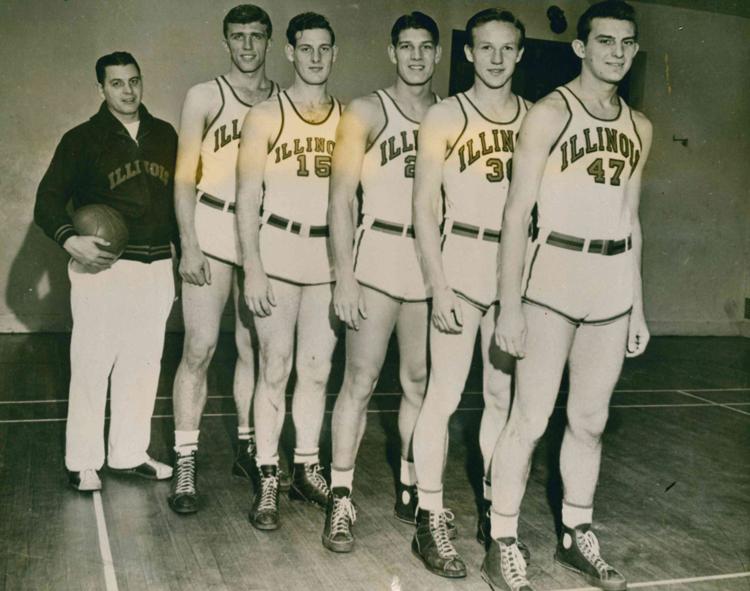 Wrong, Mr. Referee
Contact Joey Wagner at (217) 421-6970. Follow him on Twitter: @mrwagner25
Concerned about COVID-19?
Sign up now to get the most recent coronavirus headlines and other important local and national news sent to your email inbox daily.