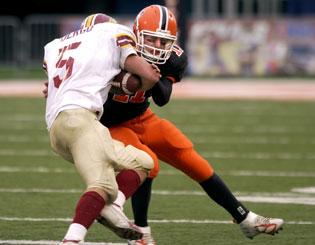 NORMAL - High school students may occasionally have difficulty remembering to clean their room or take out the garbage.
Yet one day, almost a full year ago, burns brightly in the memory of the Normal Community football team.
It was Nov. 26, 2005, and an underdog group of Ironmen gave Morris a stiff challenge before the Redskins claimed a 14-9 victory in the Class 6A state championship game in Champaign.
NCHS and Morris meet again today in Normal. One team's state title hopes will be enhanced by the 7 p.m. Class 6A second-round game. The other's will be dashed.
"I think about it every day. We got so close last year," Ironmen linebacker Sam Smith said. "This year we just don't want that to happen. We want the whole thing."
With a 10-0 record, NCHS carries the higher billing this season as the No. 1-ranked team in 6A and the top seed in the lower bracket of 6A.
A No. 8 seed, Morris is 7-3 and advanced to the second round by knocking off No. 10-ranked archrival Joliet Catholic, 21-18.
"Our goal is just to win. It's not as much revenge," said NCHS linebacker Austin Kull. "Unfinished business is our motto this year."
Both teams graduated standout seniors from last year's game. The Ironmen definitely will not miss tailback John Dergo. Now a wrestler at Illinois, Dergo rushed for 206 yards on 34 carries against NCHS.
"The teams are different, but the styles are similar," Ironmen coach Hud Venerable said. "We have to try to prepare like we did last week and any other game."
Morris' three losses were all decisive, coming by a combined margin of 93 points. But Oswego, Geneva and Plainfield South are all still alive in either 6A or 7A and have a combined record of 28-2.
"They've got a good program in Normal and Morris is a pretty good program," said Redskins' coach George Dergo, John's father. "It's a rematch of two good football programs and two good schools."
Morris' vaunted power running game is led by Kyle Komperda. The 185-pound senior has rushed for 517 yards on 63 carries and nine touchdowns. Fullback Sean Valentine adds 202 yards and six other Redskins have 120 yards or more.
Included in that group is Matt Peterson, who was kept from gaudier statistics by a hamstring injury that limited him to four games.
"Peterson is a load when he's healthy," Coach Dergo said. "He gives us a lift. He won't be 100 percent, but he's getting closer every week."
Morris quarterback Drew Hanson has completed 65 of 148 passes for 797 yards, nine TDs and 10 interceptions.
"He can throw, but they want to run the football. They have the power and size up front to do that," said Venerable. "Komperda has been really good the last part of the season."
"We definitely saw we could play with them (last year)," Kull said. "It's two different teams from last year. We're pretty confident in what we've got. We have to be physical, step up and give them big hits."
NCHS also boasts a balanced rushing attack. Dan Moore leads at 501 yards with quarterback Omar Clayton at 476, Joey Anderson at 429, Austin Davis at 281 and Kennedy Freeman at 209.
"They've got a core group of tough kids back, and the addition of the quarterback picks them up a little bit," Dergo said. "We have to be concerned about making Clayton stay in the pocket if at all possible and not let him carry the team. Their receivers are good, and the kids up front can block. They are not undefeated for nothing."
Marcus King is a dangerous Ironmen receiver at 6-foot-4. King has 29 catches for 394 yards, while Alex Buck has 10 for 132.
"They like to get their free safety (Brenton Valentine) involved in run support," said Venerable. "When you watch them, he shows up along with (linebacker) Komperda. They are around the ball all the time."
NCHS averages 37 points per game and has given up an area-low 4.8. Morris has been outscored by an average margin of 20.0 to 18.3.
The NCHS-Morris survivor meets the winner of Saturday's Thornridge at Bloomington game in the quarterfinals.