They help paint a picture of a man who was quiet by nature, yet became a trusted voice as principal at Heyworth Grade School, an outstanding pitcher and later manager of the Bloomington Hearts men's fastpitch softball team, and the longtime pitching coach for Illinois State softball.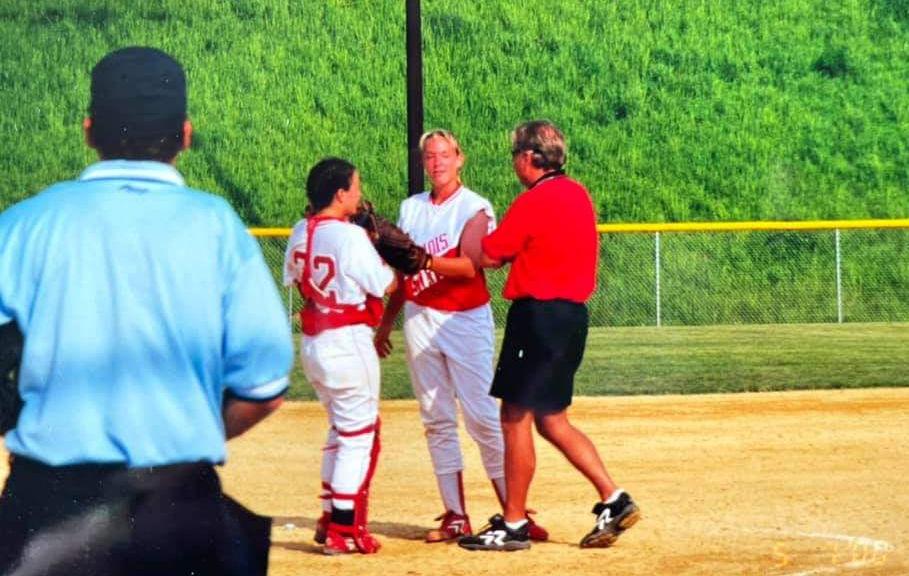 Kennedy died April 9 at age 79. He will live on through sharable memories like these:
While pitching at ISU, Jodi Burch McCleary gave up a long home run. She called it "a HUGE bomb" in a Facebook post, then wrote: "I was frustrated..mad..upset. He comes out to the mound and puts his hand on my shoulder...looks at me and says, "You think that thing has landed yet?" Lol...all I could do was laugh."
Humor was Kennedy's weapon, his charm. He used it to diffuse tense situations, put others at ease … like a pitcher who surrendered a long home run. With one line, he told her, "It's OK."
Sometimes, he could do it without a word. Melinda Fischer, who sought out Kennedy as her pitching coach upon becoming ISU's head softball coach in 1986, saw him do it repeatedly in his 24 years with her program.
"Many times when a pitcher wasn't doing well in the circle, he'd go out there, take the ball, look at the ball like there was something wrong with it and throw it out," Fischer said.
"His sense of humor was spot on. He knew how to make it light when he needed to make it light. He knew how to amp it up when he needed to amp it up. And it was never in a voice that was raised or negative."
---
---
Even in the short walk from the dugout to the circle, Kennedy made an impression. Former ISU star pitcher Nicole Kurth Duncheon called it a "saunter," adding, "He would have the same saunter whether you were up by 10 or down by 10. You were going to get the same demeanor."
Shannon Nicholson Guthrie found that as well during a stellar Redbird career, saying Kennedy "took a little while to get out there."
"I don't think anybody could make a mound visit like Bill," she said. "He was always very consistent in what he said. He'd go, 'We're OK.' Then he'd say, 'What are you feeling best with right now?'"
The words are familiar for Guthrie, now the seventh-year head coach at the University of Illinois-Springfield. She hears them during her trips to the circle.
"You go out there and find yourself saying exactly what he did," Guthrie said. "You never really know what to say in those moments. But he always had the right words and that calming effect."
On one occasion, Kennedy had the heart of an ISU pitcher racing. Katie Newman Armitage had just finished loading equipment into the back of a van. The Redbirds had played the last game of the night and were headed back to the hotel.
The van's driver, Kennedy, began to pull away. Armitage had to run frantically and bang on the window as her laughing teammates alerted Kennedy.
They still smile when they think of Kennedy. He touched their lives and many others in and out of softball. That includes Fischer, whose first meeting with him lasted one pitch.
In soliciting recommendations for a pitching coach, Kennedy's name kept coming up. Fischer called him, asking if he would show her how he threw his pitches. Kennedy said yes, so Fischer and a friend/neighbor, Peggy Schad, headed to Heyworth Grade School. Schad would serve as the catcher.
Principal at the time, Kennedy was in a suit and tie. With Schad in catching position, he rocked and fired his trademark riseball.
"The first pitch he throws goes off of the building that's behind her and comes back and hits her in the head," Fischer said. "We were done. I said, 'OK, Bill. How do you throw that pitch because obviously you're going to keep the batters dancing in the box with something like that.'"
Kennedy joined Fischer's staff on a part-time basis and later became full-time after retiring from education. Four ISU pitchers earned All-America honors during his tenure, which ended in 2009.
His impact went beyond pitchers. All-American catcher/slugger Heather Stella Koon, a Gridley native, said Kennedy "brought out the best in you."
When she was in a hitting slump, Kennedy could pick her up with an encouraging word and, always, something to make her laugh.
"You were like, 'OK, life's not ending.' When you're a college athlete, sometimes you think it is," Koon said. "When you put so much pressure on yourself, you need to have somebody with the encouragement and the belief in you that Bill had in every player on our team."
Players could sense Kennedy was in their corner, at ISU and before that with GMC Trucks, Ebach Realty and the Hearts on the men's fastpitch scene.
Jim Collins played with Kennedy on the Hearts and later for him, calling Kennedy "a great model in terms of never getting too high when things were going well or too low when things were going poorly."
A quick worker, Kennedy was a highly effective pitcher despite going almost exclusively with the riseball. From 1976 to 1980, he had a 100-18 record with the Hearts and never had an earned run average over 1.48.
There was only one problem.
"As an infielder, when you picked up the ball it might stick to your hand when you threw it over to first base," Collins said. "He would load up his glove with pine tar and reach in. We'd start the game with a new white softball and as soon as he pitched a half an inning, it was covered in brown."
Well, maybe there were two problems. Kennedy also was scrutinized for making illegal pitches. Opponents argued he was not in contact with the rubber when he released the ball.
"He'd take the cleat off of the heel of his right foot so he could put that on top of the rubber," said his longtime teammate and friend, Bob Watson. "Then he'd take that wind up and he'd walk forward. He'd pick that foot up and slide it forward. To start the game he'd walk off an inch. If they didn't call an illegal pitch, he'd walk off two inches.
"And he used the pine tar. He was sneaky. But I tell you what, he never was afraid to take the ball and he wasn't afraid to challenge anybody."
Collins and his younger brother, Jeff, knew Kennedy when they were kids. Kennedy played with their father, Jim, on GMC Trucks. Kennedy called Jeff Collins "Jeffy" after that … while managing him with the Hearts and later when Collins became a coach.
Jeff Collins was in his second year with the Hearts when Kennedy took over as manager. Kennedy would pull him aside and give him tips.
"He was never a rah-rah, vocal guy," Jeff Collins said. "If he ever got in a discussion on a call with an umpire, you never heard him. He would walk out there and was real quiet. That probably had a much better effect than yelling and screaming."
Count it among many lessons Kennedy taught through his words, work ethic — "He worked us hard," Duncheon said — and demeanor.
Koon called him "the total package." She said she can count the positive male role models in her life on one hand. Her father, John, is one.
"Bill was in that hand," Koon said. "There's something to be said for the fatherly way that he engaged with us and took an interest. He wanted to know how you were doing and just cared about you as a person.
"I struggle to think that Bill's gone. It's just that this light has gone out. He brought so much joy to the world."
Contact Randy Kindred at (309) 820-3402. Follow him on Twitter: @pg_kindred