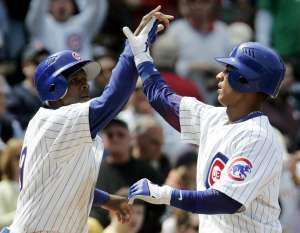 CHICAGO — At age 40, a fitter and trimmer Greg Maddux pitched his way into new territory. Twice facing bases-loaded jams, Maddux escaped the big inning Friday to win his fifth straight start as the Chicago Cubs beat the Milwaukee Brewers 6-2. He's 5-0 for the first time in a long and distinguished career that will some day end in Cooperstown.
"It's hard for him to have firsts anymore," Chicago manager Dusty Baker said.
"Without his 5-0, boy we wouldn't be close to where we are. You feel very confident that day he's out there. … He's not gloating or reveling over what he's done. He's just continued to do what he's doing."
Actually, Maddux did more in the offseason with a conditioning program that has put him in better shape. With Carlos Zambrano winless this season and Kerry Wood and Mark Prior on the disabled list again, Maddux has carried the Cubs the first three weeks.
Maddux, of course, says it's the other way around, typically shrugging off praise.
"Good teammates you know," he said. "The year hasn't even gotten going yet. It's nice to start good. The team has played very well on the day I pitched."
Maddux has five of the Cubs' 13 wins and a 1.35 ERA. He earned his 323rd victory, one win shy of tying Nolan Ryan and Don Sutton for 13th place all-time.
He gave up eight hits and two runs in six innings and was backed by a homer and a strong defensive play from shortstop Ronny Cedeno.
"Great mechanics and he doesn't overthrow," said Milwaukee's Geoff Jenkins, who had a two-run single off Maddux for his team's only runs.
"He works the outer half of the plate and knows when to mix one inside. He's pitching as good as he ever has. He's going to be a Hall of Famer."
Maddux worked out of trouble in the opening inning after the Brewers loaded the bases on a walk and singles by Jenkins and Carlos Lee. Maddux struck out Prince Fielder on three pitches and retired Corey Koskie on a fly ball.
He was sailing until the fifth and had one out before opposing pitcher Dave Bush, 2-for-13 in his career, singled.
Rickie Weeks and J.J. Hardy followed with singles to load the bases before Jenkins delivered a two-run single to cut Chicago's lead to 3-2. Cedeno then went to the hole and started a tough 6-4-3 double play on Lee to end the rally.
Cedeno hit his first homer, a two-run drive in the fifth, after Juan Pierre's bunt single. That gave Maddux a three-run cushion again.
"I felt like I was on the verge of getting knocked out of the game," Maddux said. "And he (Cedeno) makes a good play to start the double play and comes up and hits the home run right after it. Ronny did great.
"You just try to throw the ball where you need to throw it and hope you get the result you are looking for. That wasn't an easy double play ball. It was on the ground, but Ronny had to go a long way for it. Luckily the guy running wasn't overly fast."
Jacque Jones homered in the eighth off Justin Lehr to put the Cubs up 6-2.
Maddux is now 13-3 against the Brewers, representing his best winning percentage against any NL team. Second best? The Cubs. He was 11-3 against Chicago while pitching for the Braves.
"The outcome of the game is something that, as a starting pitcher, is very hard to control," Maddux said, reiterating one of his main philosophies. "Just worry about making pitches. And leave it at that."
Aramis Ramirez, Matt Murton and Jones hit consecutive doubles off Bush (2-2) to start the second and give the Cubs a 2-0 lead.
Bush, who pitched a four-hit shutout against the Reds in his previous outing, gave up a leadoff double to Pierre in the third. Cedeno got a bunt single and Todd Walker followed with an RBI single for a 3-0 lead.
Bush also lasted six innings, giving up 10 hits and five runs.
Game notes: Maddux is the first Cubs pitcher to go 5-0 in his first five starts since Steve Stone in 1975. … Murton now has seven RBI in the last four games. His 16 RBI are two more than he had all last season in 51 games. … The Brewers had a three-game winning streak snapped after having swept the Braves at Miller Park. … Cubs C Michael Barrett, who hasn't played since jamming the middle finger of his left hand Tuesday night, took batting practice Friday and said he hoped to be back in the starting lineup Saturday. … Both starting pitchers wore No. 31. … Maddux was also 4-0 with the Braves in 2000 and 1999, but he needed six and five starts respectively to get there. … Julia Ruth Stevens and Tom Stevens, the daughter and grandson of Babe Ruth, led the singing of "Take Me Out to the Ball Game" in the seventh inning.