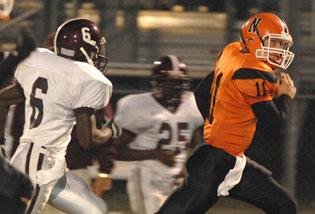 Normal Community's Alex Buck and Billy Dickson were named to the Illinois High School Football Coaches Association Class 6A all-state team announced Thursday.
Buck is a senior quarterback/defensive back and Dickson a senior offensive tackle for the unbeaten and top-ranked Ironmen, who meet Joliet Catholic at 1 p.m. Saturday in a 6A semifinal at Normal.
Buck and Dickson were among seven Pantagraph area players to earn all-state honors.
Flanagan-Woodland, which advanced to the Class 2A quarterfinals, was represented on the 2A squad by senior tight end/defensive end Alex Detwiler and senior offensive lineman Dan Smith. Fieldcrest senior running back/linebacker Josh North also made the 2A team.
Lexington senior offensive lineman Justin Blevins was named to the 1A squad, while Mahomet-Seymour junior running back Andrew Brewer made the 4A team.
Eighteen players in each of the IHSA's eight classes were selected by a committee of coaches. Players chosen will receive all-state plaques during the state championship games Nov. 23-24 at Champaign.
---
IHSFCA 2007 All-State Teams
Hugo Martinez…OL/DL……Arcola
Derek Shay…OL/DL……Cerro Gordo
Bret Swango…QB/DB…North Fulton
Gavin Kaiser…QB/DB…Galena
John Ryan Hammond…WR/DB…Greenfield/Northwestern
Cory Bishop…QB/LB……Lewistown
Justin Blevins OL…Lexington
Nathan Puckett OL/DL…Milldgeville
Jake Scribner…OL…Mt. Olive
Matt Flowers…FB/LB… Nokomis
Matt Scholl …QB/LB…… Polo
Cory Price…OL … Princeville
Joe Zeller…QB… Routt Catholic
David Milroy…TE/LB…Stark County
Jared Hermann…RB…Stockton
Stephen Bosch……OL…Tuscola
Aaron Rhoads…WR Casey-Westfield
Zach Lozier…OL/DL…Farmington
Josh North…RB/LB…Fieldcrest
Alex Detwiler…TE/DE…Flanagan
Chad Swanson…WR/DB Forreston
Jon Ellis…RB…Immaculate Conception
Tyler Roush…RB Maroa-Forsyth
Tiny Bahrs…LB Newman Central Catholic
Jason Crisman…DL…Rushville-Industry
Jake Sopiars…DB…Trenton-Wesclin
Jordan Roberts…QB…Aurora Christian
Chris Walker…K…Carlinville
Tyler Truttman…QB…Columbia
Andrew Beckmann…DL…DuQuoin
Travis Johnson…QB…Marshall
Adam French…QB…Newton Community
Ryan Rushing…QB/DB…Pinkneyville
Perry Bonds…QB/DB…Pittsfield/Griggsville
Keagan Robinson…TE/LB…Porta
Lukas Graves…WR/DB…St. Joseph-Ogden
Chris Anderson…QB/DB…West Carroll
John Kerulis…OL…Wilmington
Lucas Hileman…QB…Anna-Jonesboro
Mike Letton…DE…Bishop McNamara
Alex Haan…QB…Chicago Christian
Noah Roseland…RB…Coal City
Tim Franken…RB/DB…Driscoll
David Schwabe…QB/DB…Driscoll
Andrew Brewer…RB…Mahomet-Seymour
Chris Montgomery…RB…Mascoutah
Bryon Bailey…WR/DB…Massac County
Ryan Rehkemper…FB/LB…Mater Dei
Jimmy Holtschlag…OL/DL…Quincy Notre Dame
Stephen Duncan…RB…St. Teresa
Patrick O'Brien…FB…Belvidere
Curran McNeely…QB…Effingham
Jody Henningson…QB…Kaneland
Richard Haynes…OL/DL…Lakes
Sean Cwynar…OL/DL…Marian Central Catholic
Adam Duvendack…RB/DB…Metamora
Brad Herman…TE/LB…Metamora
Johnny Borsellino…WR/DB…Montini Catholic
Garrett Goebel……OL/DL……Montini Catholic
Zach Thetard…WR/DB…Morris
Jake Sledge…LB…Mt. Vernon
Brandon Green…WR…Paul Robeson
Brad Wisniewski…RB/LB…Wauconda
Leland Sanders…DL…Woodruff
Mikel LeShoure…RB…Centennial
Mike Oratowski…RB/LB…Glenbard South
Johnny Lindquist…QB…Highland Park
James Dawson…WR…Hillcrest
Nick Clancy…LB…Joliet Catholic
John Ruettiger…QB…Joliet Catholic
Alex Buck…QB/DB…Normal Community
Billy Dickson…OL…Normal Community
Ethan Armstrong…LB…Ottawa
Sam Campbell…RB…Prairie Ridge
Brian Lawson…OL/DL…Rich East
Melvin Jarrett…LB…Rock Island
Robbie Mosher…WR…Sacred Heart Griffin
Rick Danilkowicz…OL/DL…Vernon Hills
Patrick Appino…LB…Boylan Catholic
Marc Damisch…OL..Buffalo Grove
Cordero Gaston…RB…DeLaSalle
Brandon Harold…OL/DE…East St. Louis Sr.
David Young…OL/DL…Edwardsville
Chris Watt…OL/DL…Glenbard West
Chris Collins…RB…Glenbrook North
Jon Janus…RB/LB…Lake Zurich
Bennet Welser…RB/DB…Moline
Rick Szukala…DL…Notre Dame
Joe Okon..LB…Rolling Meadows
Dave Mashal…DL..St. Charles East
Nick Adamle…OL…Wheaton North
Will Matte…OL…Wheaton Warrenville South
Joe Rhein…OL…Belleville East
Trace Capps…LB…Bloom Township
Erik Smith..RB…Bolingbrook
Jeremy Rhodes…RB/DB…Brother Rice
Jared Culver…LB…Downers Grove South
Devin Henderson…TE/DE…Glenbrook South
Bobby Hauschildt…OL…Lake Park
Brandon Nigro…LB…Lincoln-Way Central
Brian Mulroe…OL…Loyola Academy
Danny Benson…WR…Maine South
Kyle Lackner…DE…Naperville North
Jordan Tassio…QB…Naperville North
Anton Wilkins…RB…Neuqua Valley
George Brigandi..RB…New Trier
Chris Schultz…WR/DB…Plainfield Central