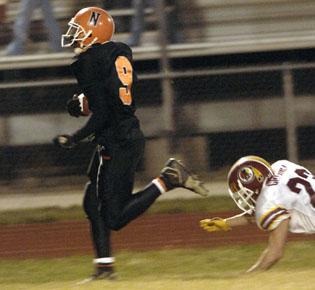 NORMAL - This was not revenge. This was utter domination. Turning a classic rematch into a mismatch, the Normal Community High School football team stunned Morris with three long first-half touchdown runs and dismissed the defending Class 6A state champions, 31-0, Friday in a second-round playoff game.
Avenging a 14-9 loss to Morris in the 2005 state title game, NCHS rushed for 400 yards while posting its second straight playoff shutout.
"That word (revenge) was never used. We wanted to play sound, solid, fundamental football, and for the most part we did that," Ironmen coach Hud Venerable said. "We wanted to make a statement. Last year maybe we thought we could beat them. This year we knew we could beat them if we played our game."
Ranked No. 1 in 6A, NCHS improved to 11-0. The Ironmen meet the winner of today's Bloomington-Thornridge game in next week's quarterfinals.
"For us to beat a team like that, we would have had to play perfect up and down the line because they had us outmanned with size and speed," said Morris coach George Dergo. "Our young guys got schooled."
Suffering its worst loss in 74 playoff games, the Redskins finished at 7-4.
NCHS established itself as the aggressor from the beginning.
On the fourth play from scrimmage, Ironmen junior tailback Dan Moore found a hole up the middle and broke out to the left for a 54-yard touchdown run just 1:22 into the game.
Moore struck again on NCHS' third possession. Storming over the right side of the Ironmen line, Moore outraced Morris' Mike Gronek down the sideline for an 86-yard touchdown romp.
Max Bakana's second extra point gave NCHS a 14-0 lead.
"It's easy to run like that when you get great blocking," said Moore, who rushed for 194 yards on 21 carries. "All you try to do is hit the hole as hard as you can and get out as fast as you can. Explosion plays can really kill a defense and kill a team."
Early in the second quarter, it was quarterback Omar Clayton's turn. Missing a handoff to his fullback, Clayton went up the middle to see what he could get. What he got was a 58-yard touchdown.
"Honestly, it was a busted play. I ended up following my back," said Clayton, who added 112 yards on 15 carries. "There was a gateway and I ran through it. It was a huge hole and it worked out for us."
The NCHS defense was holding up its end while holding Morris down to a mere 13 yards on the Redskins' first four possessions.
"What can you say about our defense? We get spoiled here," Venerable said. "Terry's (defensive coordinator Terry McCombs) defenses are always solid and sound, but in November they take it to another level. Every week the competition gets tougher and they play better. It's amazing."
Sam Smith paced the NCHS defense with 12 tackles. Jake Detmers and Jake Kretlow added nine each.
Alex Buck intercepted Morris quarterback Drew Hanson twice as the Ironmen held the Redskins to 133 yards of total offense.
"We were really pumped up on defense," Buck said. "It's a big win. We all had it (last year's game) in the back of our minds. It's nice to go through Morris."
NCHS actually drove inside the Morris 15-yard line three times and had only a 25-yard Bakana field goal and a 24-0 advantage to show for it.
The final Ironmen touchdown came on a 2-yard run by back-up quarterback Matt Lucie.
"Morris is great defensively. They make you earn every yard you get," said Venerable. "That's why I'm so proud of our kids. It doesn't come easy against Morris."
Kyle Komperda rushed for 84 yards on 17 carries for the Redskins.
In a strange twist, University of Illinois baseball player Craig Lutes and Illini wrestler John Dergo rode together to Friday's game. Lutes was NCHS' quarterback last season and Dergo Morris' star tailback.
It's a safe bet Lutes had more to say on the drive back to Champaign.
---
More photos