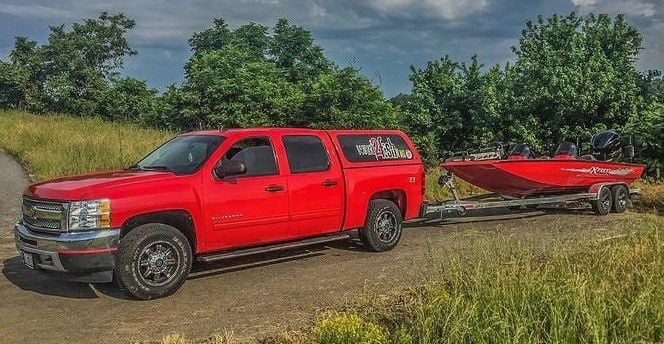 Buying a fishing boat is not a one size fits all deal. If it was, color and material would be the only difference between boats.
I applaud today's boat and motor companies for giving anglers choices both in materials and size of their offerings. Budgets are a big topic and having the blessing of the boss is equally important. However, what used to be a monkey see monkey do purchase based on brand and performance has changed in recent years with the additions of new high performance aluminum rigs.
Over the last few years, I too have seen aluminum as the way to go for me and it's based on how much they have improved.
Credit where credit is due: I am a boat geek and due to the small lakes and horsepower limits we have always been limited on our choices. Modified Jon boats, duck boats and flat bottoms were the rule and it's been hard to get the features we needed. Clunky also was the rule and I would be willing to bet there was a lot of falling and tripping as part of every day.
Anglers would take sheets of plywood shape decks, add electronics and have wires strung from here to there to make it work. There were some factory offerings from Tracker Marine that took it to the next level and a lot of angler's first "factory" bass boat in our area was a Bass Tracker. From there it has taken off.
There were some companies lying in the weeds that "got it" and began taking their offerings to the next level. Xpress Boats from Hot Springs, Ark., used their pad design called Hyperlift to rachet aluminum to a new level. Offering 21-foot boats with a 250 horsepower Yamaha changed the game. Four pros on the Elite Series, Caleb Sumrall, Dale Hightower, Harvey Horne, and Bill Lowen, are now using Xpress on the trail.
That also has been a game changer as anglers now look at the aluminum Xpress as an option no matter what size of lake they frequently fish. The new aluminum is not only lighter and stronger, but the pad hull designs make them perform like a rocket but with the stability of a pontoon.
For these Xpress anglers it wasn't a second choice because they couldn't get another fiberglass deal. They made Xpress their first choice. Surprising to some maybe, but it was the platform they felt the most comfortable in. It drafts great in shallow water and has all the storage and fish catching amenities of their fiberglass cousins. I have heard many who have ridden for the first time in the X21 say, "If I didn't know it was aluminum I would think it was fiberglass because they ride great."
You have free articles remaining.
Another Elite Series angler, Jeff Gustafson, has been running a Lund aluminum since the beginning too. Lund is another company that was once known as a big water walleye offering but now has several bass models that gives buyers the best of both worlds.
Lund has long been known as a boat that could handle any water and now with their ProV 1875 and 2075 models they have increased deck space, added ergonomic streamlined console configurations and did so keeping with the IPS 2 hull for strength. The 2075 model handles a Mercury 250 engine and has a 96-inch beam making it stable as a rock too. They used their proven big water technology and built a first class bass boat from what they knew about making boats that have lasted a lifetime. What does that tell you?
It keeps getting better: Other companies have stepped up with their boats and anglers have taken notice. FLW champion John Cox was one of the first to run aluminum on tour with the Crestliner and sure moved the needle. He will again be running aluminum this year.
Others like Ranger, Lowe and Vexus, have a full lineup of aluminum boats made to fit all kinds of anglers and the types of waters they fish. From modified to performance style V hulls, they run the gamut from a length and width perspective and more anglers see the advantage.
Easy to modify: One of the coolest things about today's aluminum boats is their ease of modifications. Overall, they are less expensive and the same gizmos and gadgets can be added. Enhancing your ride might include top of the line electronics and trolling motor, shallow water anchors, and upgrades from pumps to gauges.
The beauty is most companies have package and upgrades you can add that can be ordered straight from the factory, plus most dealers love to help you with purchase and installs. Manufacturers have made that job easier with wider runs and support in strategic locations.
Tandem trailers with brakes are a good addition if you have the room and travel often on your fishing adventures.
Bottom line: There is a ton of difference in your first boat purchase and one down the road, but if economics is part of the equation aluminum is a great choice. In the old days you gave up comfort for price, but that isn't the case any longer. We don't have to.
If you are in the market for a new boat attend boat shows, speak to other owners and know where you fish most often. Getting a boat that can be used the most is your best option and don't forget some boats do offer a kicker motor option for those small horsepower restricted lakes where you can get the best of both worlds.
You no longer have to be ashamed of pulling today's aluminums to the ramp. They just keep getting better.
Terry Brown is President of Wired2Fish.com, an industry leading, daily website and social media fishing centered community that provides information on products, industry newsmakers and fishing techniques. You can read more by going to www.Wired2Fish.com.
Be the first to know
Get local news delivered to your inbox!