There is a certain look you get when it's paired with a giant smile. And it's easy to see the elation on a kid's face when they catch a fish.
There is indeed something different about it, and it doesn't matter if they are 4 or 18. The smiles are consistent and I am so happy we now have a smile-maker with the IHSA Bass Fishing Series.
No doubt it has made a huge difference with kids who may not have had an affinity with their schools. The beauty is, it has made better students, too. Grades have to be met to participate and fishing, although it may be a small number, has changed lives.
With a long weekend ahead and National Boating and Fishing Week just around the corner June 5-13, it gives parents, aunts and uncles or grandparents a chance to take youngsters out for a day on the lake in a boat, a few hours at a local pond or stream or even a few minutes together getting a rod and reel or shopping for a new secret lure together without breaking the bank due to free fishing days.
All my years around sports I saw a lot of smiles, too, but there is something special of the smile of a small child or a high school angler when they catch something they can't see with their eyes before they catch it. There is more to it, too. Tossing a rock into the lake, exploring the shoreline or maybe just sharing a shack lunch along the bank is every bit as important as catching a fish of a lifetime. It is all about the experience and the value of sharing it with a youngster.
Catching the fishing bug becomes making memories. We all have stories and those stories last a lifetime. Trips to Harold's Pond, riding bikes to Six Mile Creek with nothing more than a sack lunch that got eaten before lunchtime most times, and the experience of doing it with buddies is how I got hooked.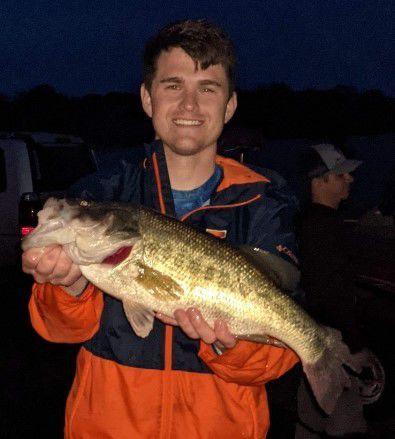 Make the day about the one that got away, stopping and getting a candy bar and a cold drink, or just observing nature without too much structure or scheduling is the ticket. Today, it seems, due to busy schedules, two parents working and too many activities, there isn't real time to do a little random trip just to let your hair down. No doubt the kids will love it, but I bet the adults will, too.
Our lives can be too structured, and I hear story after story of how each minute on a Saturday is planned. Cell phone and wall calendars are running our lives, and many times ruining them. Take the phone with you in case of an emergency, but turn it off. Don't look at it every second.
I have friends, and I, too, get caught up in it. That stupid smart phone is now making us dumber, or at a minimum, less engaged. Folks don't look at each other when they speak to one another anymore, and that electronic leash is center to everything we do.
This weekend, give this a shot. Take a friend, a neighbor kid, or one of your own kids to the local lake or retention pond, bring a snack or two and get outdoors without thinking about where you have to be later, what is next on the schedule or worrying about your youngster getting dirty.
Wear clothes you can get dirty in and blow the stink off a bit. Take a walk on a nature trail like those at Dawson or Evergreen Lake — block off a few hours, not a few minutes. You may be bored, but I can assure you your kids won't be. Honestly, everything doesn't have to be on the calendar or a time table. Random is healthy and some of my best memories are the times when something just happened.
I thank my Dad and buddies every day that they took me with them. Going to Hump's Gas Station for a frozen Zero candy bar and a grape Nehi is still front and center in my memory bank. Get your hands dirty and get outside. The kids will love it and you will be glad you did it.
Sam Leman Everbloom Results
Dave Whalen and Tim Murray won the SLEBTT tournament at Lake Evergreen with 5 fish weighing 10.42 pounds. Second place was Tom Cassel and Domenic Theison with 9.92 pounds. Big Bass was caught by the team of Taylor Umland and Austin Carr and weighed 3.87 pounds
Upcoming BNBC Tournament at Spring Lake
The Bloomington Normal Bass Club will be holding their next tournament at Spring Lake on Saturday, May 29, from 6 a.m. to 2 p.m. You can sign up at the causeway ramp prior to takeoff. and both North and South Lakes can be fished.
Kids Fishing Derby at Miller Park
On Saturday, June, 5, the Annual Kids Fishing Derby for children ages 5-12 will be held at Miller Park Lake beginning with an 8 a.m. to 9 a.m. registration. Fishing from 9 to 11 a.m. T-Shirts, prizes and a snack sack are included.
The event is free and sponsored by the McLean County Sportsmen, the City of Bloomington and the IDNR.
---
Terry Brown is President of Wired2Fish.com, an industry leading, daily website and social media fishing centered community that provides information on products, industry newsmakers and fishing techniques. You can read more by going to www.Wired2Fish.com.