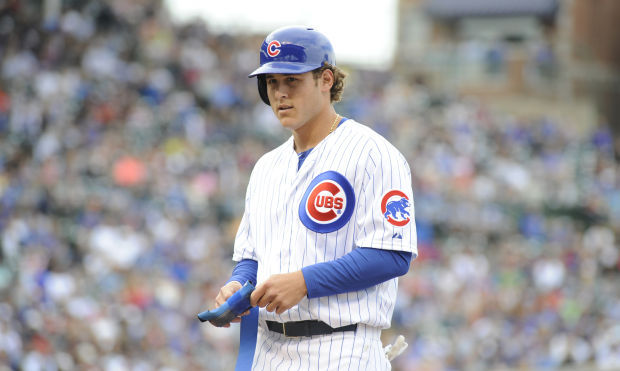 CHICAGO — The Chicago Cubs struggled at the plate for a second straight game against the Pittsburgh Pirates.
A.J. Burnett pitched into the ninth inning and Pedro Alvarez and Russell Martin homered to lead the Pirates to a 6-2 win over the Cubs on Saturday.
"We didn't have a whole lot going on for the most part,'' Chicago manager Dale Sveum said.
Burnett (4-6) allowed three walks with five strikeouts in 8 1-3 innings to improve to 5-0 in his career at Wrigley Field. He had a shutout until Alfonso Soriano's two-run home run to left with one out in the ninth ended a string of 18 straight scoreless innings by Pirates pitchers.
"It was the only ball that hung,'' Burnett said of the pitch Soriano hit. "He did with it what you're supposed to do with it. I go back a long way with Sori. We played a long time together. I've gotten him a few times, he's gotten me.''
Burnett held the Cubs hitless until Nate Schierholtz's double down the line in right leading off the fifth. He threw 112 pitches and left after Soriano's home run.
Burnett threw a one-hitter in his last start at Wrigley Field last July 31. He lost the no-hitter in the eighth inning with two outs. Over his last 23 innings at Wrigley Field Burnett has allowed two runs and seven hits
Soriano's homer was the 379th of his career, tying him with Orlando Cepeda and Tony Perez for 64th on the all-time list.
"Especially (since) we got shut out yesterday. I don't want it to happen today again,'' Soriano said. "At least he didn't throw a shutout.''
Soriano might have done even more damage except for some tough luck with the Pirates defense. He flew out deep to Travis Snider in the second inning. Snider banged into the right field wall as he made the catch.
Then, in the sixth inning with runners on second and third and two out, Soriano hit a shot down the third base line. Alvarez dove and made a backhand stop and threw out Soriano.
Scuffling the most at the plate for the Cubs has been shortstop Starlin Castro, who was recently dropped from No. 2 in the order to seventh. He went 0-for-3 and has three hits his last 34 at-bats.
"Obviously he (Castro) didn't get any hits again, but he lined the ball into right center field. Hit that ball really well,'' Sveum said. "Lined another ball into right. Hopefully something starts clicking and he gets going.''
The Pirates tagged Cubs starter Jeff Samardzija (3-7) for eight hits, including Alvarez's two-run home run in the fourth, his team-high 13th of the year. The right-hander struck out seven and walked one in six innings.
Martin's homer, a two-run shot in the eighth off reliever Hector Rondon, was the 100th of his career.
The Pirates jumped on Samardzija for a run in the second on Garrett Jones' double and Alvarez's one-out RBI single. Pittsburgh added a run in the third when Starling Marte ended a streak of 14 hitless at-bats with a single, stole second and came in on Travis Snider's single.
Alvarez homered to right field after Martin led off with a walk in the fourth to increase the Pirates' lead to 4-0.
In the eighth, Martin sent a 3-2 pitch by Rondon into the seats in left for a two-out home run after Andrew McCutchen had drawn a walk.
Pittsburgh beat Chicago for the fifth straight time and handed the Cubs their fifth loss in the last six games overall.
NOTES: Cubs pitcher Kyuji Fuikawa, who went on the 60-day DL May 27 with a muscular strain in his right forearm, is expected to have surgery Tuesday after an exam on Monday. ... Sunday's pitchers: Pittsburgh left-hander Jeff Locke (5-1, 2.45) vs. Chicago right-hander Edwin Jackson (1-8, 6.29).
Be the first to know
Get local news delivered to your inbox!