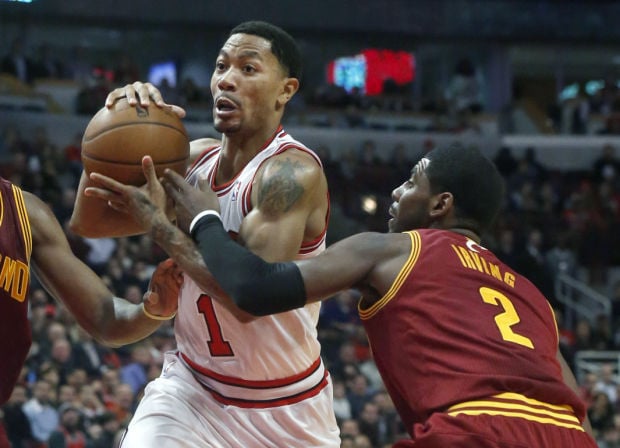 CHICAGO - With 3 minutes, 39 seconds left in the Bulls' 96-81 victory over the Cavaliers on Monday night at the United Center, Derrick Rose scored on a coast-to-coast drive that brought back memories of his dominance.
Twenty-four seconds later, Rose sat on the bench grimacing, replaced by Kirk Hinrich and drawing attention from assistant trainer Jeff Tanaka and team physician Brian Cole.
That brought back memories of his dormancy.
Rose will be re-evaluated Tuesday, but both he and Bulls coach Tom Thibodeau called his right hamstring injury "minor." That Rose's latest misfortune has nothing to do with his surgically repaired left knee is major.
"It's just a minor strain, nothing serious," Rose said. "It's nothing big at all. I should be ready (Friday). I'm still able to walk around, move around the way I want to. It's just a little sore."
Indeed, Rose walked with little to no noticeable limp after the game and said he planned to treat the tweak with treatment leading up to Friday's road game in Toronto. The Bulls, who took a conservative stance with injuries this preseason, have Tuesday off followed by two practice days.
You have free articles remaining.
Rose returned for one possession following the timeout the Cavaliers called after his coast-to-coast drive. When team personnel didn't like how he moved and grimaced, Thibodeau called a 20-second timeout to insert Hinrich.
"I really didn't feel it until after I came down (from the drive) and then went back to the bench," Rose said. "They were asking me about it. Then, coming back in there was a play where somebody knocked the ball out of bounds. They said I wasn't moving good enough to be on the court.
"Stuff happens. I just have to play through it and get back healthy."
Rose came on strong in the second half to prevail in his first individual matchup with Cavaliers All-Star Kyrie Ir-ving as the Bulls broke open a close game late.
Rose finished with 16 points, a season-high seven assists and zero turnovers to lead a balanced Bulls attack that featured six in double figures, including all five starters.
Irving didn't score until knocking down free throws with 1:36 left in the first half. His first field goal came in the final minute of the third quarter following six misses. He did finish with 16 points but shot 5-for-19.
Carlos Boozer's 17 points led the Bulls, who have scratched their way back to .500 in this season's slow start. Mike Dunleavy scored 10 of his season-high 15 points in the fourth, including a 3-pointer and three free throws after being fouled on another 3-point attempt.