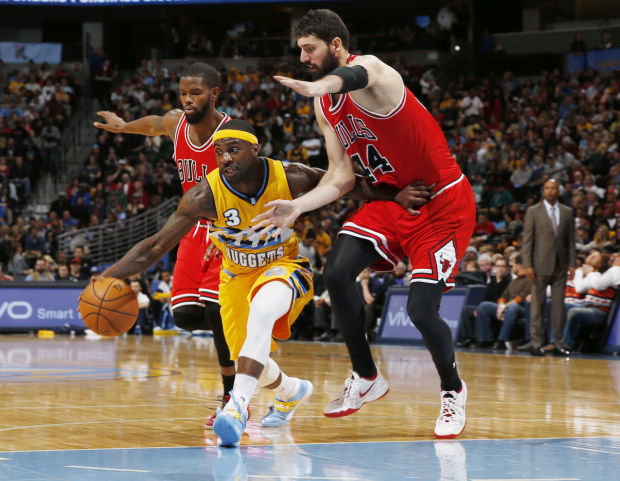 DENVER — Ty Lawson scored 20 points, including a key jumper in the waning seconds, and the Denver Nuggets beat the Chicago Bulls 114-109 on Tuesday night for their fifth straight win.
Arron Afflalo added 19 points and Danilo Gallinari had 15 for the Nuggets, who defeated the Bulls for the eighth straight time in Denver.
Bulls point guard Derrick Rose was limited to 10 minutes in his second game back from a left hamstring strain. Rose, who scored 18 points in his return Monday night against Utah after a four-game absence, felt tightness in the hamstring during the first quarter and didn't play the rest of the way.
Jimmy Butler had 32 points for Chicago, and Pau Gasol finished with 22 points and 11 rebounds.
Trailing 56-49 at halftime, the Bulls closed to 64-61 when Mike Dunleavy swiped the ball from Lawson to start a fast break that he finished with a layup.
But the Nuggets pushed back. When Dunleavy later made a 3-pointer, Lawson answered with a three-point play to help Denver to an 86-76 lead heading into the fourth quarter.
The Nuggets used a 6-0 burst that included a pair of dunks by Alonzo Gee to stretch their lead to 94-80 with 8:25 remaining, but then had to fend off a late rally by the Bulls.
Gasol scored a pair of baskets to get Chicago within 10. After a video review erased a 3-point basket by Gallinari because he stepped out of bounds, Gasol converted a three-point play, making it 105-98 with less than two minutes left.