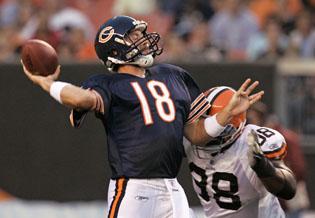 CHICAGO - The Bears will open the season with the unproven Kyle Orton lining up at quarterback behind a retooled offensive line, handing off to a rookie and throwing to an overhauled receiving corps. | NFL page
Sure there are questions surrounding the offense. Pro Bowl linebacker Lance Briggs basically says: So what?
"This is the city of Chicago," Briggs said. "In Chicago, we are known for defense. Hats off to the offense. I want them to play well and be one of the top offenses - the top offense - in the league. But as far as I'm concerned, this is where the buck stops. This is where we need to be dominant."
The Bears were anything but dominant last year.
With soaring expectations following a run to the Super Bowl, they limped to a 7-9 record behind a long list of injuries and poor play overall. Now, with a revamped offense and a healthy defense, they expect to return to the playoffs.
"You've got superstars at almost every position on our defense," tackle Dusty Dvoracek said. "Our offense has great players, good veteran leadership with Olin (Kreutz) and that offensive line. We've got good skill position (players). Special teams, you've got Devin Hester, (kicker) Robbie Gould, (punter) Brad Maynard. We're a very solid team all around."
And yet they're a team with plenty of questions.
On defense, the only one that really matters is this: Can they stay healthy?
They didn't last season, and a once-dominant group allowed 354.7 yards per game while ranking 28th overall. Former Pro Bowl safety Mike Brown and Dvoracek both ruptured anterior cruciate ligaments in their left knees in the season-opening 14-3 loss at San Diego, and the hits kept coming.
A groin injury limited cornerback Nathan Vasher to four games, and Briggs, cornerback Charles Tillman, defensive end Mark Anderson, safety Adam Archuleta and tackle Darwin Walker all missed at least one.
Star linebacker Brian Urlacher and Pro Bowl defensive tackle Tommie Harris weren't healthy, either, although neither missed a game. Urlacher had an arthritic back and underwent minor neck surgery after the season, while Harris was limited by a sprained knee after suffering a season-ending hamstring injury in 2006.
On offense, a long list of questions starts with the quarterback.
Coach Lovie Smith named Orton the starter over Rex Grossman, even though neither excelled through the first two preseason games.
"It wasn't based on just the preseason games or just training camp, not one thing - just a lot of different things," Smith said.
Orton called it "a relief."
"Now it's just all about the (offensive) unit and knowing what everybody's going to do and just kind of tailoring things to the way that we like it," he said.
Orton completed 63.2 percent of his preseason passes (12-for-19) for 99 yards, but had no completions longer than 17 yards. Grossman went 13-for-23 for 118 yards and a 25-yard touchdown pass.
The decision wasn't a shocker given Grossman's struggles at Seattle in the second preseason game and the message the Bears sent in the offseason, when they re-signed him for just one year while giving Orton an extension through 2009.
It was clear the Bears were losing patience.
The offense ranked 27th last season and only three teams gave up more interceptions than the Bears' 21. Chicago also ranked 27th in completion rate (57.5) and 15th in yards passing (209.8). It didn't help that a once-dominant line showed age, allowing 44 sacks - ninth most in the NFL. The Bears will have new starters at three positions there.
Grossman, meanwhile, fell out of favor early last season.
He got replaced by Brian Griese after throwing six interceptions and one touchdown in the first three games. He returned for five more and played better, passing for 913 yards with three touchdowns and one interception before a season-ending sprained knee.
Chicago finished 2-1 with Orton, who started 15 games as a rookie in 2005 when Grossman was injured. That year, the Bears simplified their offense for him. Now, he'll run the full version of it.
The change at quarterback wasn't the only big move.
The Bears waived running back Cedric Benson in June following his second alcohol-related arrest in a month, ending a disappointing three-season run in which he was often injured and failed to live up to lofty expectations. Now, they're turning to second-round draft pick Matt Forte of Tulane and Kevin Jones, who's coming off a serious knee injury with Detroit.
With Bernard Berrian and Muhsin Muhammad gone, the receiving corps has a new look, too. The Bears brought back Marty Booker and added Brandon Lloyd, while giving return star Hester a bigger role on offense.
Briggs wouldn't blame last year's defensive problems on the injuries, but Harris said they're impossible to overlook.
"I think that speaks for itself," the linebacker said.
Last year, Harris had seven of his eight sacks in the first eight games before the knee problems caught up to him, but he continued to play.
"I feel like even if I am banged up, I'm still better than anyone," he said. "That's confidence; that's not arrogance."
And the Bears are a confident group.
---
Pro Football Pick 'Em
Can you predict the future? Test your pro football knowledge by predicting the winners of each week's games, and you can win prizes. Go to www.pantagraph.com/upickem to enter.