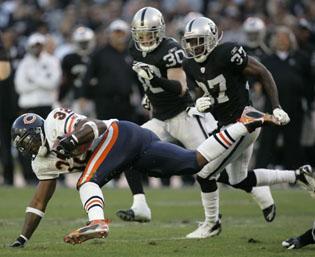 LAKE FOREST, Ill. - The black ski hat on Cedric Benson's head could have been mistaken for a black cloud, given the way this season has gone.
Benson is frustrated. But if he's worried about losing his job, the Chicago Bears running back isn't saying.
"That's not really my area to worry," Benson said Thursday.
The running game is a big area of concern for the Bears (4-5).
They just switched quarterbacks again, going back to Rex Grossman, which raises the question of whether they'll stick with Benson. Then again, what choice do they have?
Adrian Peterson, a backup with just 30 carries this season? Rookie Garrett Wolfe, with a grand total of six attempts?
The Bears were counting on Benson to deliver on the potential that made him the No. 4 pick in 2005 and justify the trade that sent Thomas Jones to the New York Jets in the offseason. Instead, the running game remains stuck.
If ever there was a game that seemed perfect for a breakout it was last week at Oakland, but Chicago managed just 78 yards facing a defense that ranked 30th against the run.
He had 28 carries for 72 yards, and the Bears continued to scratch their heads. It was just his third game with more than 19 attempts, but instead of wearing out the defense, he may have taken another step toward wearing out his welcome.
Benson's 3.0 yards per attempt and 59.8 per game are among the worst in the league. Cincinnati's Rudi Johnson (2.6) and Green Bay's Brandon Jackson (2.5) are the only running backs with at least 47 carries averaging less. Just once has Benson reached the 100-yard mark, when he ran for 101 against Kansas City in Week 2.
"In the grand scheme of things, just us not being able to get into the flow of the offense, get a good groove like we had going last year, that's been frustrating," Benson said.
The running back who appeared to get stronger as last season wore on, plowing over opponents, hasn't shown up. He has spent long stretches on the sideline, and when he's not being ignored, he's not making a strong case for a bigger role.
Seventy-one running backs have broken off runs of 17 yards or more, and none of them are Bears.
Breakdowns on a once-dominant offensive line aren't helping matters.
"We're just not very good at running the ball right now," center Olin Kreutz said. "The way to improve it is everybody works on it, but we've been saying that for a long time now. So what do we have to do? If we knew, we would have done it. We're working hard at it. It's not showing in games right now. We're pretty bad at running the ball. We recognize that, we're embarrassed by it."
While doing that, the Bears voiced their support for Grossman, who got benched after the third game but is now getting a second chance.
He came in after veteran Brian Griese went down with a sprained left (non-throwing) shoulder against Oakland and threw a go-ahead 59-yard touchdown pass to Bernard Berrian to lead the Bears to a 17-6 victory.
Coach Lovie Smith said that Grossman would start this week at Seattle. On Thursday, he said he had not decided who the No. 2 quarterback would be. That could mean that Kyle Orton - not Griese - will be the backup.
Either way, the ball will be in Grossman's hands.
"He's taken a lot of criticism, a lot of beatings and hasn't cried or whined about it," Kreutz said.
There were "beatings" last season when he struggled after a strong start, and his brutal beginning this year brought on more shots. Instead of finding the consistency the Bears envisioned, Grossman found himself on the sideline after throwing six interceptions and one touchdown as the Bears started 1-2.
"We believe we can win with Rex at quarterback and we do have the confidence in him, but that being said, we have the same confidence in Griese," Kreutz said.
Added linebacker Hunter Hillenmeyer: "We've got all the confidence in the world he can do a great job."
Their confidence in the running game is shaken, and their options seem limited.
The Bears don't have an experienced backup awaiting his turn or the starter from last season's Super Bowl run hoping for another shot.
"It's only difficult and frustrating when you think about it more than you should," Benson said. "It's going to come. It's going to correct. I don't know how to explain it or what better way to put it."