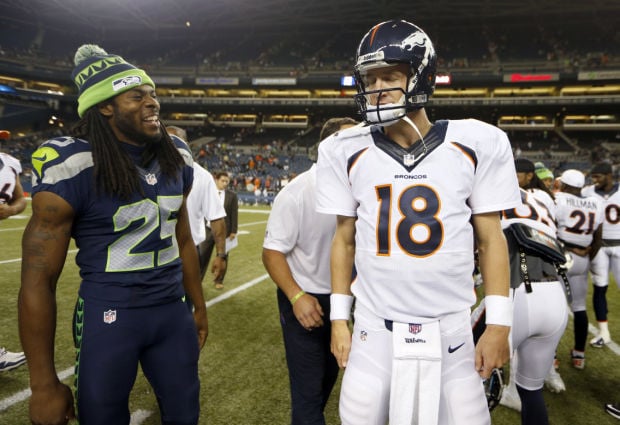 With his final NFL pick, Kash has decided to favor offense over defense in hopes of finishing the season 10 games above the .500 mark.
The Miller Park Zoo harbor seal is siding with Peyton Manning and the Broncos in Super Bowl XLVIII today. If he's right, he'll finish the season at 138-128 - a solid showing in what proved to be a tumultuous season.
Kash, who showed a tendency from going against the rest of the panel all season, is on the consensus side this time as five of our six experts picked Denver. Randy Reinhardt is the loner this time, taking the Seahawks to win by one point.
Reinhardt's Seattle pick will determine the final standings as one way or the other it will break a third-place tie with Randy Kindred. Jim Benson will top the standings by a comfortable five games over Randy Sharer, while Joe Deacon settled into fifth.
Pantagraph sports staff Super Bowl XLVIII picks
| Game | Randy Kindred | Jim Benson | Randy Reinhart | Randy Sharer | Joe Deacon | Kash |
| --- | --- | --- | --- | --- | --- | --- |
| Denver vs. Seattle | Denver | Denver | Seattle | Denver | Denver | Denver |
| Score | 27-23 | 21-18 | 24-23 | 24-21 | 34-27 | 37-28 |
| Last week | 2-0 | 1-1 | 2-0 | 2-0 | 2-0 | 1-1 |
| Season | 171-94 | 179-86 | 171-94 | 174-91 | 169-96 | 137-128 |