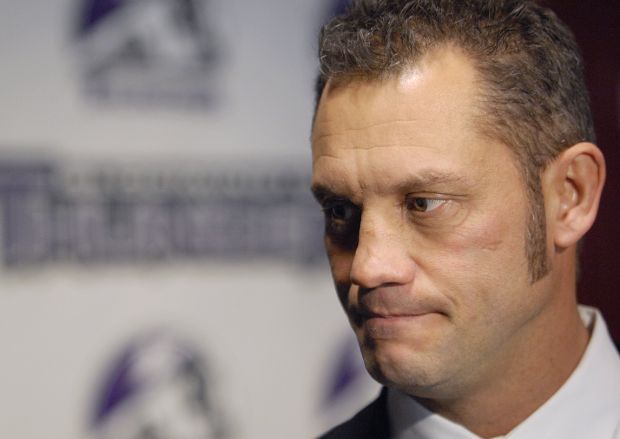 BLOOMINGTON — Beginning his first head coaching job with a last-place team, Greg Pankewicz maintained lofty expectations for the Bloomington Thunder.
"We can turn it around, there's no question," Pankewicz said Tuesday during a news conference introducing him as the Thunder's new coach. "Without saying too much, I'm excited about making a run at the top of the standings and making a run in the playoffs. I'm not afraid to say I'm after a championship."
Pankewicz, 43, assumes a Thunder team off to a 4-11-0 start in the Southern Professional Hockey League with a minus-20 goal differential. He takes over for Brian Gratz, who resigned last week following an incident-marred loss to Peoria on Nov. 30.
"Since I've retired I've always wondered what it'd be like to have my own ship and being in charge of the guys," said Pankewicz, who played in more than 1,100 games over 23 professional seasons. "I can promise you this: We're going to win, win every shift and every loose puck."
Pankewicz, who appeared in 21 NHL games, spent his final six seasons as a player with the Colorado Eagles in the Central Hockey League, helping his team win two championships. He served as an assistant with the Eagles for the past four seasons.
"Winning two championships in Colorado, it was the tightest-knit group of people I've been associated with," he said. "It's not just the players, it's the office staff and the ownership group.
"Everybody wants to win a championship and that's what we want to do. Right out of the gate, we're going to be a team that's going to play aggressive. We're going to play whistle to whistle."
Bloomington's biggest issues have stemmed from a league-high 504 penalty minutes, 140 more than the next team. That has led to a penalty kill that ranks last (74.75) while allowing 25 power-play goals.
"I talked to the guys today and I said there's no way we're going to be successful if we continue down that path. There's just no way," said Pankewicz, who amassed more than 3,000 PIMs as a player. "It's hurting our hockey club. We can't get any momentum, we can't establish anything.
"You're going to see a different team. We're not going to get pushed around; we're going to stay five strong. But we're going to do things right."
The Thunder power play has also faltered with a league-low success rate of 14.67 and five shorthanded goals surrendered.
Thunder co-owner and president David Holt said team management worked with SPHL commissioner Jim Coombs and sought input from CHL and ECHL contacts, as well as former PrairieThunder and Rivermen coach Jason Christie, in identifying potential candidates.
"When we got that list back from all three groups, there was one name on all of them and it was Pankewicz," said Holt. "It stood out when you have the ECHL, the CHL and a former coach all saying this is a guy that needs to be on your short list."
Echoing Pankewicz's optimism for the remainder of the season, Holt refused to lower the bar for success.
"We're only one-fourth into the season and we like our team; we think we can get this turned around," he said. "Our expectations really haven't changed. We want to be one of the top teams in the league. Again, we feel like we've got the talent."
Pankewicz said the relationships he's fostered over his career should assist him both in helping current players advance their careers and reshaping the Thunder roster when necessary.
"The phone rings all the time. You make a lot of friends over 25 years in the game that are in the game still," he said. "You rely on them pretty heavily and you trust their word because they all played."
Pankewicz was joined at the news conference by his wife, Rachel. The couple has six children ranging in age from 8 to 17.
Barczuk called up: Dan Barczuk, who shared the Thunder lead with six goals, was loaned to the Denver Cutthroats of the Central Hockey League on Tuesday.
Barczuk's game-winning goal Saturday against the RiverKings tied him with Kevin Walrod. He was tied for third on the team with 12 points, joining captain Travis Granbois behind Walrod (14) and Tyler Noseworthy (13).