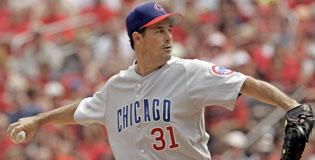 CHICAGO (MCT) — General manager Jim Hendry took a break from his spending spree to enjoy the Thanksgiving holiday, but there were plenty of leftovers to feast on from a wild week in Cubs history.
Alfonso Soriano came, Juan Pierre went and Greg Maddux dropped hints he was willing to return for Round 3. Here's a look at some of the hot topics involving the Cubs:
The Cubs haven't expressed an interest in re-signing Maddux again but haven't ruled anything out. Maddux's second-half numbers compare favorably with five free agents on the Cubs' radar, not to mention the two biggest fish in the free-agent pitching pond.
Maddux went 8-5 with a 3.88 ERA after the All-Star break, including four starts with the Cubs before he was traded to the Los Angeles Dodgers.
Barry Zito went 8-4 with a 4.55 ERA in the second half, while Jason Schmidt was 5-4 with a 4.76 ERA. The Cubs are looking at Ted Lilly (7-5, 4.61 ERA in the second half), Gil Meche (3-4, 5.42 ERA), Jason Marquis (3-10, 6.72 ERA), Miguel Batista (3-3, 4.10 ERA) and Vicente Padilla (7-5, 4.56 ERA). Maddux reportedly is seeking a two-year deal and figures to wind up with the Dodgers or in San Diego.
Aramis Ramirez hit nine home runs in April and May but finished with 38 after swatting 24 after June 30.
"Last year if I had a good April and May, I would have hit 100 home runs," Ramirez said.
Getting off to a fast start is Ramirez's focus in 2007 because the Cubs can't afford another sluggish April.
"You get a big monkey off your back if you do that," he said. "I'm looking forward to doing that."
Despite Hendry's open-wallet policy, the Cubs don't appear to be in danger of having to pay the luxury tax in 2007, when the payroll threshold increases from $136.5 million to $148 million. Last year the only two teams hit by the luxury tax were the Yankees, who paid $34 million in taxes on a $213.1 million payroll, and the Red Sox, who paid $4 million on $141.9 million.
All multiyear contracts are valued at their average annual value, regardless of the player's salary in that particular year, and benefits also are factored in. So while Ramirez '07 salary will be listed at $9 million ($8 million plus a pro-rated portion of his $5 million signing bonus), it's still $15 million for the purpose of the luxury tax.
Ramirez spoke to former manager Dusty Baker recently when Baker was about to interview for the San Diego Padres job. Is it a shame the Cubs went on a spending spree after Baker was let go?
"Last year was a tough year for Dusty, and I don't think there are a lot of managers who could have won a lot of games with the team we had," Ramirez said. "I don't know how many starts we had by a rookie, but it's tough to win when you do that."
When Philadelphia's Jimmy Rollins signed a five-year, $40 million deal in the summer of 2005, he became the highest-paid leadoff hitter in the National League with an average annual salary of $8 million. But he since been bypassed by Rafael Furcal ($13 million per year), Alfonso Soriano ($17 million), and now Pierre ($9 million), who joins Furcal with the Dodgers (Furcal will bat second). The Los Angeles Angels also made Gary Matthews Jr. a $10 million-a-year leadoff hitter Wednesday.
Will the Rent-a-Pierre decision haunt the Cubs? Sergio Mitre (1-5, 5.71 ERA) and Ricky Nolasco (11-11, 4.82 ERA) were the top prospects in the Cubs-Marlins trade, but Renyel Pinto (0-0, 3.03 ERA) ultimately may be considered the one that got away. The Cubs will receive only a sandwich pick between the first and second rounds of the amateur draft for Pierre because he was a Type-B free agent. … Cleveland starter Jake Westbrook isn't on the trade market yet, so the Cubs aren't pursuing him. … Free agent Dave Roberts fits the Cubs' need for a left-handed bat in the outfield, but the Cubs are looking for a stop-gap plan while Felix Pie matures and Roberts wants a multiyear deal. … Cliff Floyd reiterated to Newsday the Cubs are his top choice, but his bum Achilles tendon makes him a candidate for a one-year, incentive-laden deal at best. Texas and Oakland also are interested in Floyd.