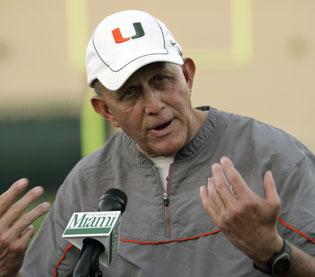 CORAL GABLES, Fla. - The plan called for the Miami Hurricanes to have a normal practice, two hours of working on third-down blitz packages and kickoff returns. Normal wasn't possible Wednesday. Less than 24 hours after Bryan Pata, one of the Hurricanes' most-respected players, was killed outside his apartment, his team was back on the football field, preparing for Saturday's game at No. 23 Maryland.
"They felt like Bryan would want to practice. They felt like Bryan would want to play," Miami coach Larry Coker said. "That's a decision that we respected, and I think it's the right decision. We've talked to a lot of teams that have had tragedies, and the thing that they've all said is 'You've got to get back."'
Pata, 22, was shot to death Tuesday night outside his off-campus apartment, less than two hours after practice and an informal team dinner ended. The 6-foot-4, 280-pound defensive lineman was found dead in the apartment complex's parking lot when police arrived, and detectives ruled it a homicide.
Det. Roy Rutland, spokesman for the Miami-Dade County Police Department, said police searched Pata's apartment after the shooting. He would not provide any details about what officers sought and what was found. No other details were released.
"The investigators are following all leads, and the release of any information at this time could compromise the investigation," Rutland said Wednesday.
Coker said two assistant coaches came into his office and told him the news shortly after the shooting.
"It's something you never anticipate, never," Coker said. "You expect maybe a sprained ankle but nothing more than that. Just total shock. We had practice, then we had dinner after practice with the players. … Just total shock."
Players returned to the athletic complex shortly after learning of Pata's death and stayed for several hours. They met with team chaplains and grief counselors, and several teammates were interviewed by Miami-Dade police detectives.
The Hurricanes have dealt with plenty of problems this season, including a July shooting in which safety Willie Cooper was slightly injured and a sideline-clearing brawl last month in a game against Florida International.
"It's spiritual, but God's not going to give you more than you can handle," Coker said. "And I'm just disappointed that he trusts us so much, because we've been getting a lot to handle."
Miami players were not available for comment after practice Wednesday. They walked off the field nearly in total silence, with some peeling off their orange, green and white jerseys before shuffling into the locker room.
Pata was the second UM student to be killed in the last week; senior John Warnecke died last Thursday in a car crash.
A memorial service for Pata was scheduled for noon Nov. 15, and former teammates expressed shock and outrage over his killing.
"It's a product of ignorant individuals and stupid people who don't care about life," said Philadelphia Eagles defensive end Jerome McDougle, a former Miami standout and a South Florida native. "It's tragic. I feel for him and his family."
Well-wishes also poured in from around the Atlantic Coast Conference.
Commissioner John Swofford released a statement offering prayers to Pata's family and the UM community, while many of the league's players and coaches expressed their condolences to Coker and the Hurricanes.
"I was a little shocked," Boston College quarterback Matt Ryan said. "I wish all those guys the best down there, and hopefully they handle that as well as they can."
In his fourth year with the Hurricanes, Pata was expected to be chosen in the upcoming NFL draft. He appeared in 41 games, making 23 starts, and had 13 tackles and two sacks this season while helping lead one of the nation's top defenses against the run.
A moment of silence was held at Miami Central High, Pata's alma mater, Wednesday morning, said Anthony Saunders, his high school coach.
"He was a great kid. A well-mannered, well-disciplined kid," Saunders said. "It never seemed like he had any problems. Everything was always on track. He was going to the NFL and then he got shot in the head."
Miami's program has experienced several off-field tragedies in recent years.
In April 1996, reserve linebacker and Miami native Marlin Barnes was murdered in a campus apartment. In 2003, former Miami safety Al Blades was killed in a car accident, about a year after former Miami linebacker Chris Campbell - who had just completed his eligibility with the Hurricanes - also died in a crash.
"It reminds me of the situation we had with Chris Campbell," said Miami Dolphins offensive lineman Vernon Carey, another former Hurricane. "But this is a little worse, because he got shot."
The Hurricanes will play with "95" decals - Pata's number - on their helmets.
Pata's funeral arrangements still were pending. Coker said he planned to visit with the family Wednesday night.
"People say 'I know how you feel,"' Coker said. "No, no, you really don't."
AP Legal Affairs Reporter Curt Anderson and AP Sports Writers Steven Wine, Rob Maaddi and Jimmy Golen contributed to this report.