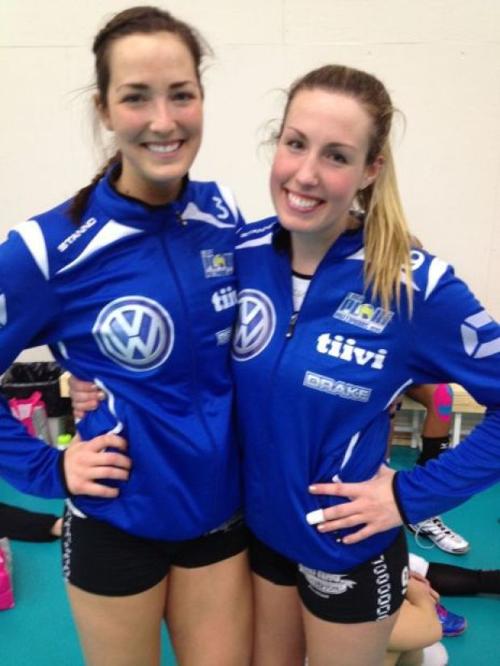 Having seen the official Santa Claus of the world on a visit to the Arctic Circle and also developing a taste for reindeer, vagabond volleyball stars Taylor Bruns and Kasey Heckelman are ready for new adventures.
Bruns, who played for University High and South Carolina, and Heckelman, a Bloomington and Arkansas alum, spent last season playing professionally in Finland. The former Illini Elite Volleyball Club teammates left Wednesday to play in Belgium.
Bruns reports their season with Pislaploki in Pihtipudas, Finland was an "awesome" experience.
"The people were wonderful," said the 6-foot setter, who was the 2008 Pantagraph Area Player of the Year. "We made great friends. We got to explore, have some good adventures."
Their team finished around .500, but they excelled individually. Bruns estimates the 6-foot-2 Heckelman was their league's second best outside hitter while Bruns was the second best setter.
Both believe they've never played better. 
"I did well because I was in a lead role again kind of like how in high school, I was usually the lead girl as an outside and in passing," Heckelman said. "Once I got in college, everybody else was on my level. Getting to Finland I had that confidence again to be the go-to hitter and point scorer." 
Their town of 5,000 packed home matches with more than 1,000 fans.
"Our volleyball matches were kind of the best thing to go to," Bruns said.
As a team, Pislaploki had "great" chemistry, but wasn't as good as the college teams Bruns and Heckelman played for. The two 23-year-olds were older than all but one of their teammates, many of whom remain in contact.
"We got to teach them a lot of what we know," Heckelman said. "It was a lot different than I expected for professional volleyball."
Heckelman and Bruns enjoyed playing together so much, they asked their agent to find them a package deal in a higher league.
"Finland was great, but there was not a lot of opportunity to travel around the rest of Europe so Belgium is definitely a better location," Bruns said. "The team is better. It is a better opportunity. It's kind of the next step up."
Their new team, the Volley Club Oxyjeunes, plays in the top league in Belgium and is located in Farciennes, a city of 11,000. The squad plays 18 matches from October through February. Players include Bruns' former South Carolina teammate, 6-2 all-SEC star Juliette Thevenin, who is a native of Belgium.
"When we aren't playing, hopefully we'll be traveling a lot," Heckelman said.
Bruns and Heckelman said having each other around made living overseas a breeze. Language was no issue in Finland where 95 percent of people speak English. They expect to hear French at their Belgium matches.
"When you are trying to navigate things in a different country, it's so nice to just have somebody there you are comfortable with that you can speak English with," Bruns said. 
"It definitely helps in terms of getting to know our teammates and new people because when you are by yourself, you kind of have those nerves, but when you're with somebody you've known since you were 13, you're able to be yourself more and reach out to new people and get to know them faster than you would if you were on your own."
Bruns hopes to play professionally a few more years while Heckelman is playing it by ear.
"I don't see any reason to stop," Bruns said. "We'll take it one year at a time and see what happens."
Be the first to know
Get local news delivered to your inbox!