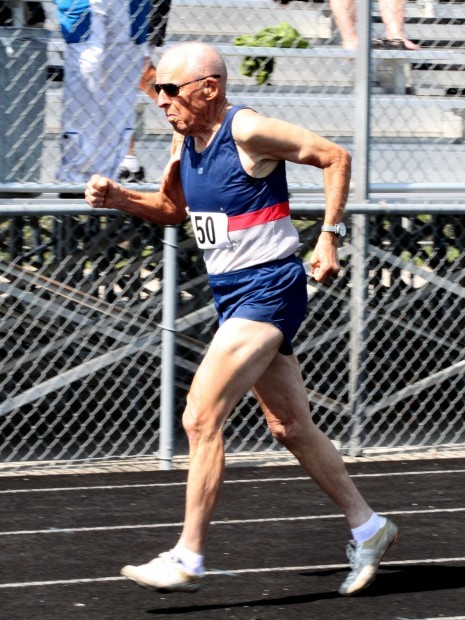 NORMAL — Are you feeling a little sluggish? Don't think you have the energy to go walking or jogging or cycling?
Here's something that may change your mind.
D. Paul Miller of Normal is 95 years old and works out two hours a day. He is a regular at Illinois Wesleyan's Shirk Center, arriving at 5 a.m. when IWU head football coach Norm Eash opens the doors and heading home around 7.
Miller was there Monday morning, even after competing in seven track and field events on Sunday. He won them all in the Illinois Senior Olympics at Springfield, but only came home with six gold medals and six state records in the 95-99 age division.
He was disqualified after winning the walk race in 13 minutes, 36 seconds.
"A judge said I was bending my knees," Miller said. "They said you are supposed to lock your leg on each step."
Not to worry.  Miller still established 95-99 age group records in the 50-meter run (13.0 seconds), 100 meters (27.67), 200 meters (1:09.29), standing long jump (3 feet, 7½ inches), running long jump (4-3) and discus (31-0).
His 50 time beat the previous record by more than five seconds. His 100 time was six seconds faster than the old record (set in 1985).
The discus mark was nearly nine feet farther than the previous best. And the walk race time would have shaved five minutes off the record if not for that stickler judge.
Miller also earned cycling gold in June with state records in the 5-kilometer time trial (11:41), 10K time trial (27:36) and 20K road race (51:36).
He attributes it all to his workouts at Shirk Center.
"I think that's what keeps me going," he said.
The victories qualified Miller, the oldest competitor in the state games, for next year's National Senior Olympics at Cleveland. Asked if he would compete, he smiled and said:
"I plan to. When you get to my age you never know. But unless something happens, I plan to go."
A former sociology and anthropology professor at IWU, Miller has been competing in the Senior Olympics for 30 years. He has a suitcase filled with medals, including 15 from the national level.
He quit teaching in 1982, but said Monday, "I didn't retire. I haven't retired yet."