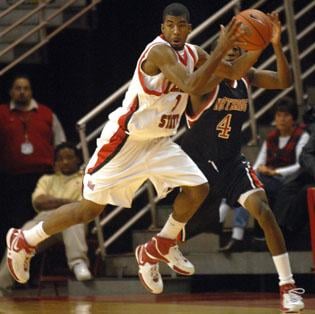 NORMAL - Cal State Northridge scored 159 points in a game last week. The Matadors were right on pace Monday night. Calvin Chitwood took a pass from Rob Haynes off the opening tip and threw down a dunk.
"Oh, man. They scored in like three seconds," said Illinois State coach Porter Moser. "All the things we went over and right away they throw a different wrinkle and execute a great backdoor play."
The Redbirds made sure nothing else came easy for Northridge.
Northridge set a Redbird Arena record for lowest field goal percentage (.259). Boo Richardson, Dom Johnson and Anthony Slack made their home debuts a rousing success as the Redbirds rolled to an easy 66-44 nonconference victory.
"We had a game plan. We heard they scored 159 points and didn't want to get embarrassed," said Richardson, the Redbirds' point guard. "We locked in during practice and just stayed in our assignments on the defensive end. We wanted to come out and have fun our first game of the year at home."
The crowd of 4,699 had plenty of fun watching ISU's junior college transfers perform in the home opener. These aren't your offensively challenged Redbirds who went 9-19 last season.
Johnson scored a game-high 16 points, making 4 of 7 shots from 3-point range, and grabbed five rebounds. Richardson contributed 15 points and eight assists, while Slack added 12 points, seven rebounds, five steals and boundless energy on defense.
ISU improved to 2-2. The Redbirds travel to face St. John's (2-2) at 6:30 p.m. Saturday at Queens, N.Y.
The Redbirds used a 15-3 run in the first half to open a 27-10 lead and never let Northridge back in the game. ISU held the Matadors (4-2) to 23.1 percent shooting in the first half in zooming to a 36-16 lead.
That was the second fewest points in the first half in the 18-year history of Redbird Arena, topped only by Indiana State's 11 points in 2004.
"We played hard on defense with a lot of energy. We knew we had to protect the home court," said Johnson. "We're going for no losses on our home floor. We came out really enthused. It was good to see the crowd in the gym."
Moser showed Northridge something different from ISU's three games last week in Florida. The 6-foot-7 Slack applied pressure on the in-bounds pass after Redbird baskets or made free throws.
"We didn't let them get the quick outlet. It slowed them down and was effective," said Moser. "Anthony is so long. It slowed them down and let our defense get back because they're so good at running. Anthony did a good job the whole game with that."
Northridge enjoyed a layup-fest against Division III Redlands during a 159-97 victory. The Matadors looked as if they left their fresh legs back in California. The previous Redbird Arena low shooting effort was 27.1 percent by Mount St. Mary's in a National Invitation Tournament game in 1996.
"It was an example tonight of a team fat and happy and feeling good about themselves versus a team that was a lot more hungry," said Northridge coach Bobby Braswell. "We knew they were a good basketball team and play hard defensively.
"Our guys took a trip and thought we were here for vacation and didn't show up to play basketball."
Northridge tied the Redbird Arena record, set by two other teams, for fewest made field goals with 14 in 54 attempts. Chitwood led the Matadors with 14 points.
Brandon Holtz gave ISU a lift off the bench with three 3-pointers in the second half. The last one gave the Redbirds their biggest lead at 61-32 with 5:10 left.
"I thought it was important to play well. You have to start to form an identity even though it's early," said Moser. "This is a new team. It was fun to see the way we guarded tonight. I've said all along our offense will be better with the guys we added and the point guard we have.
"But we can't let the defense slip. We've tried to establish this program with defense the last couple years. It was good to see that tonight against a very athletic and high-scoring offense."
The 2006-07 Missouri Valley Conference Preseason Basketball Special will be shown on Comcast SportsNet at 5 p.m. Sunday and on Fox Sports Midwest on Nov. 29 (7 p.m.), Dec. 2 (9 p.m.) and Dec. 10 (1 p.m.).