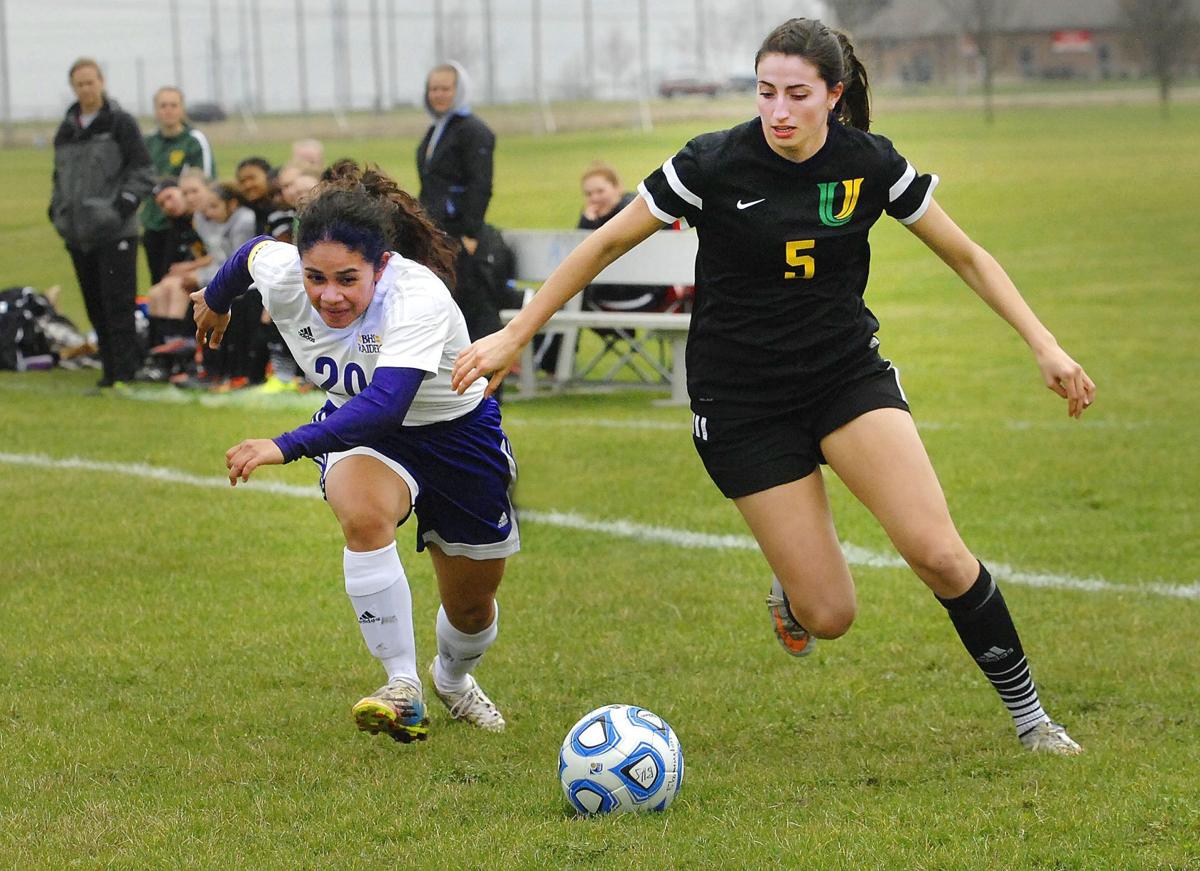 NORMAL — Bloomington-Normal's largest soccer club soon could have a new home that leaders hope can become a regional tournament headquarters in the Midwest.
The Illinois Fire Juniors have announced plans to build a 100-acre multi-sports complex in north Normal and hope to begin the process by the fall. The club, along with the Prairie Cities Soccer League, plays at Community Fields at Central Illinois Regional Airport and will lose access there by the end of the year.
The complex is bordered by Raab Road on the north, Towanda Avenue on the west, Route 66 on the south and Veterans Parkway on the east.
An Illinois Fire Juniors capital campaign has raised more than $3.5 million in cash, pledges and in-kind donations thus far.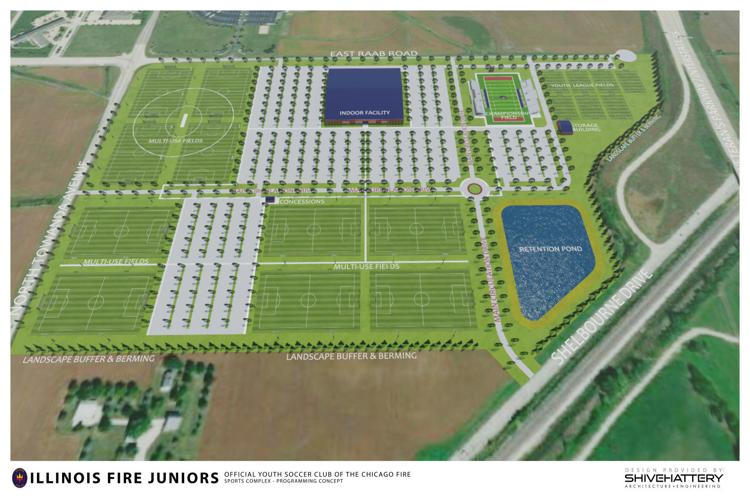 When completed, the complex will hold 10 full-sized, 400-by-300 foot fields; seven youth-sized 7 v 7 fields; a championship field and room for a 280-by-560 foot indoor training facility.
The plan, which also includes lights, turf, bathrooms and concessions, will be designed to not only accommodate soccer, but will also allow use by lacrosse, cricket and football.
The Illinois Fire Juniors has nearly 2,000 travel and recreational soccer players.
"We understand this complex is not just about our kids, just about our club or just about soccer," said Jeremy Kelley, Illinois Fire Juniors Secretary and Co-Chair of the IFJ Capital Campaign. "Our members have seen firsthand how other communities benefit from the growing sports tourism industry.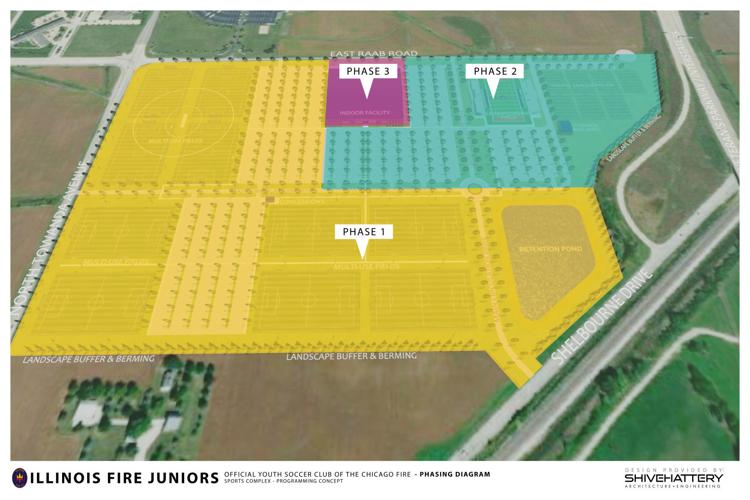 "When we started this effort a few years back, we were not just thinking about our soccer club; we were also thinking about the positive impact this can have on our larger community.'
"The Illinois Fire Juniors' plans for a new sports complex are very exciting, and the CVB and Sports Commission will be as helpful as possible in the development of this project," said Matt Hawkins, sports marketing manager for the Bloomington-Normal Area CVB. "While the initial plans appear to be somewhat smaller than what Sports Facilities Advisory called for in their 2018 feasibility study, the IFJ's complex will meet the needs of the local sports programs, and allow for attracting visitors through tournament play in many different sports.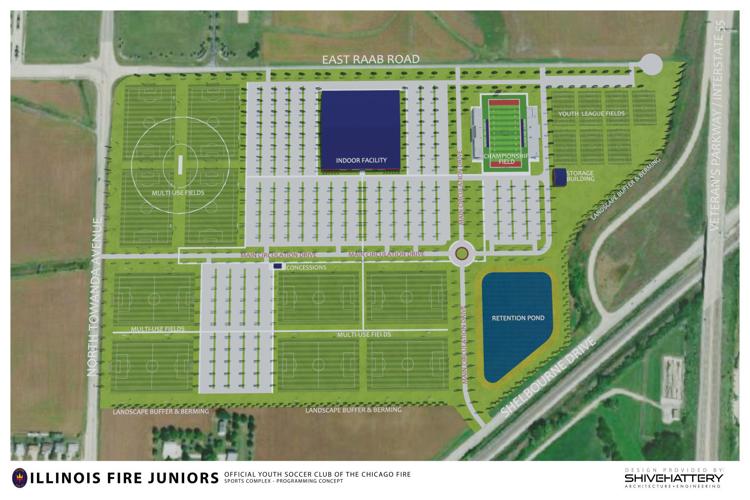 "The Illinois Fire Juniors have our full support, and we will be working with them to utilize this sports complex to its full potential."
The Illinois Fire Juniors complex implementation plan has three phases.
Phase 1 will start as soon as possible and focus on the infrastructure work needed for the complex, leveling the ground to prepare for the main playing surface area and building a new pond that will double as a regional water retention basin for the area.
Phase 2 concentrates on expanded fields and parking, while Phase 3 focuses on an indoor facility. 
"Being a part of the Chicago Fire franchise and the U.S. Youth Soccer Association provides even greater access to opportunities year-round,' said Tim Koch, president of Illinois Fire Juniors and the Prairie Cities Soccer League. "Some of these future soccer opportunities include additional tournaments, Presidents Cup/State Cup matches, and Olympic Development Program (ODP) trainings.
"Partnering with the Chicago Fire, the IHSA (Illinois High School Association), area high schools and our local universities provides even greater opportunities. We know this is a unique moment in time where if we dream just a bit bigger and get this right, we have a chance to positively impact our entire community."
The capital campaign includes three goals. The first was to build a field complex to replace Community Fields. Creation of an endowment fund to support expanded scholarships was the second goal, followed by establishment of a regional tournament complex.
"By establishing a new complex of this magnitude, we know the Illinois Fire Juniors sports complex will be a wonderful community asset and offer a tremendous positive impact on our players, our club and our community in general," said Koch. "We are excited about the future and can't wait to get started bringing it to life this fall." 
---
Pantagraph reporter Jim Benson's top five games
Pantagraph reporter Jim Benson's top five games
Contact Jim Benson at (309) 820-3404. Follow him on Twitter: @pg_benson
Be the first to know
Get local news delivered to your inbox!