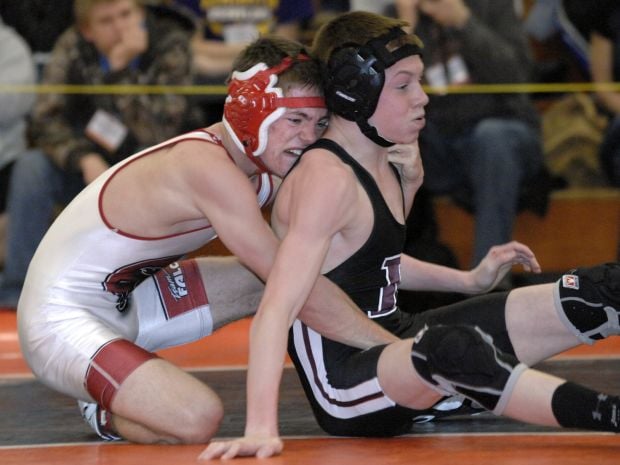 STANFORD — Tristun Reeves missed making weight at 195 by a tenth of a pound at last week's Class 1A regional wrestling tournament.
That meant the El Paso-Gridley High School star had to compete at 220 pounds. Instead of lamenting his situation, Reeves stepped up and won at the Olympia Sectional on Saturday to join 23 Pantagraph area qualifiers for the state tournament Thursday through Saturday at Champaign.
In the final, the No. 12-state ranked Reeves (35-2) scored a takedown with 40 seconds left in overtime to upset No. 5 Ty Sandy of LeRoy (30-4), 3-1.
"It felt like he was tired so I just took the shot," said Reeves, who weighed 199 on Saturday.
Although LeRoy had no champs, it did advance six to state. Prairie Central advanced four while GCMSF and El Paso-Gridley had three each. Qualifying two each were University High and Olympia. Advancing one were Tremont, Deer Creek-Mackinaw and Dwight.
"We're happy with the six," said LeRoy coach Doug DeWald. "We thought maybe we could have had a few more. It wasn't a great final round for us. As long as you are going, you give yourself a chance."
Fans didn't get a chance to see a heavyweight final as Prairie Central's Brett Bennett had to injury default against reigning state champion Josh Wallick of GCMSF (38-1). Bennett also had to default in an early season bout against the No. 1-ranked Wallick, who accidently gave Bennett a concussion.
"I only had one match today (a pin in 4:38)," Wallick said. "I was expecting more, but I'll take whatever presents itself."
Among the day's bigger upsets was the pin in 1:33 by No. 11-ranked Tyler Bergstrahl of Prairie Central (28-9 at 138) over No. 5 Dalton Willett of Monmouth-Roseville. A junior varsity wrestler a year ago, Bergstrahl hadn't even won his regional.
"I just went out there and wrestled my hardest," said the junior. "I'm very proud of myself."
Bergstrahl caught Willett in a headlock from which there was no escape.
"That's one of my best moves," he said. "He was giving me the over hook so I knew it was there."
In the final at 106, No. 6 Hunter Lowry of GCMSF (26-5) notched a 7-3 win over No. 11 Trevor Bulington (15-3) of LeRoy.
"He's an outstanding freshman," said Lowry, who credits mental toughness through a series of injuries as the key to his season. "I'm a senior and my mindset this year is that anyone out on the mat is just in my way."
No. 6 Sam Schuler of Prairie Central and No. 7 Chase Thurman of Olympia reunited in the final at 160 where Schuler won, 6-2. After a scoreless first period, Schuler went on to score two takedowns while improving to 38-5 overall and 2-1 against Thurman (32-5).
"We know each other," Schuler said. "I knew if I kept attacking and going for it, I would eventually get it. He's a real strong wrestler. He's real tough to score on."
El Paso-Gridley's No. 4-ranked Hunter Sant Amour (33-4 at 170) topped No 8 Caleb Wilson of LeRoy (27-6), 5-3, with help from three near-fall points early in the third period.
"I felt pretty in control on top," said Sant Amour, who beat Wilson by a point earlier. "I didn't think I was going to do this good. It's really exciting."
The final at 195 was exciting as Dwight's No. 4-ranked Anthony Bauer (31-5), fifth in last year's state tourney, pinned No. 2 Jeffrey Haley of Quincy Notre Dame in 3:30 to avenge a 7-0 loss at state last year.
"My uncle (Carlos Serato) passed away before regionals and that is who I am doing this for," Bauer said. "I want to win state this year."
Other area runners-up were LeRoy's Alex Matlock (26-8 at 113) and Prairie Central's Paul Garcia (27-8 at 145).
Area third-placers included University High's Dylan Carey (30-12 at 113), LeRoy's Tyler Walsh (29-6 at 126), Olympia's Iley Markham (28-12 at 138) and EPG's Gabe McKinley (29-13 at 145).
Fourth-placer Taylor Thomas (27-8 at 145) became the first qualifier in the five-year history of Dee-Mack's program. Also fourth were Cameron Schwing of GCMSF (33-7 at 120), Cole Lenington of Tremont (25-4 at 160), Lane Lindstrom of LeRoy (28-8 at 195) and Cedric Wilder of U High (34-9 at 220).