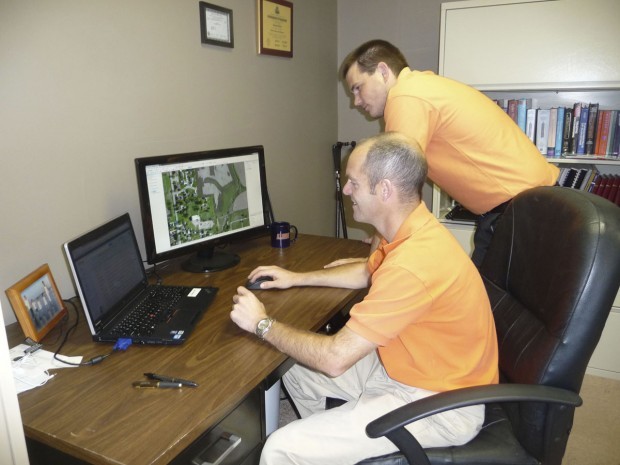 Roanoke-based business using new technology
ROANOKE – Cloudpoint Geographics, Inc. can probably find just what local businesses and governmental units have been looking for in the past through hit and miss searches.
Jonathan Hodel, owner of the Roanoke-based business, has the tools to search and locate a variety of things, from buried infrastructure to the driest part of a cornfield.
"Our primary focus is location-based information and analysis for anything that has a location," Hodel said.
Once he and his co-workers gather information and pinpoint locations, they can map it and manage the information as it changes for their clients. Using everything from tracers that measure the depths and positions of water lines to satellite receptors that pinpoint locations from the sky, Cloudpoint specializes in Global Position Satellite (GPS) mapping and engineering Geographical Information System (GIS) solutions. The service can be used in a variety of ways, such as mapping utilities and underground infrastructure. The maps can be invaluable to municipalities when they are working on infrastructure.
It requires a bit of field research and detective work to put a map together, which Hodel said can be very interesting.
"We start with what we can see above the surface," Hodel said.
In locating water infrastructure, for example, he would start with manholes, valves and shut-offs and determine the distance between them using satellite technology. He combines that information with any known maps, CAD drawings and records to see if the points match up correctly.
"If it doesn't match, we do more field investigations," Hodel said.
Also used is information stored in the minds of long-time employees. Hodel said the staff is often a great resource for quality information.
"Some of them have been working on it for 30 years or more harnessing all that information, and it's all in their heads," Hodel said. "Municipalities need to be planning for the future and getting all that valuable information while their employees are still around. Nobody knows their assets better than those that maintain them."
Once data entry is mapped, Cloudpoint can host the information and maintain it in computer files for their clients while updating it as needed.
"It's a management tool in one central location that gives accessibility to those who want and need it," Hodel said. "Everything is current if you keep it up."
Cloudpoint has done mapping work for the city of Rock Falls and has talked to the Village of Roanoke about mapping its water infrastructure. As word gets out, Hodel hopes to stay busy. Mapping infrastructure can prevent problems with digging locations and provide information to engineers that could help decrease the cost of engineering services of projects.
But, he admits the technology is relatively new and its uses are not fully understood by the public.
"Probably the best way to show business owners what we can do for them is for them to come in and let us show them what we do," Hodel said.
Hodel opened his business on Sept. 1, 2011, working alone and using office space offered by his parents, John and Linda Hodel, in the Lamplight Realty office on Main Street in Roanoke. Starting his own business had always been Hodel's dream since he finished college with a degree in engineering. As an engineer for Stark County, Hodel did some GIS mapping and really liked the work. He quit that job to come back to his native town of Roanoke and work as the Woodford County Highway engineer. But Hodel and the highway department's county board oversight committee had different ideas about managerial style, and he soon resigned. Hodel said he had no regrets about taking that step.
"The opportunity (to start his business) came up unexpectedly," Hodel said. "Sometimes when things aren't going well, we find that the good Lord has a better plan."
Hodel hired his first full-time employee, Matt Dondanville in June and a second part-time employee, Micah Williamson, in August. He said there was no shortage of applicants for the jobs he created, but he made his choices based on skills.
"We all have different strengths that complement each other," Hodel said of their engineering skills. He said the operation is beginning to expand their services and has already taken on some community projects. They include mapping the extensiveness of the drought using rainfall figures and mapping a new soccer field for the Roanoke-Benson Recreation Association next to the Jumbo baseball diamond.
Hodel said the technology is advancing rapidly and will allow even better mapping in the future.
"We're excited about where we're going in a small town atmosphere with big city technology," Hodel said. "It's fun. I'm enjoying it."
But Hodel said one of the tools he'd like to see come to Roanoke is access to broadband.
"I can't express how important that is," Hodel said. "Our future here really depends on it."
Hodel said he has gotten good feedback from the jobs he has done so far.
"We take pride in being customer friendly," Hodel said. And, his goal right now is to continue educating people about his services and their potential
"I envision the business growing," Hodel said. "We're in a good market; the timing is right; and we've gotten good feedback from our clients who are really happy with our work. There are a lot of opportunities out there."
Hodel can be reached at Cloudpoint Geographics, 415 Main St., Roanoke, or by phone at (309) 361-5031. The company also has a website, www.cloudpointgeo.com, where a subscription to a newsletter is available.
Be the first to know
Get local news delivered to your inbox!