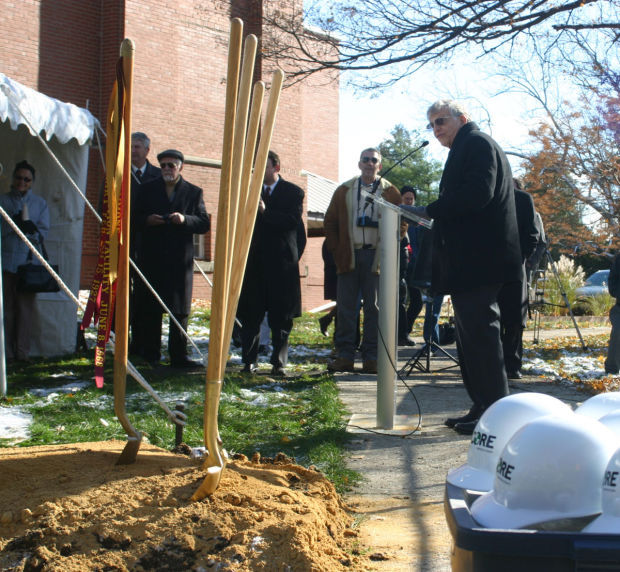 EUREKA – A groundbreaking ceremony for Eureka College's Sanders Hall, a $6.7 million addition to the existing Vennum-Binkley Science Hall, was held Tuesday at 12:15 p.m. at the corner of Vennum and College streets.
The four-story, 17,270-square-foot addition scheduled for completion in August 2014 will house a state-of-the-art organic and inorganic chemistry laboratory, a computer laboratory, classrooms, a tiered multimedia classroom, a study lounge, a conference room and faculty offices. The construction plan is designed to achieve certification for Leadership in Energy and Environmental Design (LEED) based on standards of the U.S. Green Buildings Council. CORE Construction of Morton is the general contractor.
"Recognizing the economic impact a project like this has in our region, we are pleased that the project will generate jobs for 70 Illinoisans," said Eureka College President J. David Arnold.
"With the construction of Sanders Hall, the broader community will benefit from the economic injection of capital in our rural region; the college's science facilities will be state-of-the-art; and the instructional capacity will be expanded to handle expected growth in the student body and for STEM – science, technology, engineering and math – and other disciplines on our campus and throughout the region," Arnold said.
Classes from almost every academic division will be held in the building. Besides classes in science, computer science and mathematics, the building will accommodate classes in education, business, English, Spanish, sociology, psychology, communication, first-year and senior seminars and the academic honors program, Arnold said.
You have free articles remaining.
Sanders Hall is the first classroom and laboratory building constructed on campus since Vennum-Binkley Science Hall was erected in 1916.
Eureka College history professor emeritus Richard Sanders of Eureka donated $3 million toward the project. It is the largest single gift in Eureka College history. Additionally, Eureka College trustees have
pledged $1.5 million, according to Vice President of Development and Alumni Relations Michael Murtagh.
"Eureka College is extremely pleased that funds for Sanders Hall have come exclusively from the generosity of individuals," Murtagh said. "None of the funding has come from student tuition or fees or governmental aid."
The addition, which doubles the size of the original building, is part of an ongoing project to upgrade Vennum-Binkley Hall. The original building was named Vennum Science Hall in honor of donors Frank and Sadie Vennum. It was renamed Vennum-Binkley Hall in 1984 to honor Dr. Stephen and Lois Binkley, graduates of 1934. Stephen Binkley was a research scientist who shared a Nobel Prize for helping to discover Vitamin K. He taught chemistry at Eureka College from 1972 to 1985.
For more information about donating to the Sanders Hall or Vennum-Binkley Hall projects, contact Murtagh at (309) 467-6319 or mmurtagh@eureka.edu.
The projects are part of the Ivy Project: Historic Campus Constructions, which includes more than $15.7 million in recent new construction and renovations.