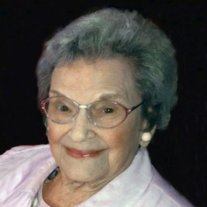 MORTON - Ella M. "Steve" Bartelmay, 90, died at 1 a.m., Saturday, Nov. 30, 2013, at the Apostolic Christian Restmor in Morton.
She was born Feb. 27, 1923, in Morton, the daughter of Henry and Kathryn Waldbeser Stieglitz. She married William Bartelmay on May 12, 1943, in Pekin. He died Oct. 20, 1998.
She also was preceded in death by two sisters.
Survivors include one son, Rex (Cathy) Bartelmay, Morton; one daughter, Sherry (Gary) Clark, Morton; four grandchildren, Micki Modlin, Ryan Bartelmay, Kati Lucas and Rachel Gannaway; eight great-grandchildren; one sister, Verla Leman, Roanoke and one brother, Glenn (Wilma) Stieglitz, Morton.
Steve was involved with the family-owned business, Bill Bartelmay Equipment in Morton, for many years. She was a member of Grace Church in Morton.
Services will be Wednesday at 10 a.m. at the church with the Rev. Doug Habegger officiating. Visitation will be Tuesday from 3 to 6 p.m. at Knapp-Johnson Funeral Home in Morton and Wednesday morning 9 to 9:45 a.m. at the church. Burial will follow the service in the Morton AC Church Cemetery, Morton.
Memorials may be made to Tornado Relief through Grace Church, 1325 E. Jefferson St., P.O. Box 444, Morton, 61550.