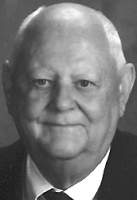 EUREKA – James M. "Jim" Chilton, 91, died at 5:30 p.m., Friday, Aug. 30, 2013, in rural Deer Creek.
He was born June 6, 1922, in Brandywine, Md., the son of James and Eloise Jordan Chilton. He married his wife, Arlene, on June 10, 1946, in Washington, D.C. She died July 7, 2012.
Survivors include two sons, Mark (Julie) Chilton, Deer Creek and Bruce Chilton, Jacksonville, Fla.; one daughter, Joann Campbell, Jacksonville; four grandsons, Brett (Joy) Chilton, Michael Chilton, Kyle (LaRae) Chilton and Dru Chilton; one granddaughter, Amanda (Casey) Heinold; his great-grandchildren; two sisters, Audrey Kerge, Crofton, Md., and Mildred Talbot, Michaels, Md., and two brothers, Raymond Chilton, Waldorf, Md., and Arthur Chilton, Los Angeles, Calif.
He was preceded in death by his parents and one sister, Dorothy Hoover.
Jim and Arlene's love story began when they met in Washington, D.C., in April of 1946, as she came from South Dakota to work for the government. He was raised in that area and at the time was serving in the Coast Guard at the end of World War II. They became engaged in May 1946. Jim was an electrician at Caterpillar before he retired in 1982. He was a member of Bethel Lutheran Church in Morton.
Cremation rites have been accorded. A private family graveside service will be held Saturday in Mt. Zion Cemetery, Deer Creek with the Rev. Jeff Anderson officiating. Knapp-Johnson Funeral Home in Morton is in charge of the arrangements.
Memorials may be made to the church, 425 N. Missouri Ave., Morton, 61550.