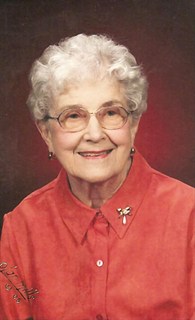 BENSON – Roberta D. Peterson, 100, died at 8:38 a.m., Monday, Dec. 9, 2013, at her home in Benson.
She was born June 5, 1913, near Benson, the daughter of Gilford and Emma Thierer Patterson. She married Virgil Peterson on August 26, 1934, in Benson. He died Feb. 6, 2000.
Survivors include one son, Richard (Norma) Peterson, Benson; one daughter, Virgene Murphy, Benson; one sister, Veramae Arends, Lacon; six grandchildren; five great-grandchildren and one great-great-grandson.
She was preceded in death by her parents and three brothers, Ray Patterson, Wayne Patterson and Wesley Patterson.
Roberta was a bookkeeper for Roanoke-Benson School District No. 60 for many years. She was a member of the St. Paul's Lutheran Church in Benson, where she had been active in the Ladies Aid, taught Sunday school and served as financial secretary.
Services were Thursday at the church. The Rev. Nathan Feig officiated. Visitation was held before the service at the church. Burial was in Clayton Township Cemetery, Benson.
Memorials may be made to the church or to the Benson Ambulance.