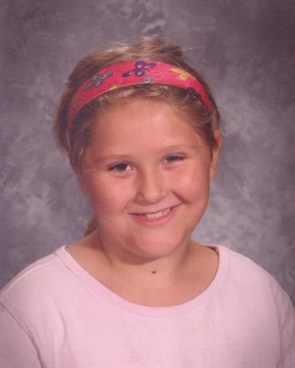 ROANOKE – Tara Jo Fuller, 10, died at 3:55 p.m., Saturday, Sept. 15, 2012, two miles south of Roanoke.
She was born Nov. 30, 2001, in Pekin, the daughter of Richard and Sherri Conde Fuller. She was born on her older brother's birthday.
Survivors include her parents of rural Roanoke; two brothers, Carl Fuller and Roy Fuller, rural Roanoke; two sisters, Raelene Fuller and Darlene Fuller, rural Roanoke; maternal grandparents, Raymond and Betty Conde, Fairbanks, Alaska; paternal grandparents, Carl and Pat Fuller, East Peoria and Margaret Bassett, Pekin; maternal great-grandmother, June Rinks, Fairbanks and several aunts, uncles and cousins.
Tara was in the fifth grade at Roanoke-BensonJunior High School in Benson. She was involved in the biddy basketball and volleyball programs sponsored by the Roanoke-Benson Recreation Association and the Happy Hustlers 4-H Club. Tara loved animals, especially her horse Lonie, who passed away two years ago. She did volunteer work at the Apostolic Christian Home of Roanoke, loved books, which, after she read, donated all of her Dr. Seuss books to the local library this past summer for others to enjoy. Tara was happy girl with a smile for everyone. She also enjoyed helping her father plant tomatoes in the garden. Tara loved to sell produce to people in the community.
Services will be Thursday at 10 a.m. at Knapp-Johnson-Harris Funeral Home in Roanoke with her grandfather, Raymond Conde, officiating. Visitation will be Wednesday from 5 to 8 p.m. at the funeral home. Burial will follow the service in Roanoke Township Cemetery, Roanoke.
Memorials may be made to a fund in her name that has been established at R-B Community Bank.
Obituaries Newsletter
Sign up to get the most recent local obituaries delivered to your inbox.