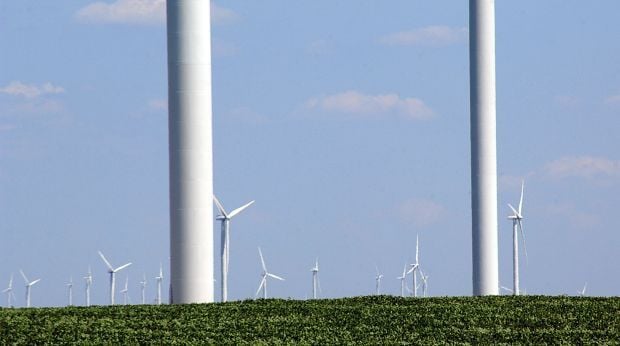 Yes, we live in farm country here in McLean County, with Bloomington-Normal surrounded by corn and soybean fields. Cattle graze on nearby pastures as well.
Yet, farm country is more than bushels of grain and wellfed livestock. This also is wind farm country, and you don't have to look far for evidence.
Large white wind turbines dot the landscape to the east and west of Bloomington-Normal, producing electricity with each of Mother Nature's exhales.
The Twin Groves Wind Farm rises above open fields near Saybrook, Arrowsmith, Ellsworth and other eastern McLean County locales. Constructed from 2007 to February 2008, there are 240 turbines spread over 22,000 acres. Each is 270 feet tall with
They are easily visible from the Twin Cities day or night, their blades glistening in the midday sun and red lights flashing in the night sky.
North and west of Normal we have the White Oak Wind Farm, another energy producer that has helped Illinois rank fourth nationally in installed wind capacity and in the number of utility-scale wind turbines.
McLean County is ideal for wind turbines.
Among Illinois' largest cities, Bloomington has the highest elevation at 797 feet above sea level. An area near Saybrook is 955.7 feet above sea level, the highest point in America in a line between Canada and New Orleans, La.
So call us farm country. We embrace it. Just be sure to call us wind farm country as well.
Be the first to know
Get local news delivered to your inbox!