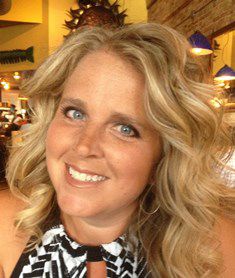 EUREKA – Nikki Jo Hahn, 46, died Wednesday, Jan. 22, 2020, after a battle with cancer.
She was born Aug. 16, 1973, in Galesburg, the daughter of Richard and Patricia Turner. She married Eric Hahn on June 7, 1997, at Bethel Baptist Church, Galesburg. He survives.
Other survivors include her parents of Oneida; three sons, Jonah Hahn, Isaiah Hahn and Eli Hahn; one daughter, Hannah Hahn; two sisters, Ari (Todd) Henderson, Hudson, Iowa, and Jami (Brian) McGarry, Wataga; one brother, Jon (Jasmin) Turner, Williams Bay, Wis., and several nieces and nephews.
You have free articles remaining.
She was preceded in death by her grandparents.
Nikki was raised in Oneida and graduated from ROWVA High School in 1991, where she chosen homecoming queen as a senior. Her desire and passion to work with children led her to receive a bachelor's degree in elementary education from Illinois State University, Normal, in 1995. Shortly thereafter, Nikki began her career in education as a classroom aide in the ROWVA pre-kindergarten program from 1996-1997. After their marriage, the couple moved to Taylorville, where Nikki began her career in early childhood education with the Lighthouse Learning Center and eventually her own school classroom at Visionway Christian School. In 1999, they moved to Iowa City, Iowa, where she worked as an aide, as well as worked at Lemstone Christian Books. Their first child was born in 2000. In 2007, the family moved to Hudson, Wis., in 2007, where she taught at Bethel Highlands Preschool. They moved to Eureka in 2015, where Nicki taught kindergarten at Metamora Grade School prior to her passing. Joy, compassion, laughter and grace were just a few of the many qualities Nikki wove into the days spent with her students. Jonah, Isaiah, Hannah and Eli are the beautiful blessings that made Nikki "Momma". She circulated between many a stadium and a gymnasium to encourage and cheer for not only her children, but also her nieces and nephews as they pursued their interests. Nieces and nephews adored their Aunt Nikki and valued the time she spent painting their nails, braiding hair, going to the pool and playing games together. To know Nikki is to not only love her, but appreciate her passions and gifts she shared throughout her life. She rarely turned down an invitation to scrapbook with friends or family, often making beautiful scrapbooks to give as gifts. Nikki found joy in creating music by singing in church or playing the piano through the years. She had a gift of pampering friends with manicures and words of encouragement to love them through difficult times. Nikki rarely passed on a hot game of pitch or a pick up volleyball game, especially during their annual family New Year's celebrations. She could often be found redecorating her home or helping her husband with a remodeling project. Nikki fought a lionhearted battle with cancer. Her legacy of finding joy in the journey, taking hold of hope and loving unconditionally will live on in those who were blessed to have known Nikki. 
Services will be held Feb. 1 at 11 a.m. at the church. There will be no visitation. Hinchliff-Pearson-West, Inc., in Galesburg is in charge of the arrangements.
Memorials may be made toward an education fund for her children.
To send flowers to the family of Nikki Hahn, please visit Tribute Store.